Goleta Valley Beautiful Teams with The Home Depot Foundation to provide Trees for Veterans
The Home Depot Foundation awarded a $4,500 grant to Goleta Valley Beautiful for a Trees for Veterans Project. The project focuses on getting veterans involved in community service, and benefiting them directly with free trees and supplies for their homes, and on the grounds of veteran's services buildings. The Trees for Veterans Project will provide 50 fruit and shade trees to Santa Barbara County veteran homeowners, and 50 shade trees for the grounds of Veterans service organizations. Veterans participating in the program will have a choice of fruit and shade trees available from Home Depot store, as well as 10 different species of native trees grown by Goleta Valley Beautiful. All supporting planting materials will be provided with the trees, including a hose to water the trees if needed. Goleta Valley Beautiful arborists will provide technical assistance and lead all volunteer planting projects aimed at involving interested veterans of any ability, along with a strong network of supportive community volunteers and available Team Depot staff.
Veterans living in Santa Barbara County interested in participating in this program either as a tree recipient and/or as a volunteer can contact Goleta Valley Beautiful at 685-7910, by e-mail kknight@goletavalleybeautiful.org, or by mail at PO Box 6756, Goleta CA 93160-6756.
Goleta Valley Beautiful Moves to New Storage Area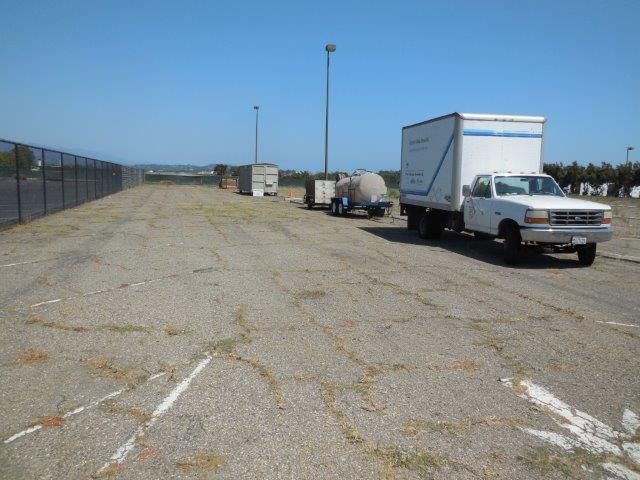 GVB equipment lined up at Cabrillo Business Park
After over a decade of storing equipment and supplies at an undeveloped lot at Camino Real Marketplace, Goleta Valley beautiful moved out to make way for an anticipated future use of the property. Fortunately, GVB was able to move a block over to the Cabrillo Business Park to a non- utilized parking lot on their property. Until the Sares-Regis Group develops a use for this property, GVB has a temporary secure facility to store our truck, trailers, storage unit and additional supplies.
We are grateful to the Camino Real Marketplace for their long term support, and to the Sares-Group for GVB to temporarily use their property. We also acknowledge the continuing support of Marborg for use of their storage container, and previous donations from Kitson Landscape Management, Inc. that provided GVB with a truck chassis and water trailer. The support of all these local businesses helps GVB to continue to do what we do best-- to grow, plant and maintain trees in public areas, and to educate the public on the benefits of trees.
Sign up for Goleta Valley Beautiful Fall Tree Care Events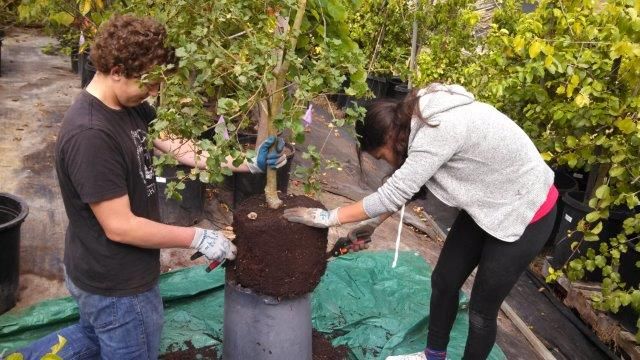 Will and Arriana root pruning
Now that fall is approaching, we are returning to our regular Saturday morning and afternoon tree care events. We'll be starting our tree planting with Veterans in September, along with Creek Week and Day of Caring special events. October is NeighborWoods Month and November will include a pruning and tree care workshop. For all volunteer tree care events, please RSVP at www.goletavalleybeautiful.org. Any questions call (805) 685-7910.
All of our events are posted on our website volunteer events calendar at www.goletavalleybeautiful.org. Summaries of our events are also listed on our website calendar. We do have special projects for students interested in earning community service credits, and weekday events. Roadside trash collection in the Goleta area continues on the 2nd and 4th Saturdays. Call Don and Judy Nason 964-4895 to RSVP. Call 964-7117 to participate in graffiti removal and to report incidents in your area as soon as you see it.
GVB Supports Devereux During Annual Devereux Day
Goleta Valley Beautiful Board and staff provided support for Devereux during their annual August 17th Devereux Day. The joyful event featured music, games, great food, and a celebration of Devereux accomplishments. Among this year's highpoints was Devereux's completion of a roof for the 50 year old+ Greenhouse. The improvements continue a Devereux/Goleta Valley Beautiful partnership that began in 2001 when Goleta Valley Beautiful started planting over 200 trees on the Devereux campus, and accelerated in 2004 when Goleta Valley Beautiful secured a Home Depot Foundation grant to resurrect operations at the previously abandoned Greenhouse. The partnership continues today with Goleta Valley Beautiful working to integrate urban forestry activities as part of Devereux's services to developmentally disabled adults.
Goleta Union School District and GVB Approve Memorandum of Understanding
At their 8/21/13 meeting, the Goleta Union School District Board of Trustees unanimously approved a Memorandum of Understanding (MOU) with Goleta Valley Beautiful. The MOU is a non-binding agreement that identifies the educational and urban forestry services that Goleta Valley Beautiful can provide to the District at no charge or on a fee for service basis. The agreement provides a framework for the District to fully utilize the many services that Goleta Valley Beautiful provides. The agreement also strengthens the long partnership between the District and Goleta Valley Beautiful. Until we get the MOU up on our website, if you would like to have a copy of the agreement, please e-mail us at kknight@goletavalleybeautiful.org and we'll send you a copy.
Goleta Valley Beautiful News Briefs
Towbes, Deckers, Venoco and Coastal Fund Provide Continuing Support to GVB
A testimony to Goleta Valley Beautiful's universal appeal is seen through the broad number of local and national organizations that support our urban forestry efforts. We recognize that some of these organizations have different objectives but GVB is one place where they can come together in agreement. Their support is essential since GVB receives no ongoing governmental or public agency support. We depend upon the generous contributions of our members, and through grants provided in support of our operations. Recently we have received significant donations from individuals and companies, most who have also supported us in the past, including;
- Michael Towbes provided the final installment of a multiple year $50,000 matching challenge grant for Goleta Valley Beautiful operations
- Venoco awarded GVB a $2,500 grant for operations
- Deckers awarded GVB a $ 2,000 grant to assist in our work with at risk youth
- The UCSB Coastal Fund awarded GVB an $8,900 grant to hire 20 Urban Forestry student interns during Summer and Fall sessions primarily working at the Devereux Greenhouse and Growing Grounds
GPS Equipment Needed for Precise Tree Measurement
GVB GPS mapping interns are in need of a Trimble or similar GPS unit that can provide under 3' accuracy. Our current GPS equipment, including phone based GPS units, do not provide sufficient accuracy to identify tree locations in large, non-address based locations such as schools and parks. The more accurate Trimble GPS units we would like to use for our tree mapping program are beyond our means to acquire. If someone locally has an unit that we could borrow, we would appreciate letting us know a contact person.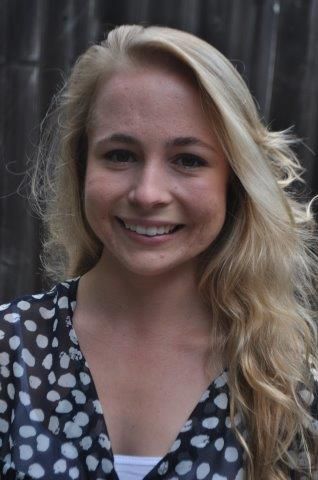 Karen Housel, GVB Mapping Intern
Bacara to Host Oct 16th GVB Advisory Council Meeting
The Bacara Resort and Spa will host the October 16th Goleta Valley Beautiful Advisory Council meeting moderated by Eric Onnen. Invitations will be mailed by mid-September.
GVB Provides Testimony at Hollister Ave. Redesign Meeting
At the August 21st Goleta City Council meeting on the redesign of Hollister Avenue in Old Town Goleta, Goleta Valley Beautiful representatives presented testimony on the benefits of shade trees. The basic message was simple, if the City wants the 30' shade trees shown in the alternative design proposals, the City must incorporate planning for trees in the initial design. Goleta Valley Beautiful showed that using tools such as Silva cells would allow large shade trees to be accommodated within existing sidewalk areas. Currently, the Windmill Palms in 2 foot squares do not provide any significant canopy in Old Town Goleta. Adding in shade trees would require expensive reconstruction of the street and sidewalk, which is why Goleta Valley Beautiful has not been able to support City efforts to plant any trees in Old Town Goleta. With advance planning, Goleta residents could enjoy trees in existing sidewalk areas without the trees having to compete for additional space in the right of way desired for bikeways, parking and traffic lanes.
Thanks also to last month's sponsors including: Devereux, Sares-Regis Groups, Pacifica Suites, Marborg Inc, United Way, Alpha, City of Goleta, UCSB Cheadle Center for Biodiversity and Ecological Restoration (CCBER), California Urban Forest Council, UCSB Coastal Fund, Goleta Union School District, Santa Barbara Unified School District, California ReLeaf, Santa Barbara County Resource Recovery and Waste Management Division, Devereux, and hundreds of GVB donor members. Please mention to our supporters how much you appreciate their support of Goleta Valley Beautiful. You can find the list of our donor members at our website at www.goletavalleybeautiful.org.
Statistical information about previous tree care events including the amount/locations of trees and volunteers can now be found in the archives of the education section of our website.
If the hyperlink does not work, you can cut and paste the e-link into the address area of your browser. Your comments to kknight@goletavalleybeautiful.org will help us build a better communications link. To remove your name from the monthly e-mail newsletter list, please reply to this e-mail with the word 'remove' in the subject.