---
Dos Pueblos Ranch hosted a grand 39th Annual GVB Awards event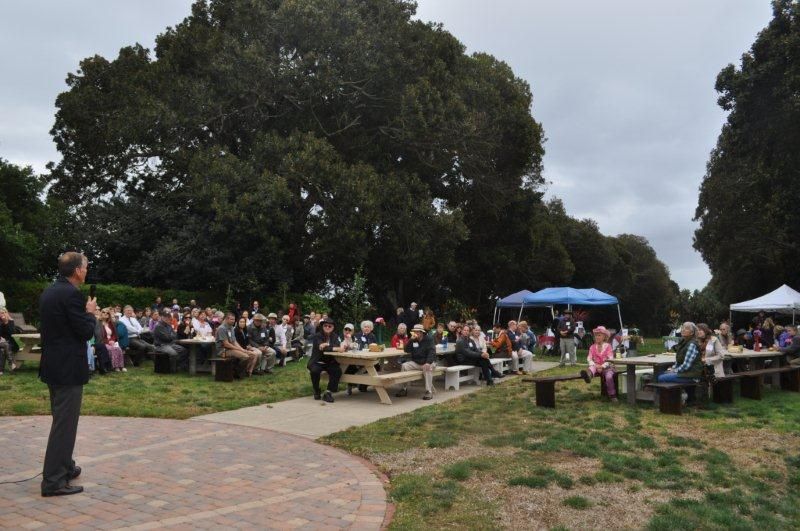 Bob Muller addressing the Awards attendees
The 39th Annual Goleta Valley Beautiful Awards on May 5th attracted 134 participants to the magnificent Dos Pueblos Ranch Gardens. The Awards Committee Chaired by Kim True produced a smorgasbord of the best that the Goleta Valley has to offer in landscaping and design. We have additional photos of the Award winners on our website. Special thanks to Supervisor Janet Wolf, Jean Blois and Sarah Kitson for acting as hosts during the ceremony. You can also view some excellent photos in Rochelle Rose's excellent 5/10/13 Noozhawk's I-Society article. The surroundings were superb, the homemade Mexican food by El Zarape delighted everyone, and the music by the ever-changing Bren Grass Band completed a festive atmosphere.
This benefit helps support Goleta Valley Beautiful tree planting, care and educational programs. Special thanks to our event sponsors the Rudi Shulte Family Foundation, Mosher Foundation, Southern California Gas Company, Camino Real Marketplace, Marborg and Rabobank. We'll see you again next year for the 40th Annual GVB Awards event on the first Sunday in May, May 4, 2014.
---
Heritage Tree and History Bus Tour revealed Goleta Valley treasures to participants
Champion Australian Willow; Champion Sister Witness California Sycamore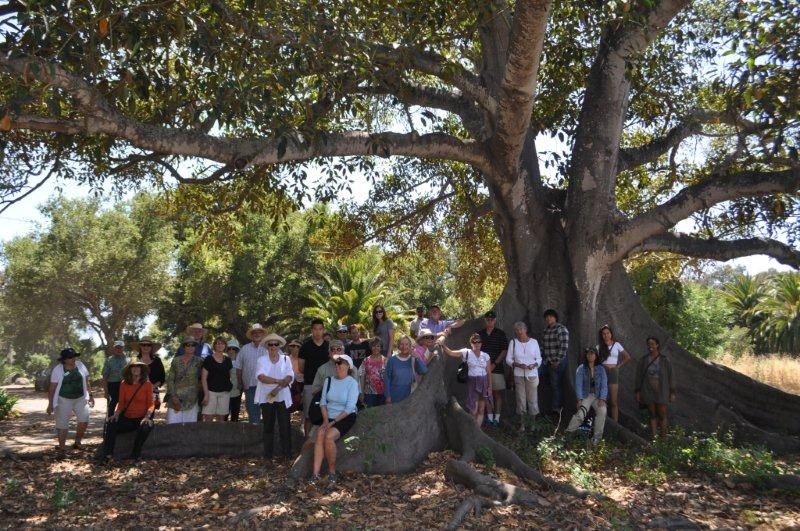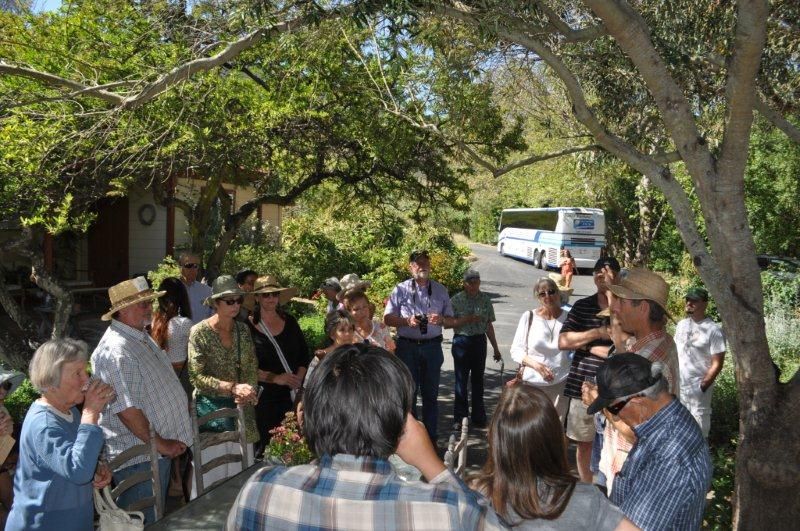 Bishop Ranch – one of the four Moreton Bay figs; Arroyo Hondo – next to the 36 ft circumference Blue Gum Eucalyptus
The 43 participants at our 12th Annual Heritage Tree and History Tour on May 19th agreed that it was the best ever. Goleta Valley Beautiful and the Goleta Valley Historical Society jointly host the event, sponsored by Santa Barbara Airbus. We walked by two Goleta Old town trees that qualify as National Champions. Hosts Jerry Sortomme, Jim McNay and Ken Knight offered a compelling background of information on the benefits of heritage trees, and the need to protect them for future generations. We toured the specimen trees surrounding the Bishop Ranch for the first time in several years. Patricia Bragg showed us how century-old walnut trees have been preserved while preparing for the next generation of fruit trees at Bragg Farm. Special thanks to Dacia Harwood for organizing the lunch in the courtyard of the Goleta Valley Community Center.
Mark your calendars for the third Sunday in May next year on May 18, 2014 for new wonders on the 13th Annual Heritage Tree and History Tour.
Patricia Bragg and friends
---
Arboricultural Myths
If it sounds too good to be true, it probably isn't. Jim Downer reports in Arboricultural Consultant Magazine Volume 46, Issue 2, 2013 about "Snake Oil, Arboricultural Myths, Legends, and Persuaders in Our Industry." Jim looks for the scientific principles and published applied research that supports many miracle products and finds most of them lacking. Among his findings:
- Adding Vitamin B-1 is unlikely to benefit plants
- Not all mychorrhizae inoculants perform the same on a given tree species, and other fertilizer applications may provide results at a fraction of the cost.
- Due to the tremendous variables in 'brewing' compost tea, results are difficult to replicate and quite variable
- Gravel in the bottom of a planting hole to increase drainage is a myth
- The oxygen diffusion rate is not increased in soils with piping systems, and trees watered through piping systems do not get water to the rootball where needed
- Pruning woody plants stimulates more growth
- Woody mulches do not extract nitrogen from the soil
---
Citrix employees celebrate Global Day of Impact with GVB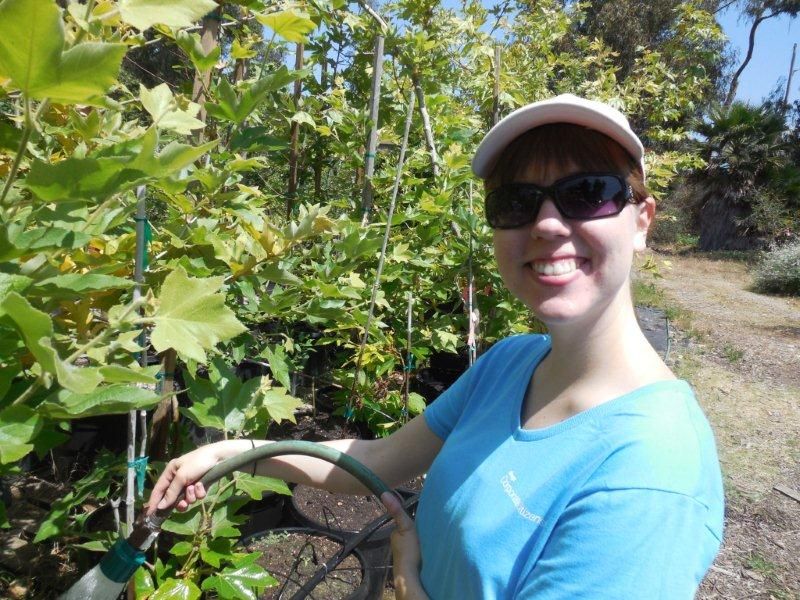 Citrix employees weeding along Hollister Avenue and watering at the Devereux nursery.
---
Then and Now – St. Vincent's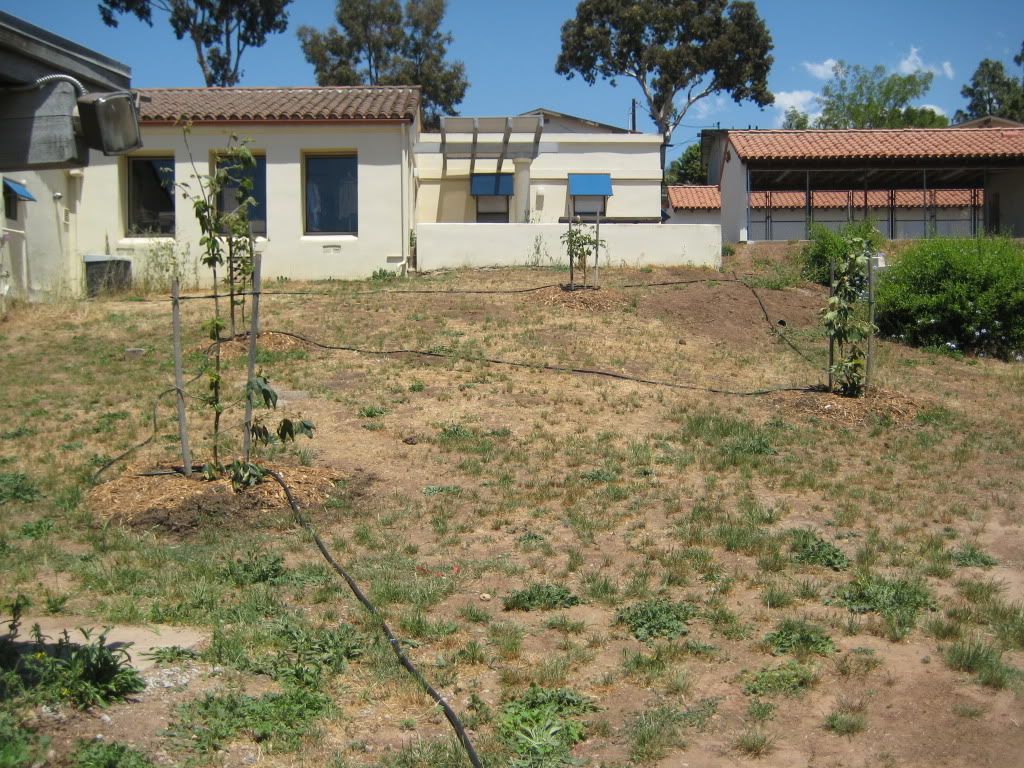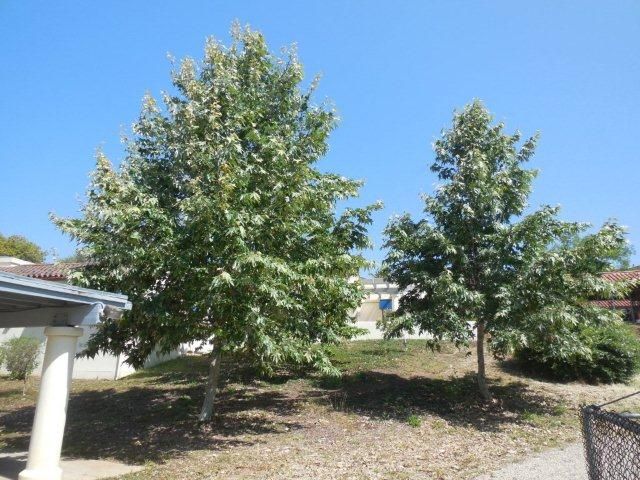 Then – New Sycamores 5/17/08; Now – 5 year-old Sycamores 5/11/13
---
Then and Now – Winchester Canyon Entryway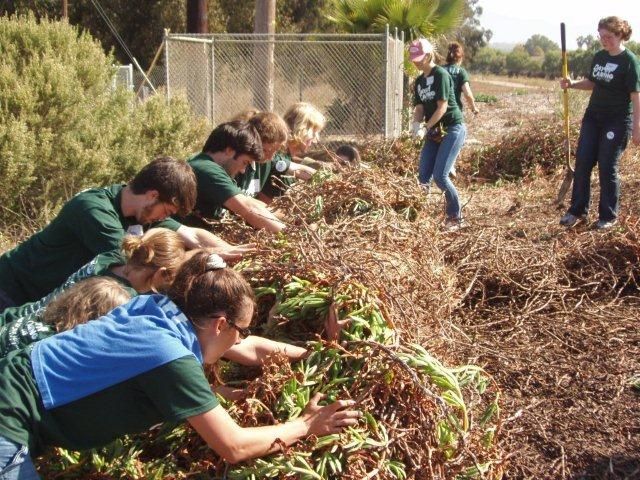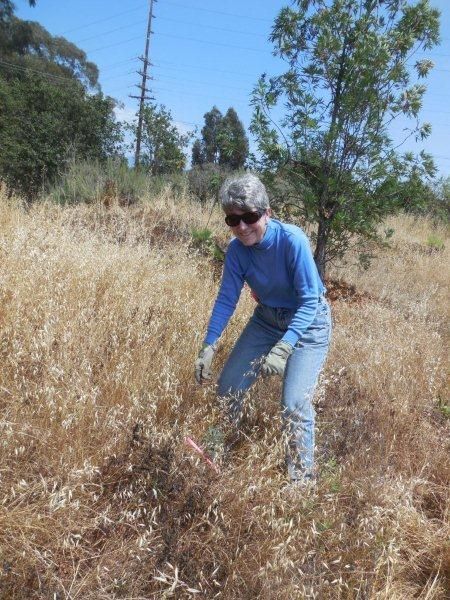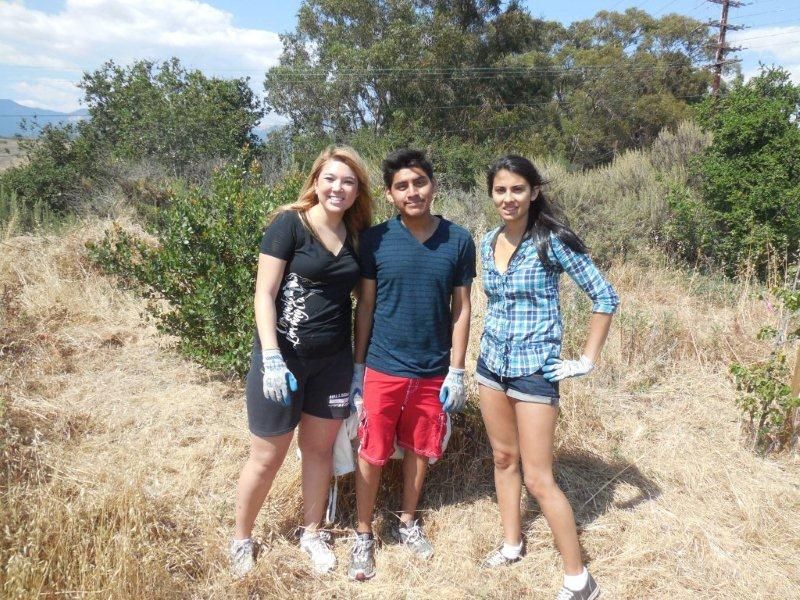 Then – Removing iceplant 9/17/05; Now – Weeding and inventorying 5/11/13
---
Then and Now – Dos Pueblos High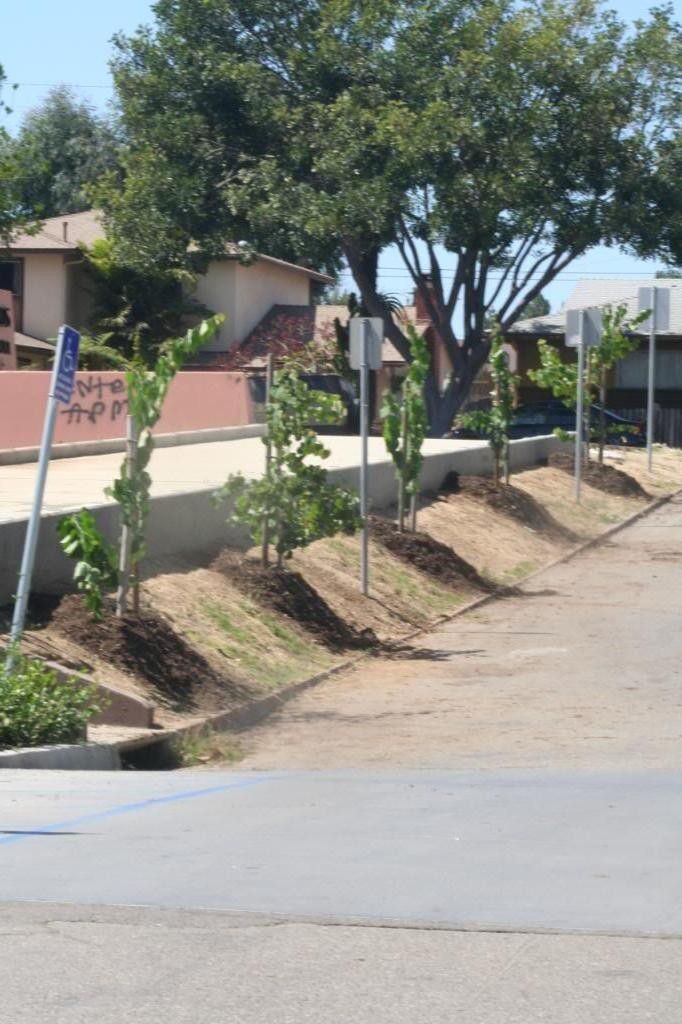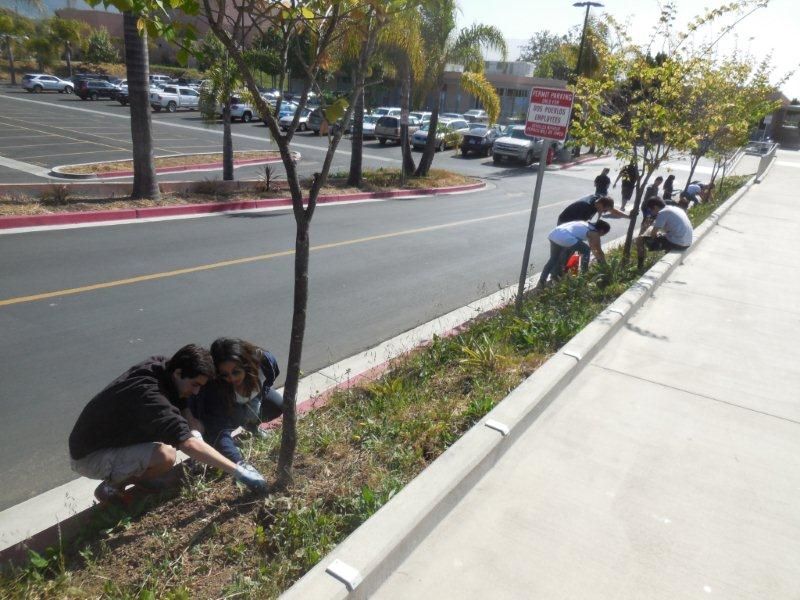 Then – New Redbuds 9/15/07 Day of Caring; Now – Weeding 6 year-old Redbuds 5/18/13
---
Sign up for Goleta Valley Beautiful Summer Volunteer Events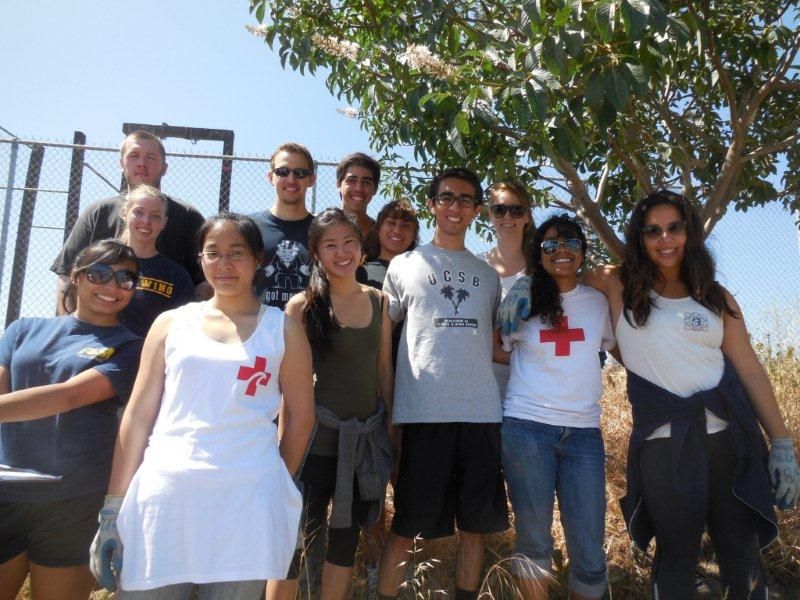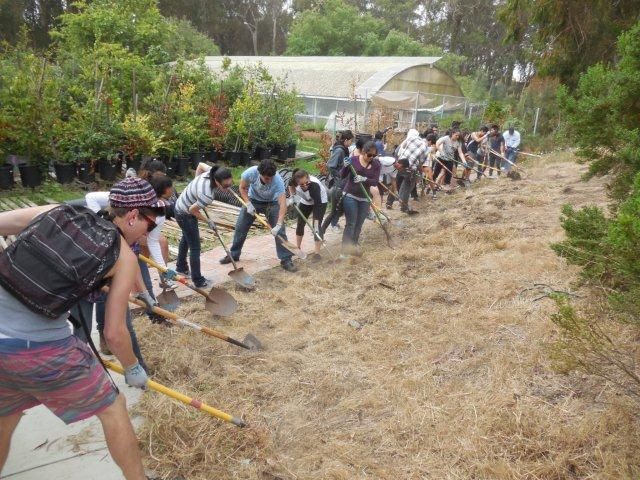 UCSB Red Cross at Dos Pueblos High; Los Curanderos and Circle K at Devereux Nursery
It's pretty dry out there so the trees need our help preparing for the long summer ahead with lots of weeding, watering and mulching. Our Saturday morning events occur from 9 to Noon, usually at the Devereux Greenhouse. To get to the Greenhouse, from Storke Road and El Colegio, continue towards ocean on Slough Road for 1/2 mile, turn left onto Devereux Way, proceed 50 feet to the stop sign, turn right and go halfway around the circular road until you see the dirt road entrance to the Greenhouse. There are no Saturday afternoon events in the summertime, as it is too hot and we would rather be down at the beach. For all volunteer tree care events, please RSVP at www.goletavalleybeautiful.org. Any questions call (805)685-7910.
All of our events are posted on our website volunteer events calendar at www.goletavalleybeautiful.org. Summaries of our events are also listed on our website calendar. We do have special projects for students interested in earning community service credits, and weekday events. Roadside trash collection in the Goleta area continues on the 2nd and 4th Saturdays. Call Don and Judy Nason 964-4895 to RSVP. Call 964-7117 to participate in graffiti removal and to report incidents in your area as soon as you see it.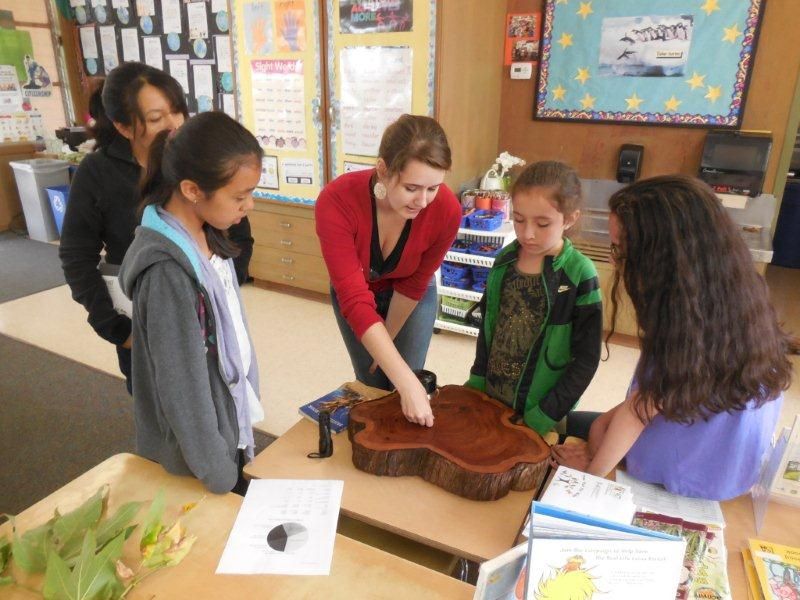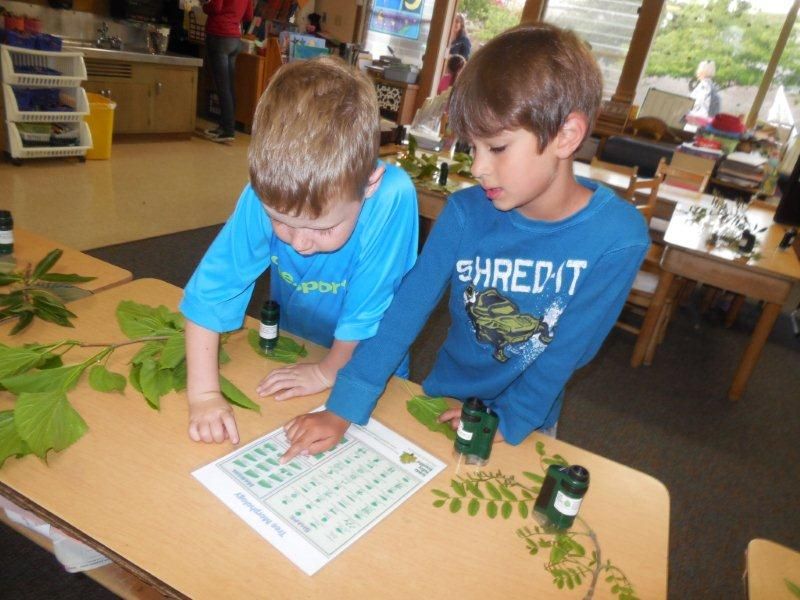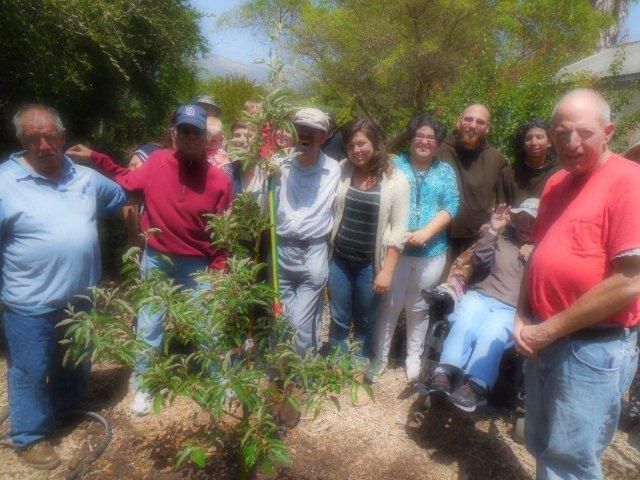 Washington Elementary Science Night with GVB urban forester interns; Alpha Memorial tree planting
---
Goleta Valley Beautiful News Briefs
Help wanted: Hayley Cox, our longtime former Board member and current Office Manager, is graduating and will be leaving us on August 3rd. We'll be looking for a salaried part time Office Manager two days a week (16 hours) to transition to her position beginning the middle of July. Contact Ken Knight at kknight@goletavalleybeautiful.org for a job description and additional information.
Board openings: We currently have openings for 5 graduating student Board members, and 2 general Board members. These are unsalaried volunteer Board positions The Board meets once a month on the evening of the first Wednesday and monthly time commitment is normally about 10 hours. Contact Ken Knight at kknight@goletavalleybeautiful.org for job descriptions and additional information.
Status of GVB's C-27 Contractor's license: We could write a book about the issues we've had to deal with in getting a C-27 Landscape Contractor's license. We have to have this license to keep up with the requirements that many public agencies now require of volunteers and non-profits doing work on public areas. We should have all the paperwork wrapped up in a few weeks.
GVB in the City of Goleta Budget – News media articles implied that GVB funding had been cut from the City of Goleta budget. Actually our requests for future 2013-14 funding to help finance our work with the Community Action Commission's Youth Corps was not approved. Goleta Valley Beautiful has not received any City of Goleta funding in the last three years.
Tree Transfers to Public Agencies Underway – Goleta Valley Beautiful has planted thousands of trees on public properties and carried through with our promise to help maintain them for the first several years of the establishment process. We are now in the process of formally transferring the responsibility of tree maintenance to the public agencies where they have been planted. In some cases, we have been maintaining the trees for ten years, so now is the time to formally transfer that responsibility.
Thanks also to last month's sponsors including: City of Goleta, UCSB Cheadle Center for Biodiversity and Ecological Restoration (CCBER), California Urban Forest Council, UCSB Coastal Fund, Goleta Union School District, Santa Barbara Unified School District, West Covina Nurseries, California Department of Forestry and Fire Protection, California ReLeaf, Santa Barbara County Resource Recovery and Waste Management Division, Devereux, and hundreds of GVB donor members. Please mention to our supporters how much you appreciate their support of Goleta Valley Beautiful. You can find the list of our donor members at our website at www.goletavalleybeautiful.org
Statistical information about previous tree care events including the amount/locations of trees and volunteers can now be found in the archives of the education section of our website.
---
If the hyperlink does not work, you can cut and paste the e-link into the address area of your browser. Your comments to kknight@goletavalleybeautiful.org will help us build a better communications link. To remove your name from the monthly e-mail newsletter list, please reply to this e-mail with the word 'remove' in the subject.
---