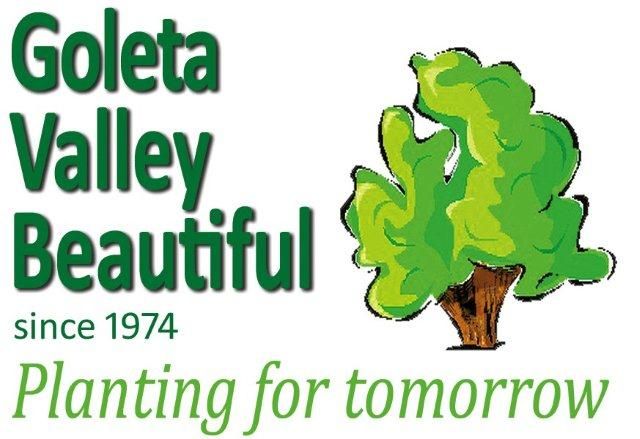 January 2013 Newsletter
Learn from the experts at GVB's annual Young Tree Care Workshop on February 2nd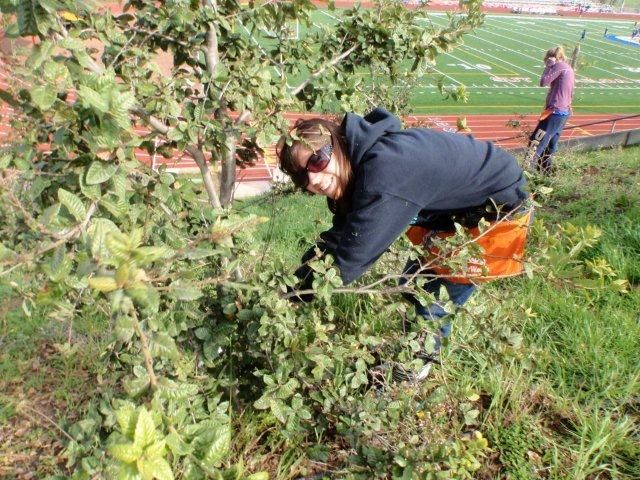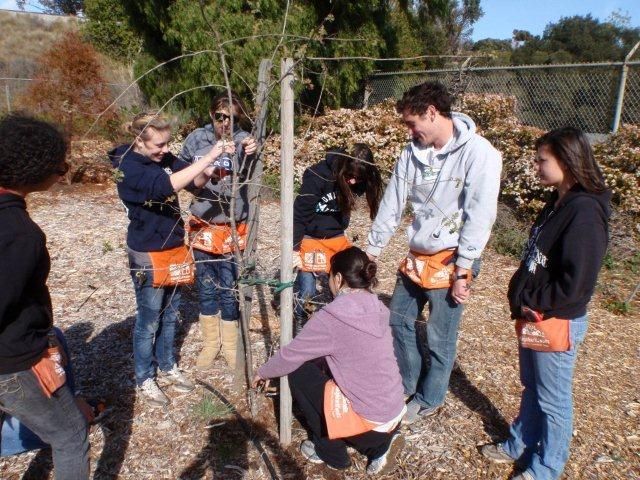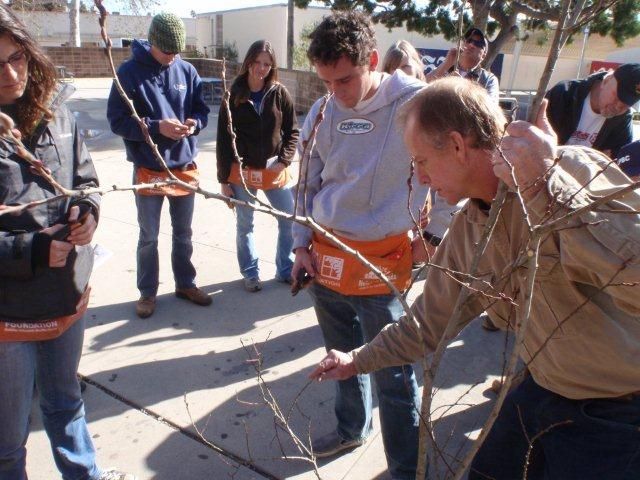 Our annual young tree care workshop continues our efforts to promote diversity among trees. While we emphasize shade tree care, we'll also be including the hands on care and pruning of fruit trees. We'll explain how you can take of fruit trees on your property, and why fruit trees in public right of ways are not a good idea (think maintenance).
The workshop features local tree experts reviewing the fundamentals of young tree planting and care. We once again offer this workshop for free (donations appreciated) Saturday, January 21st from 9 AM to 3:30 PM and we want you to commit to attending the entire workshop. The morning gives you background knowledge, but the afternoon provides you an opportunity to practice your technique guided by expert arborists. More important, you will be providing a community service by helping maintain over 125 young trees on the San Marcos High campus. We don't use ladders, so we always stay on the ground while we work.
Advance reservations required by Friday February 1stth by calling 685-7910, or email to kknight@goletavalleybeautiful.org.
See the registration form coming soon to our website.
---
GVB Holiday Tree Rental Program Pickup January 5th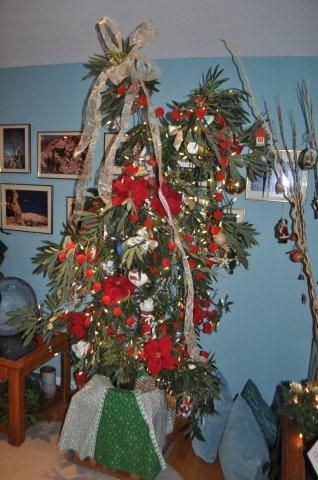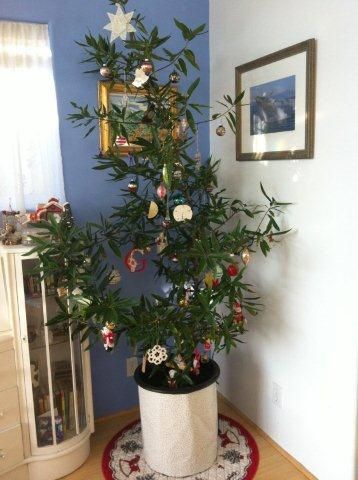 For those of you taking advantage of our living holiday tree rental program, we'll be picking up the trees on Saturday January 5thOur trees are a sustainable alternative to cutting down a tree for the holidays, we offered non-traditional but beautiful trees including Torrey Pines, Catalina Ironwood, Coast Live Oak, Catalina Cherry and more. These trees are live, free-form shade trees that will eventually find a home in Goleta Valley public areas. We delivered the trees to the doors of residents from Goleta to Montecito, and we'll pick them up on January 5th.
If you have purchased a living Christmas tree (one with roots) and you would like to donate it to Goleta Valley Beautiful, we accept donations of healthy trees 24 gallon container size or less with no disease or pests. If you contact us before Janaury 5th, we can pick it up at your door. Otherwise, contact us at 685-7910 or kknight@goletavalleybeautiful.org for other arrangements. Please don't ask us to dig up a tree on your property.
---
Why aren't the benefits of trees better understood? We have answers.
Two of the most critical issues confronting the state's urban forests are people's limited understanding of the benefits trees provide and the resulting low prioritization urban forests receive. Most people can name basic benefits of the trees in their community, but they don't realize how much a city or town gains by having a healthy urban forest. The urban forests' commonly unacknowledged benefits include:
The ability to collect, drain, store, and clean stormwater in their root zones – providing cities with flood protection. These forests help return much-needed water to the watershed.
Reduction of air pollution and the offset of global warming by absorbing greenhouse gases and releasing oxygen into the air.
Protection from extreme heat and decreased energy costs by shading buildings, streets, and parking lots.
Increased property values for homes and higher spending on goods and services provided by businesses on tree lined
streets.
Economic benefits as a $3.6 billion industry that provides more than 60,000 jobs in the state.
Trees more than pay for the maintenance they get. A healthy urban forest is the lowest-cost way to offset climate change, State Urban Forester John Melvin says. "It's an investment in the future," he adds. "It's about whether the urban areas in the state end up being places people want to live, or places people get stuck living in." Urban forests need to be viewed as capital projects that require long-term investment. Most capital projects devalue and degrade after they're built. Trees become more valuable once planted. "That's the last (budgetary item) they should be cutting," Melvin says. "It's one of the only infrastructure elements a city has that gains value with time."
Read the full article, "The State of California's Urban Forests: Integrated Approaches Offer The Best Solutions" http://californiareleaf.org/programs/newsletter-winter-2012/2 . Also, check out the website www.investfromthegroundup.org.
Sign up for Goleta Valley Beautiful January Volunteer Events
In January we'll be planting trees for firefighters at the main County Fire Administration Building on Cathedral Oaks Road, as well as tree care events at local schools, and a restoration planting on Cineguitas Creek. Our Saturday morning events occur from 9 to Noon, and Saturday afternoons from 1 to 4 pm. In order to keep our events up to date, we are now posting all of our events on our website volunteer events calendar at www.goletavalleybeautiful.org. During weekdays, we are also working at the Devereux Greenhouse. To get to the Greenhouse, From Storke Road and El Colegio, continue towards ocean on Slough Road for 1/2 mile, turn left onto Devereux Way, proceed 50 feet to the stop sign, turn right and go halfway around the circular road until you see the dirt road entrance to the Greenhouse. We do have special projects for student interested in earning community service credits, and weekday events. For all volunteer tree care events, please RSVP at www.goletavalleybeautiful.org. Any questions call (805)685-7910.
Roadside trash collection in the Goleta area continues on the 2nd and 4th Saturdays. Call Don and Judy Nason 964-4895 to RSVP. Call 964-7117 to participate in graffiti removal and to report incidents in your area as soon as you see it.
---
Then and Now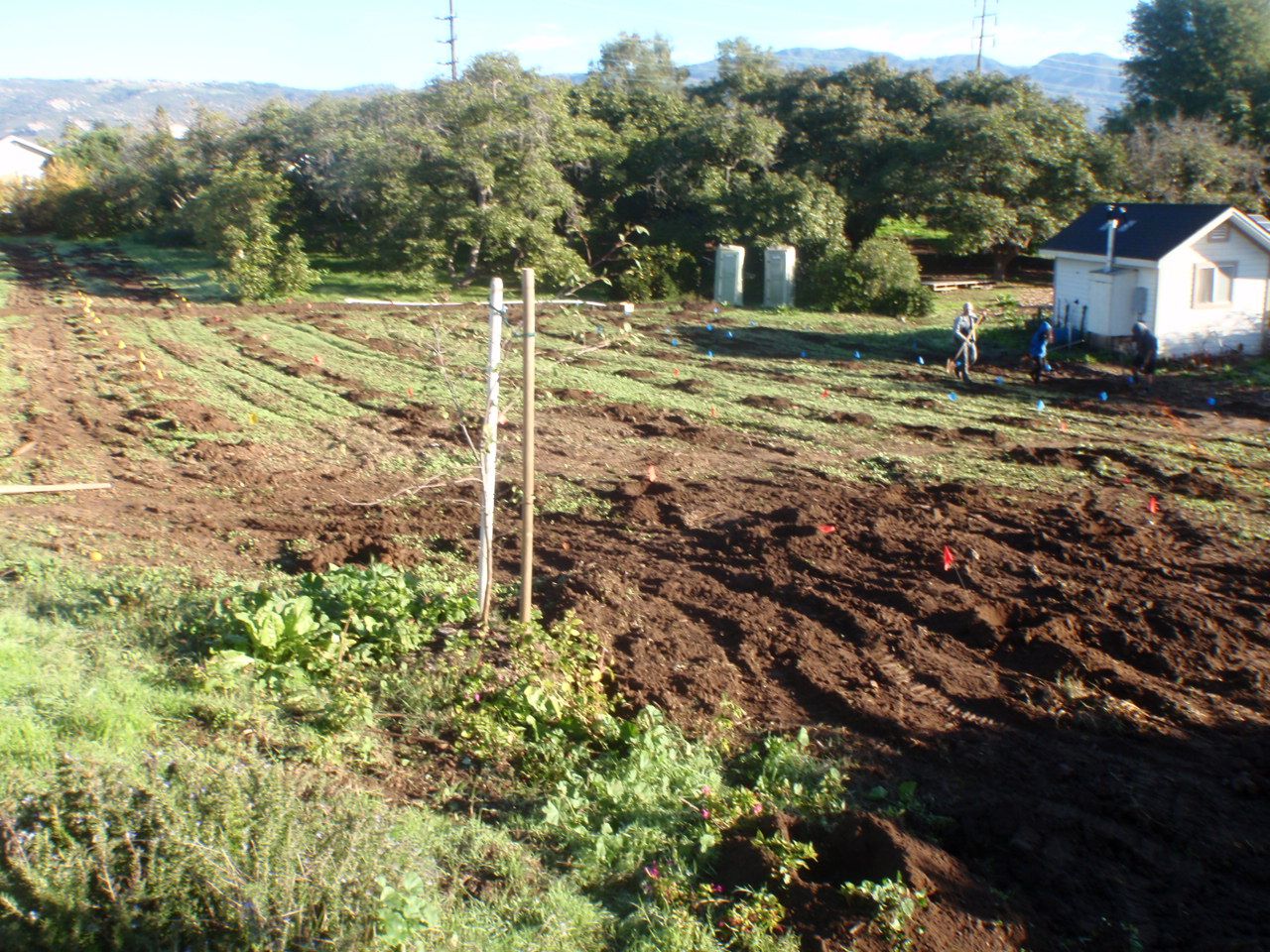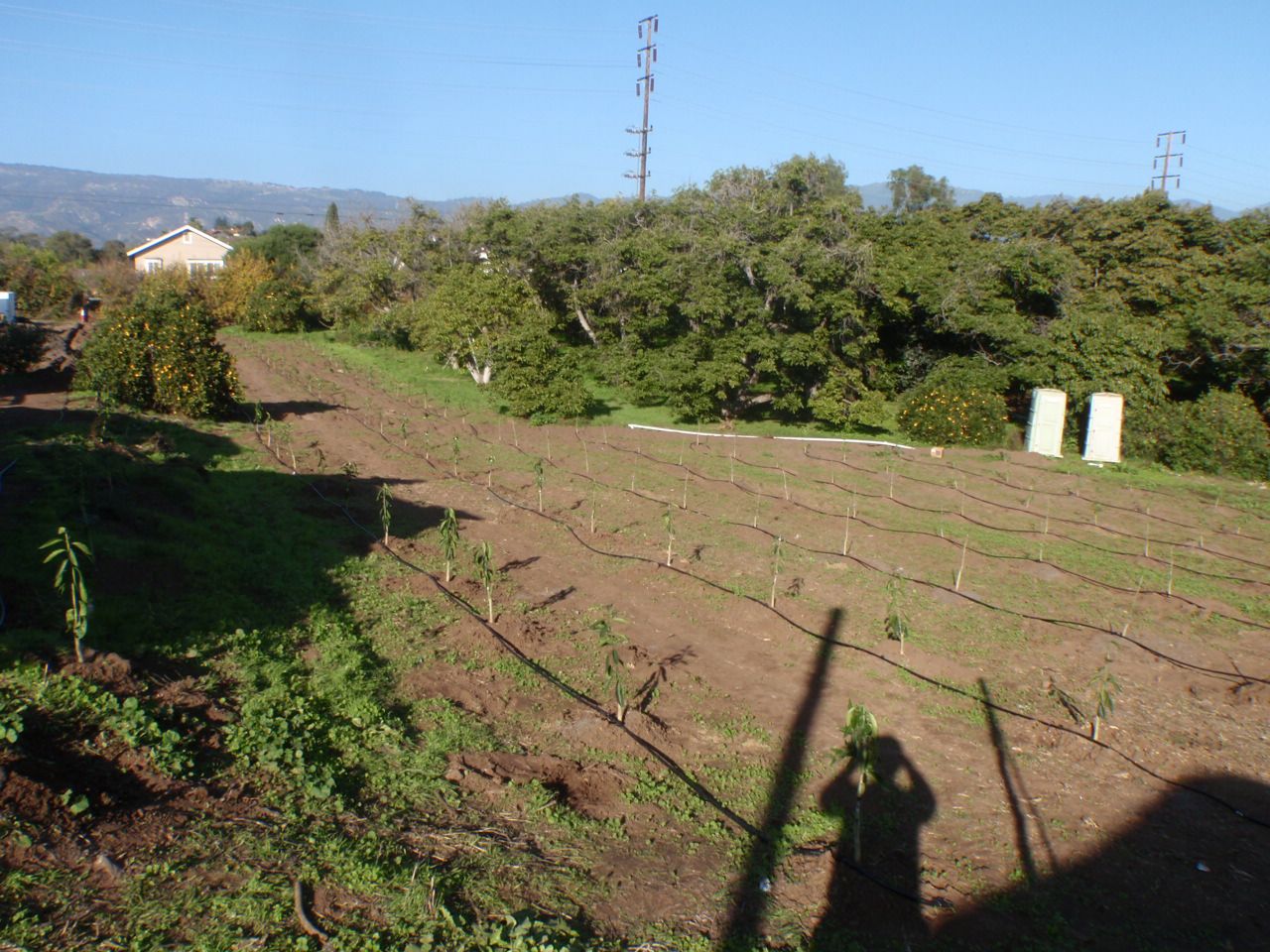 Fairview Gardens before and after 273 fruit trees were planted by GVB volunteers.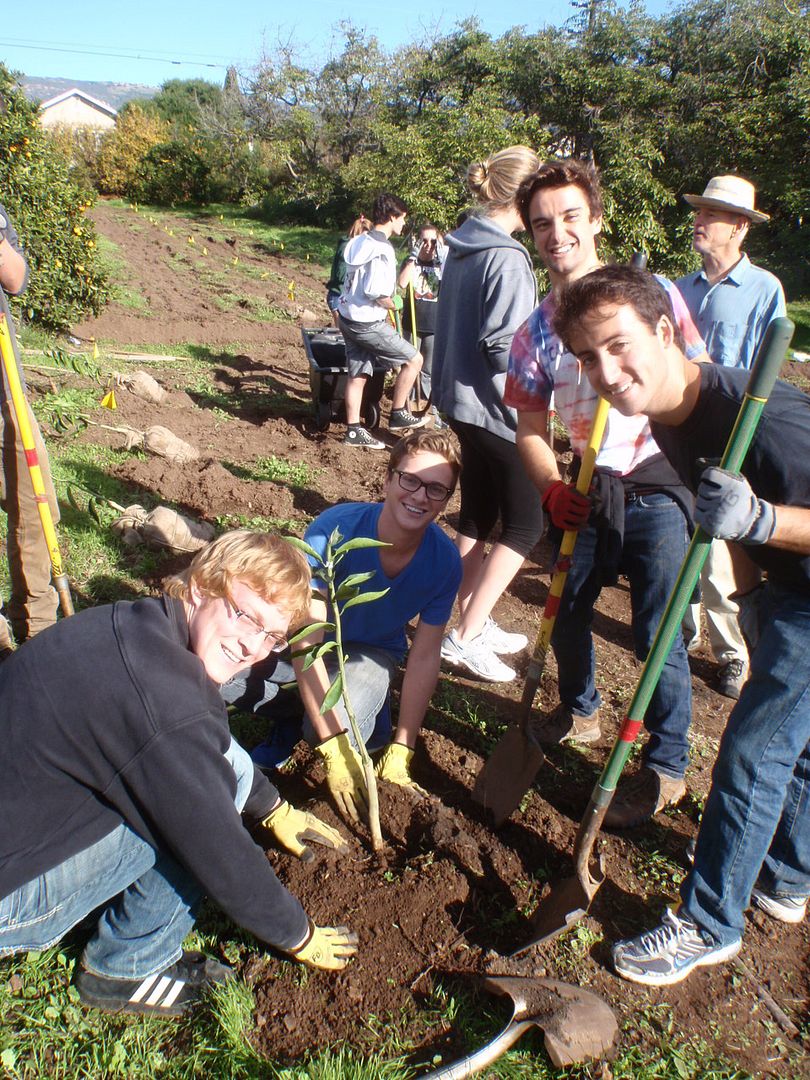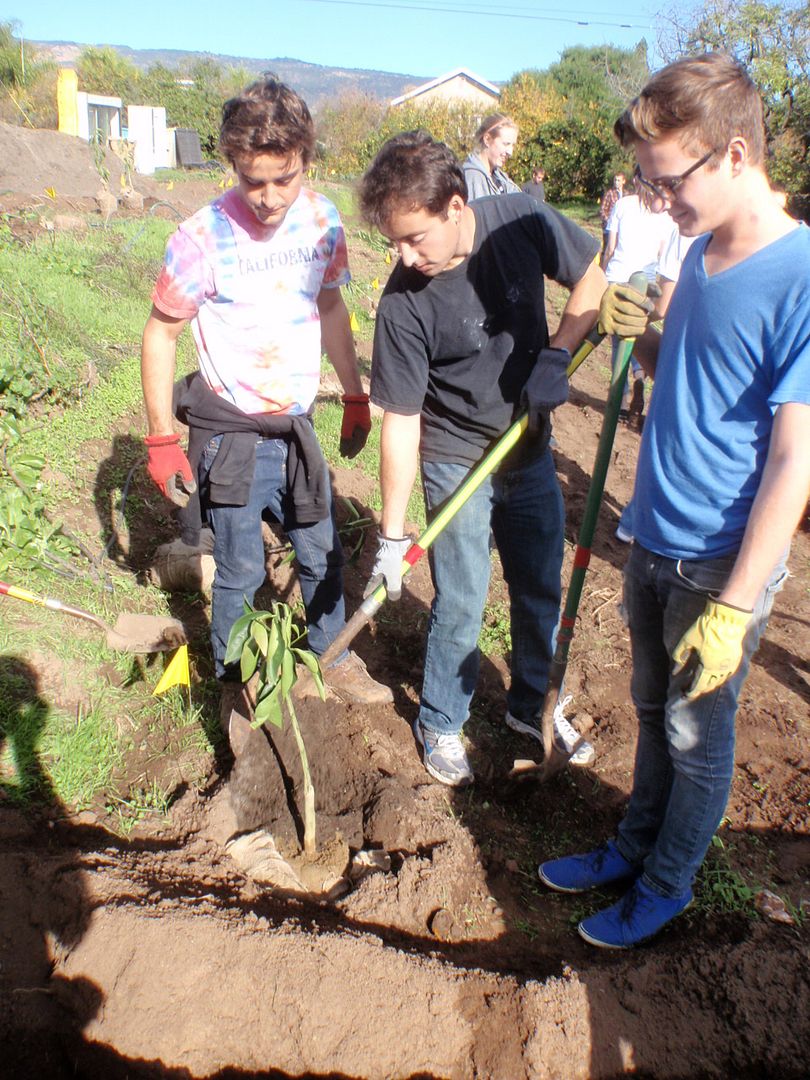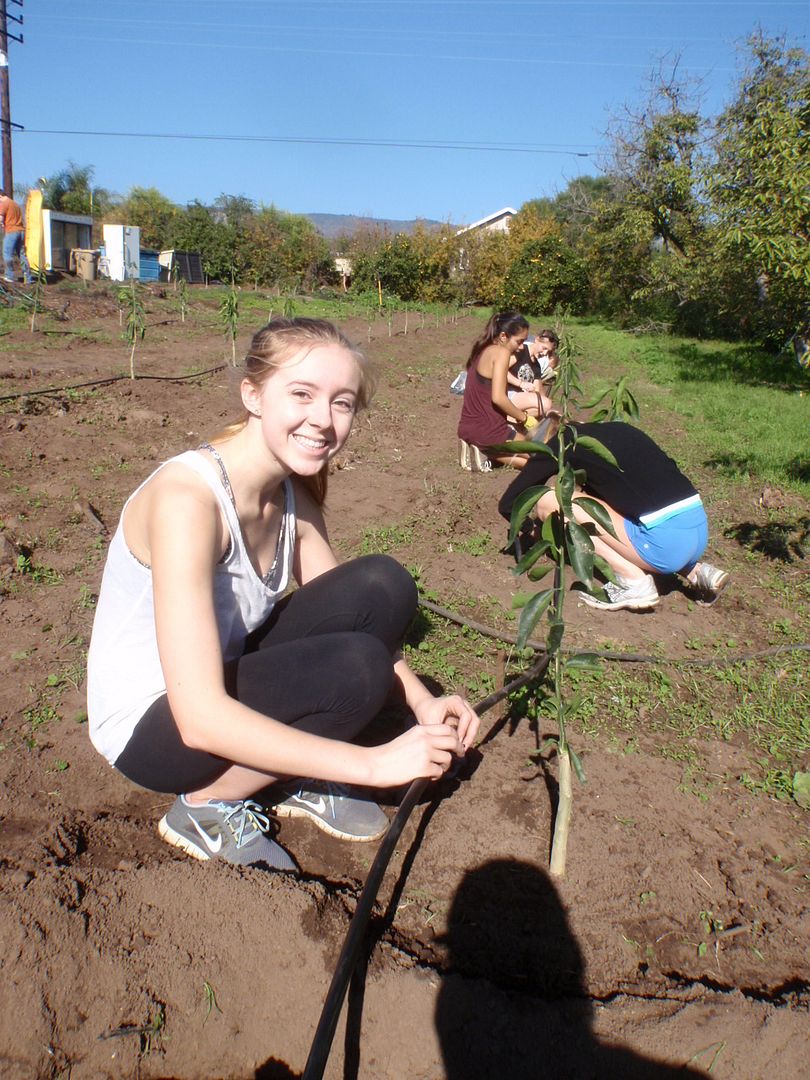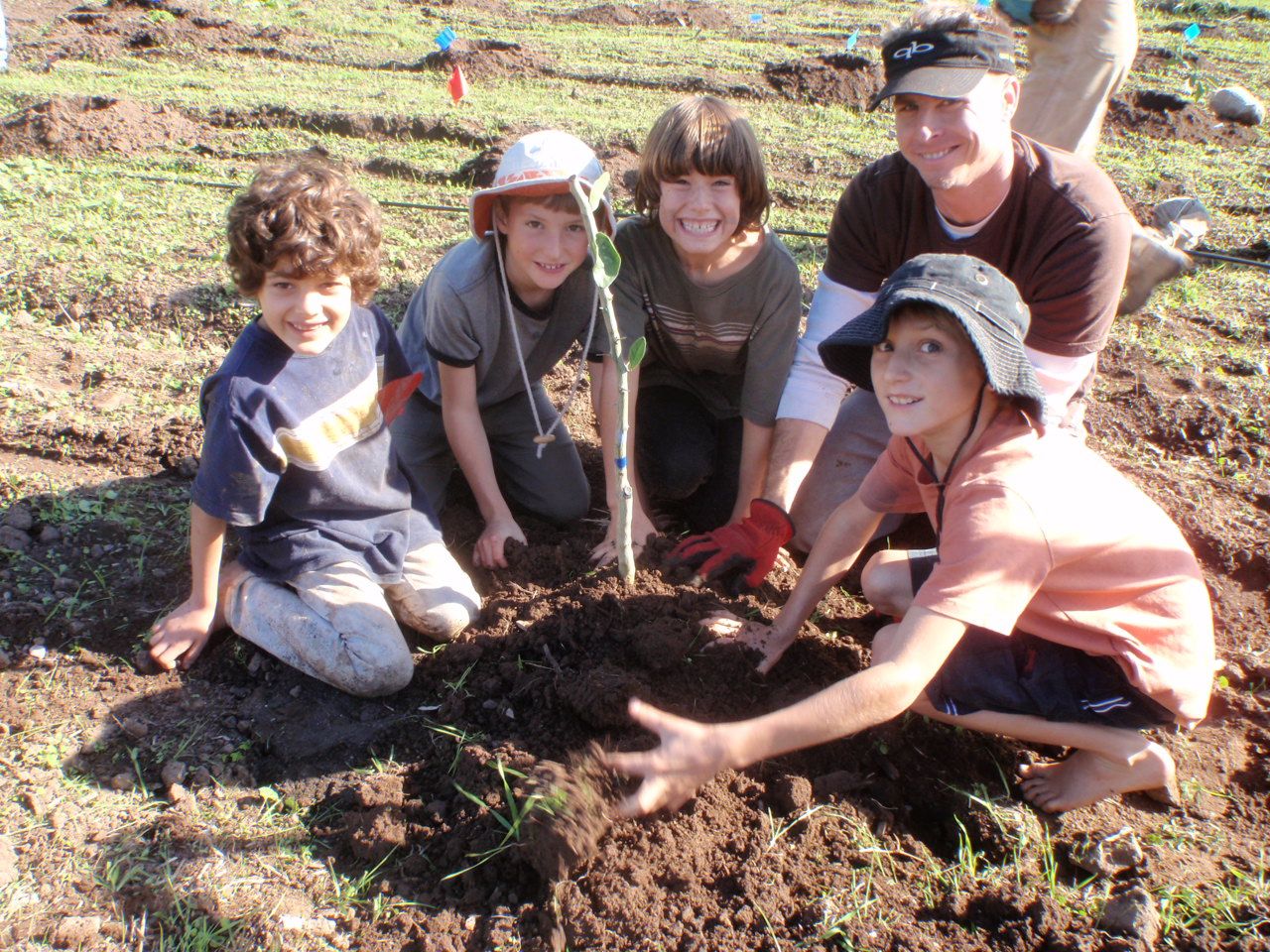 Peoples Garden Project Completed – In partnership with Fairview Gardens, Goleta Valley Beautiful volunteers planted 286 trees at the garden this past year including 273 fruit and 13 large shade trees. 62 Volunteers contributed 274 volunteer hours. Fairview Gardens and Goleta Valley Beautiful are both in the growing business, Fairview Gardens is a 12 acre farm for food, and Goleta Valley Beautiful operates a 2000 tree native shade tree nursery. We discovered ways in which we can buy and share materials that we both need, including mulch, compost, irrigation, equipment, and trees. In addition to increasing our purchasing power, we also used our combined volunteer networks to assist with this project.
This project is part of a nationwide network of gardens supported by the USDA People's Garden Initiative, and funded through a grant from the national nonprofit Alliance for Community Trees. The Alliance for Community Trees (ACTrees) People's Garden Grant Program is a new national initiative launched in 2012 to explore and deepen the connection between trees and urban agriculture. With support from the USDA National Institute of Food and Agriculture, ACTrees has provided funding to 30 communities in 21 states to plant trees that produce fruit and nuts or provide shelter to community gardens.
December Trash Totals - Trash pick-up totals for December include 5 volunteers providing 10 volunteer hours picking up 12.5 bags, for a cumulative total to date of 131.5 bags of trash picked up this year in the 305.5 hours of volunteer hours contributed.
---
Tree Stories
Send us your thoughts about trees that have had an influence upon your life and your memories, and we'll publish it in upcoming newsletters. Photos past and present are welcome.
This month's story is from the memory banks of Tami Mason, Goleta Valley Beautiful Treasurer.
Here is my tree story, short but sweet!
My daughter Emily came home from school very upset (tears and trauma) because the school was going to take down a big big tree out of the school play yard. Every day her friends would meet under the tree and goof off. This was their meeting place, and they protested by drawing pictures and standing by the tree, speaking to the principal. This did not work. The tree came down to make room for new class rooms and we had to go watch while they cut the good old boy down. It was a sad day. This was how I came to know that the younger generation also thinks that trees are very important to us! Go Goleta Valley Beautiful!
---
Recommended Trees for Our Urban Coastal Area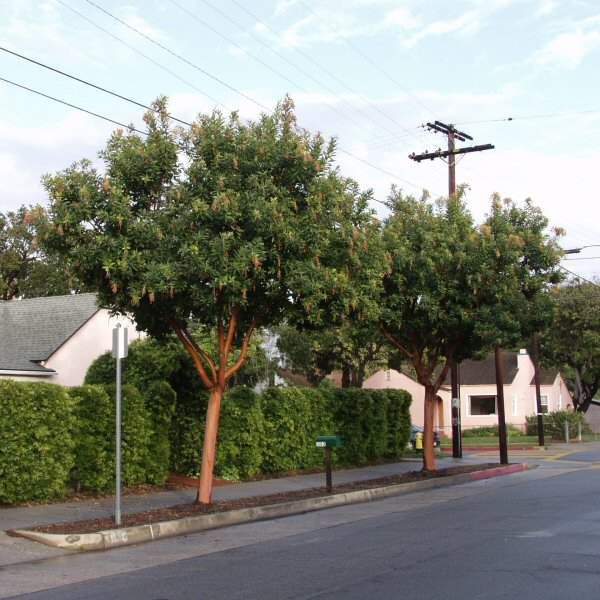 Arbutus marina
This is an ongoing monthly feature in response to the constant questions we get about what species of trees grow best in our area. We'll feature a new tree every month. For the month of December we are featuring the Arbutus marina!
Arbutus are small trees or shrubs with red flaking bark and edible red berries. The trees normally don't grow taller than 25', which makes it suitable to planting under power lines or in tightly constrained parkways. Fruit development is delayed for about five months after pollination, so that flowers appear while the previous year's fruit are ripening. North American members of the genus are called madrones, from the Spanish name madrońo (strawberry tree). The European species are also called strawberry trees from the superficial resemblance of the fruit to a strawberry; some species are sometimes referred to simply as "arbutus." In the United States, the name "madrone" is used south of the Siskiyou Mountains of southern Oregon]]/northern California and the name "madrona" is used north of the Siskiyou Mountains according to the Sunset Western Garden Book. In British Columbia, the trees are simply known by the name "arbutus." All refer to the same tree, Arbutus menziesii, native to the Pacific Northwest and Northern California regions. It is Canada's only native broadleaved evergreen tree
GVB has planted over 60 Arbutus marina trees at streets (Cumberland Dr., Armstrong Rd, Fairview Rd medians), parks (Girsh), Fire Station 11, and schools (Hope, Kellogg, Foothill, SB Montessori). The best looking example of this tree is in Randy Baldwin's private front yard. For more detailed information on this and other trees, please visit Selectree on the web at www.ufei.org/selectree.
Previously featured trees: September - Chinese Pistache; October - White Alder, November - Ginkgo biloba, December –arbutus marina
---
Goleta Valley Beautiful News Briefs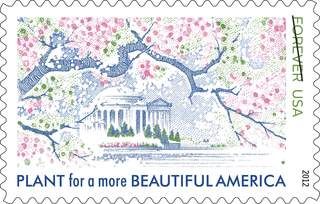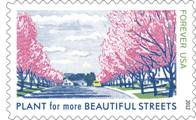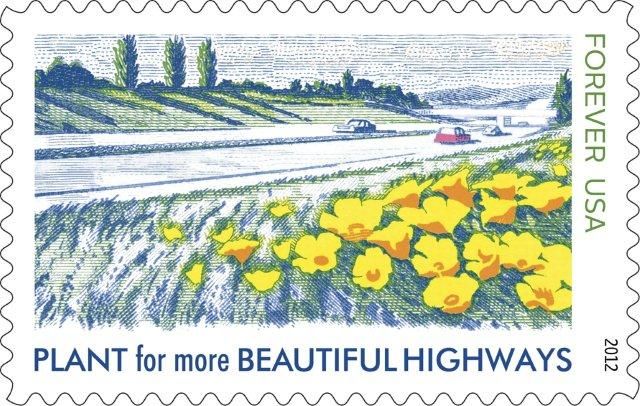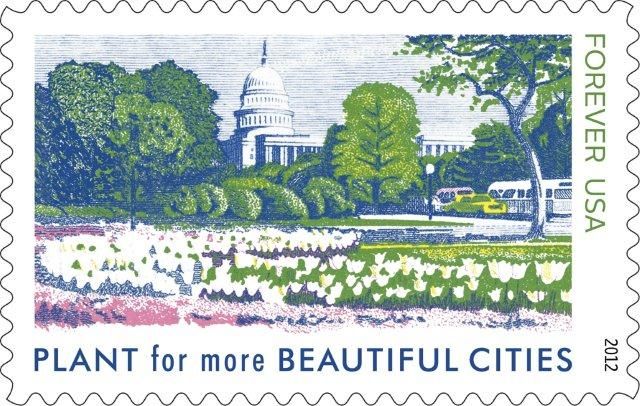 Planting for a Beautiful America stamps: GVB Member and stamp collector Michael Gartzke alerted us to a new collection of Lady Bird Johnson Plant for a beautiful America stamps. We like them so much they are now adorning the thank you letters we are sending to all our renewing members. Thanks Mike.
Membership Renewal Time: Speaking of membership renewals, If you haven't received a renewal form, you can always donate online at www.goletavalleybeautiful.org. Remember that among other benefits, all GVB members have the opportunity for receiving one free tree from our inventory at the Devereux Greenhouse and Growing Grounds. Your generosity helps fund our day-to-day operations, keeping the doors open, the lights on, and allowing us to organize community efforts to plant and care for trees. We are a growing business.
2012 Year End Totals:
605 Tree Planted
10 Replacement Trees Planted
2038 Trees Maintained
2007 Tree care Volunteers
6041 Tree Care Volunteer Hours
77 Trash Pickup volunteer
245 Trash Pick Up Hours
103 33 Gallon bags of trash pick up
City of Goleta Approves Public Tree Advisory Commission Ordinance: On November 20th, the Goleta City Council approved an ordinance establishing a Public Tree Advisory Commission The new Commission will provide advice to staff and the City Council on developing plans and goals for the Goleta Urban Forest, representing the interests of the community and inform the community of the Urban Forestry program. We would be interested in knowing if you would like to serve on the commission. Goleta Valley Beautiful salutes the City for continuing to implement the recommendations of the June 2011 Goleta Urban Forest Management Plan.
Kudos to Lori and Marc: GVB members Lori Roper and Marc Bradley continue their long standing new year's tradition of floral deliveries at Heritage House and Buena Vista Care Center. Photos to come in next month's newsletter.
Thanks also to last month's sponsors including: Alliance for Community Trees Peoples Garden Grant, California Urban Forest Council, UCSB Coastal Fund, Goleta Union School District, Santa Barbara Unified School District, West Covina Nurseries, California Department of Forestry and Fire Protection, California ReLeaf, Santa Barbara County Resource Recovery and Waste Management Division, Santa Barbara County Fire Department, Devereux, and hundreds of GVB donor members.
Goleta Valley Beautiful Executive Director Ken Knight received national recognition in November from Alliance for Community Trees, a national nonprofit urban forestry organization. Ken received a Travel Scholarship donated by CSX to help attend the annual national conference of urban and community forestry leaders in Sacramento, CA this November
.

Special thanks to Yardi Systems, headquartered in Goleta, for their support of our youth educational outreach programs. Yardi software is used to manage eight million residential units and sixteen billion square feet of commercial space to help their clients: Increase Revenues, Improve Efficiencies and Ensure Accountability. For nearly 30 years, Yardi Systems has been solely dedicated to the design, development, and support of real estate

investment management

and

property management software

. With 25 offices around the globe and a dedicated staff of 2000 employees, Yardi is ideally suited to help you effectively manage your properties
Thanks to Yardi and other generous sponsors, beginning in January, we'll be working with the newly formed South Coast Youth Corps Program to develop a young tree care training program for at-risk youth.
Please mention to our supporters how much you appreciate their support of Goleta Valley Beautiful. You can find the list of our donor members at our website at www.goletavalleybeautiful.org
Statistical information about previous tree care events including the amount/locations of trees and volunteers can now be found in the archives of the education section of our website.
---
If the hyperlink does not work, you can cut and paste the e-link into the address area of your browser. Your comments to kknight@goletavalleybeautiful.org will help us build a better communications link. To remove your name from the monthly e-mail newsletter list, please reply to this e-mail with the word 'remove' in the subject.