---
Goleta Old Town Tree Declared State Champion
California has a new champion sycamore right in the heart of old town Goleta. The Sister Witness tree that GVB volunteers have been working to preserve has dethroned the previous national champion Califronia Sycamore (Platanus racemosa) located in Oakdale. The previous champion located in 2008 received 495 points in the American Foresters rating scale for a tree that is 105.8 feet tall, 136 foot canopy and 355 inches in girth. The new national champion Sister Witness Tree, named for its proximity to its more well know relation across Hollister at the Sizzler Restaurant patio, has 743 points, for a tree that is 94 foot tall, 95.5 foot crown canopy, and 626 in girth. We're waiting for the formal announcement to be reflected on the big tree website.
NOTE: After this newsletter was released, the designation of the Sister Witness Tree as a Champion Tree is still being reviewed. A site visit by a Champion Tree expert from Northern California, and possibly DNA testing may be necessary to determine if the tree is actually one tree, or several trees growing together. We still think it is one tree, but the review process is still ongoing.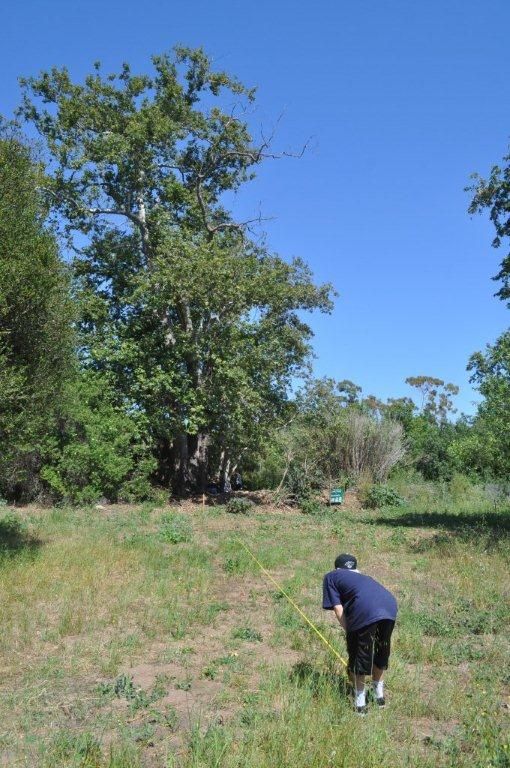 Palabra crew measuring the base and height of the Sister Witness tree
· Then and Now – Lyon Place Chinese Pistache Trees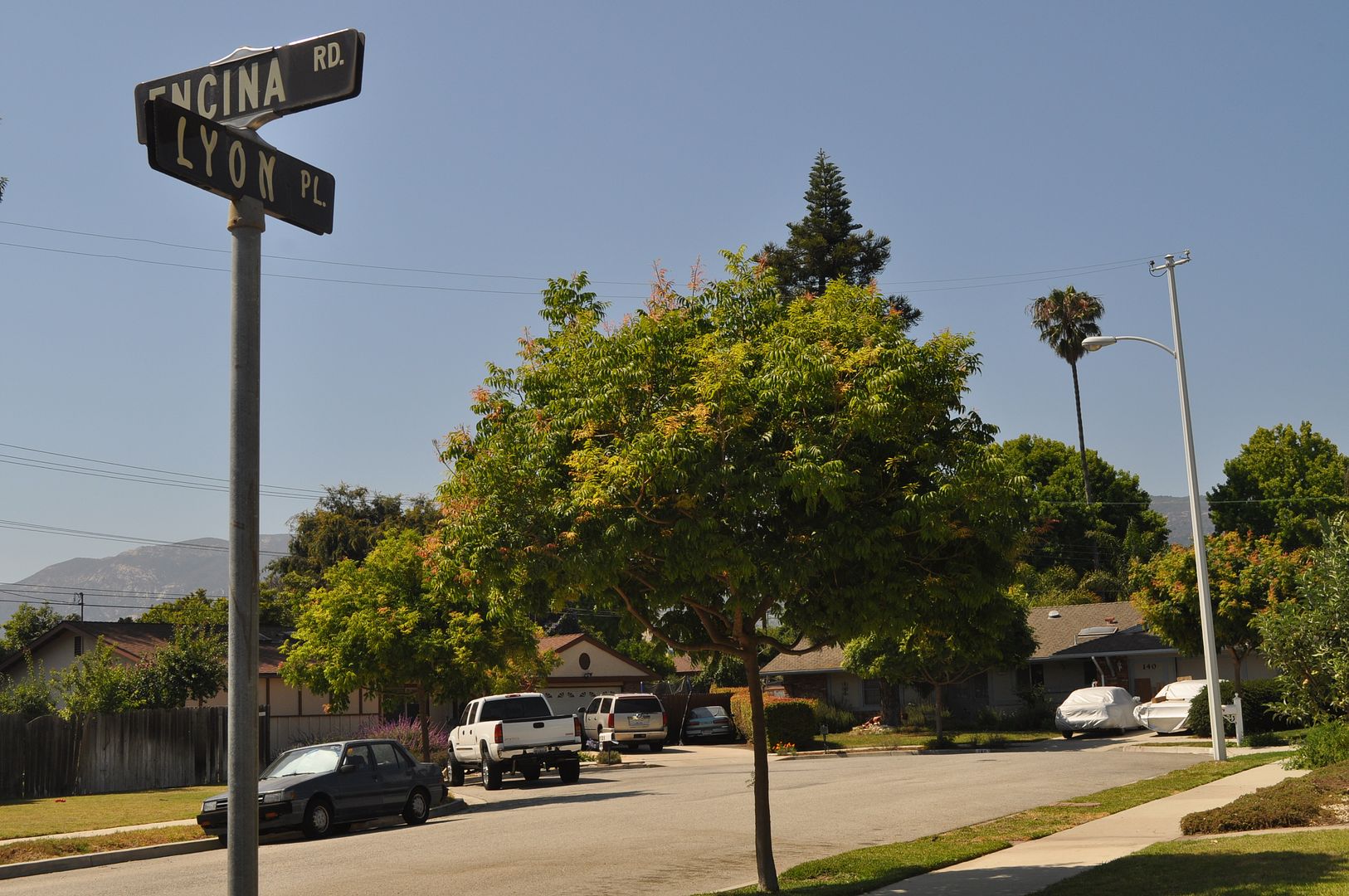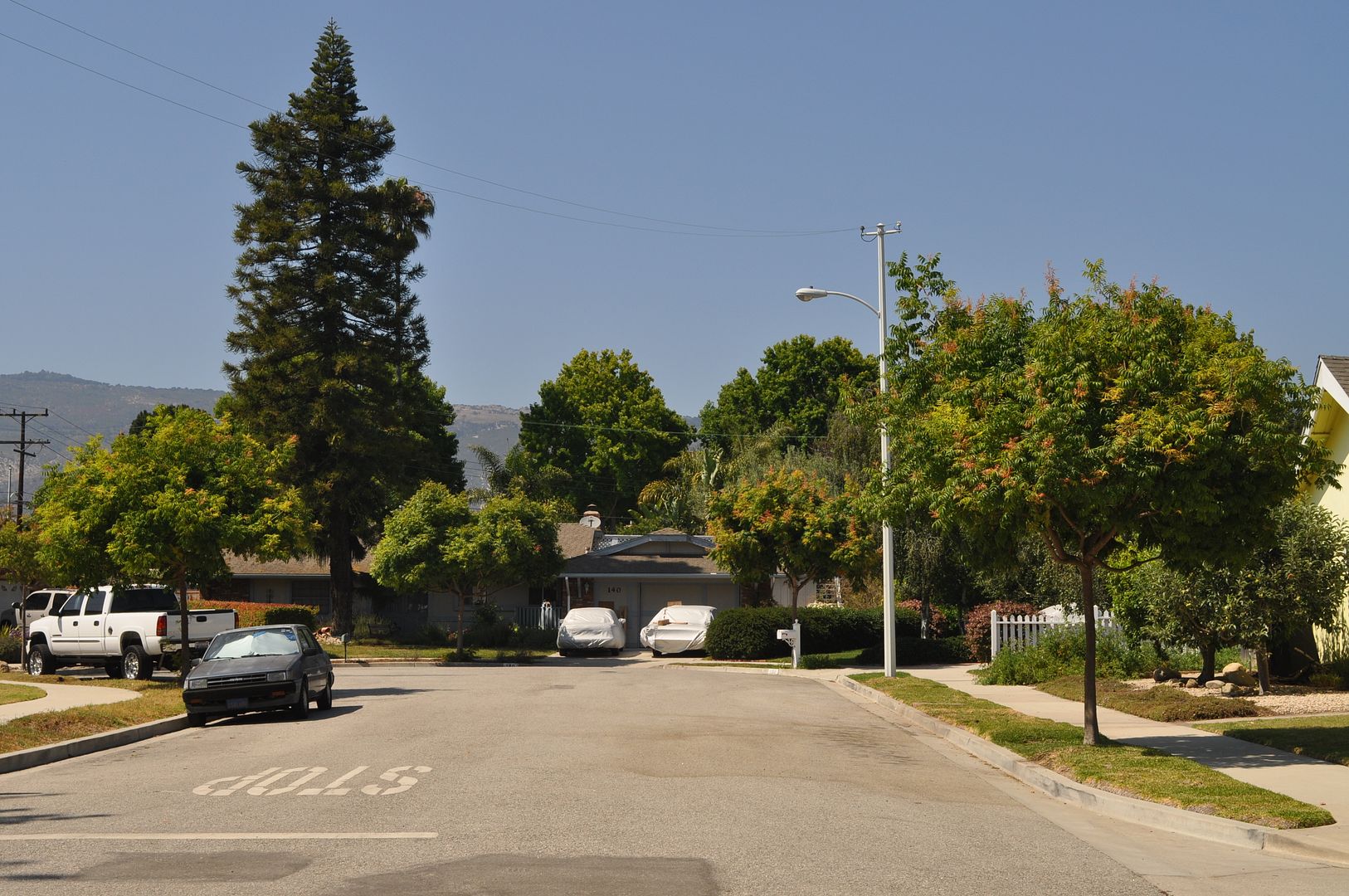 Then 4/13/03 Now 7/2/12
Over nine years ago on April 13, 2003, a crew from the Los Prietos Boys Camp helped GVB plant 5 Chinese Pistache (Pistacia chinensis) trees around the cul de sac at Lyons Place off Encina Road north of the Calle Real commercial area. The trees have grown and thrived with the support of adjacent property owners, Goleta Valley Beautiful volunteers, and the City of Goleta. Thanks to California ReLeaf and the California Department of Forestry and Fire Protection for grant funding that made this possible.
---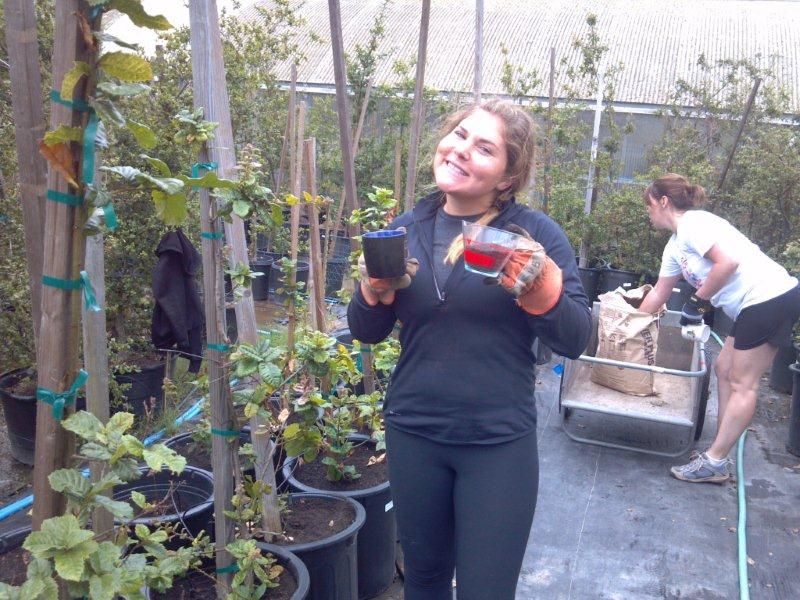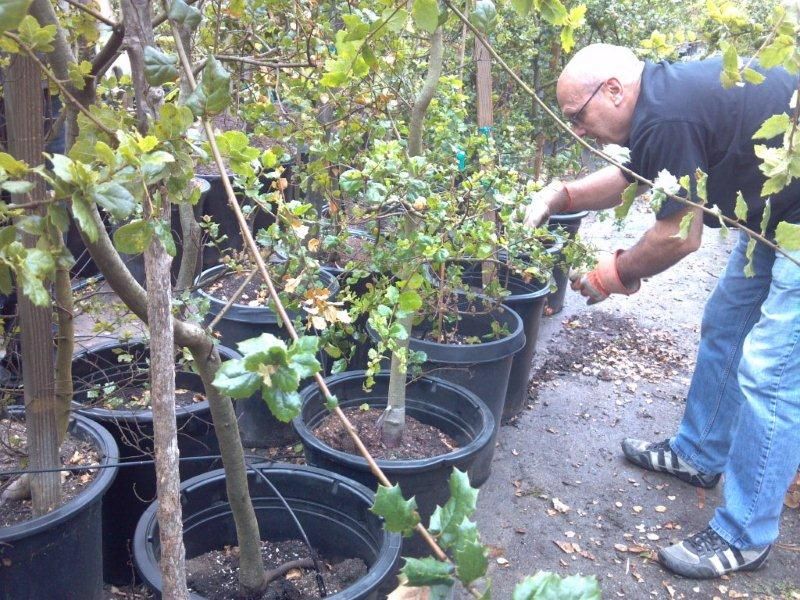 Volunteers from Deckers help out at the Devereux Greenhouse
Sign up for Goleta Valley Beautiful July Volunteer Events
Our summer tree care schedule includes Saturday morning events from 9 to Noon. In order to keep our events up to date, we are now posting all of our events on our website volunteer events calendar at www.goletavalleybeautiful.org. For the most part, we will be working at the Devereux Greenhouse and any off site projects will be starting from there. To get to the Greenhouse, From Storke Road and El Colegio, continue towards ocean on Slough Road for 1/2 mile, turn left onto Devereux Way, proceed 50 feet to the stop sign, turn right and go halfway around the circular road until you see the dirt road entrance to the Greenhouse. We do have special projects for student interested in earning community service credits, and weekday events. For all volunteer tree care events, please RSVP at www.goletavalleybeautiful.org. Any questions call (805)685-7910.
Roadside trash collection in the Goleta area continues on the 2nd and 4th Saturdays. Call Don and Judy Nason 964-4895 to RSVP. Call 964-7117 to participate in graffiti removal and to report incidents in your area as soon as you see it.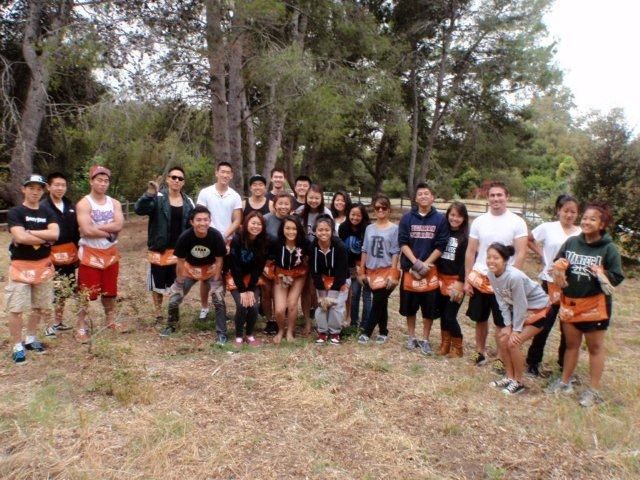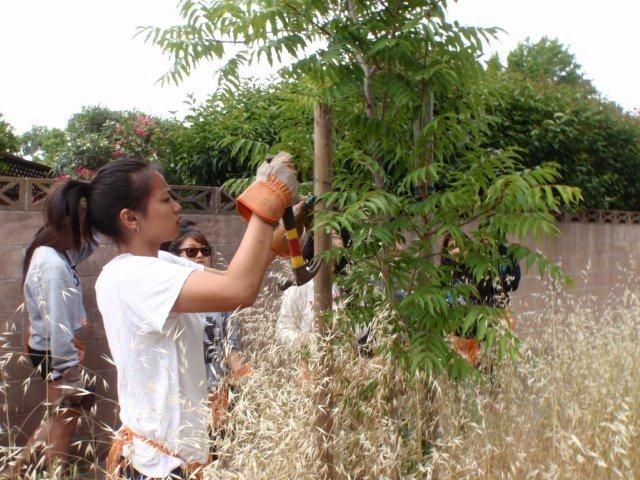 29 Volunteers from UCSB Chi Delta Theta providing small tree care at Stonebridge and La Goleta Open Spaces & along Cathedral Oaks Rd
---
New Feature! Tree Stories - Tell us about Your Favorite Tree Story- This month - Louise's Trees
Beginning this month we're starting a new feature in the GVB newsletter with your favorite tree stories. Send us your thoughts about trees that have had an influence upon your life and your memories, and we'll publish it in upcoming newsletters. Photos past and present are welcome. This month's story comes from us from Billie Maunz, Goleta Valley Beautiful's Fund Development Specialist.
Louise's Trees:
Unaware, I hold my breath as we approach the gate to the old farm road and I stretch to look ahead down the curing dirt road.
I exhale… they are still there! It is summer and they are full canopied, giant, and a glorious green lining both sides of the road – 90 years old and counting!
My mind goes back… I'm ten years old. We're picking up bushel baskets of pecans under trees I've known all my life. They were always called "Louise's trees." Today I confess a bit of jealousy that Daddy in a fit of pride, joy and emotion planted them all to celebrate the birth of his first child. No other daughter or son was honored by such a grand gesture.
There's no family left of me in this small East Texas town. The pecan trees shoulder the burden and joy of memories.
Billie Maunz 6/12/12
---
New Greenhouse Summer 2012 Interns
Thanks to the Coastal Fund we've been able to hire UCSB student and former GVB mapping intern Jerry Li as the summer greenhouse manager at Devereux. Although we don't have any additional funds to provide stipends for our summer interns, we've had a large group of well qualified and energetic volunteers apply for the summer. Below are photos of our new crew.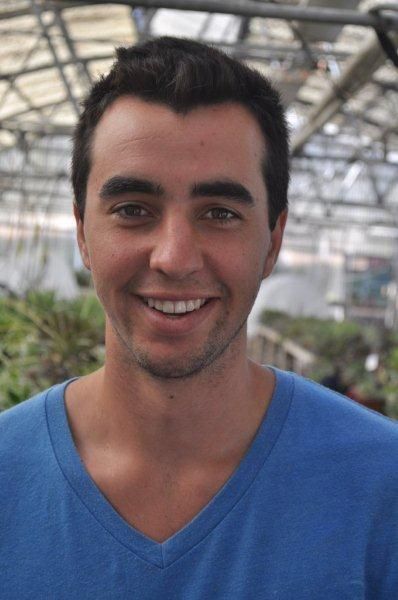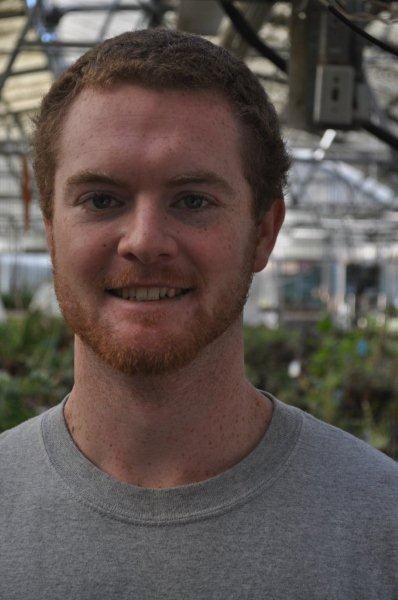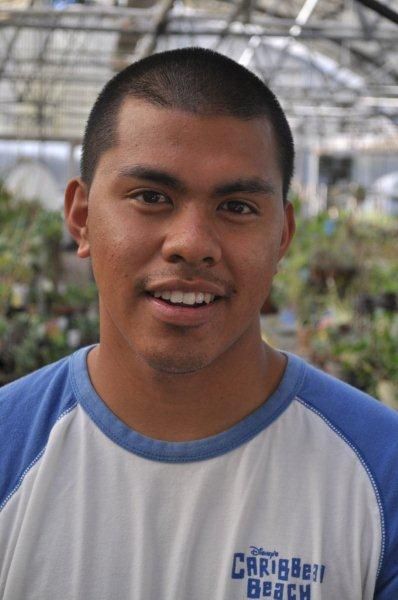 Jerry Li Jake Olsen Jarlath Greaney Matthew Millado Stephanie Edwards Hanna Vassilis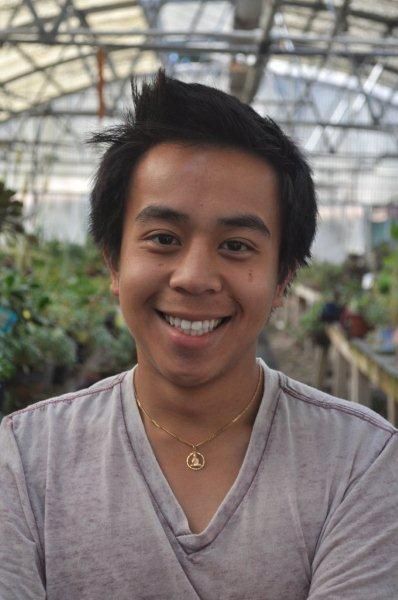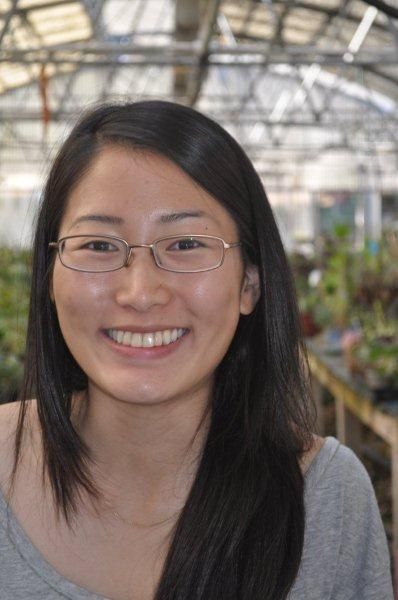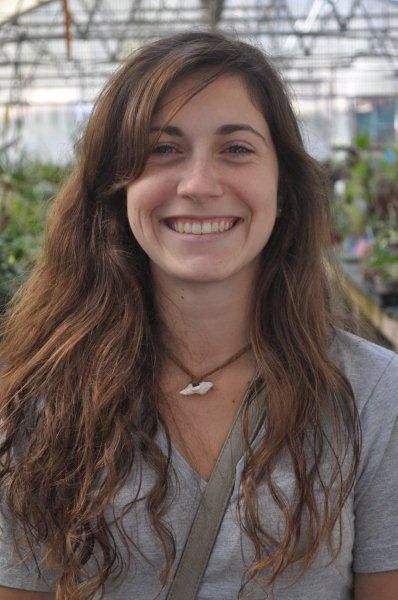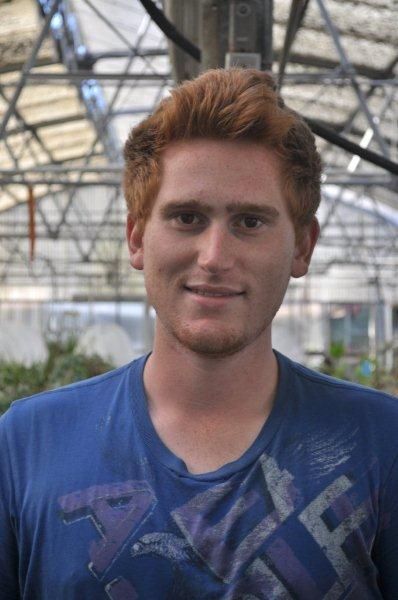 Justin Luong Kris Lai Mei Ju Wu Nikki Jacoby Patrick Turner Suzanne Vieira
---
Volunteers from UCSB Kapatirang Pilipino water young trees on Cathedral Oaks Road
Goleta Valley Beautiful News Briefs
- Thanks to last month's volunteer groups including UCSB Chi Delta Theta, UCSB Kapatirang Pilipino, Lambda Pi Eta, Dudes on Duty, Los Prietos Boys Camp, and the UCSB Honors Program.
- Thanks also to last month's sponsors including: UCSB Coastal Fund, the City of Goleta, California Department of Forestry and Fire Protection, California ReLeaf, Santa Barbara County Resource Recovery and Waste management Division, SB County Public Works, Devereux, and hundreds of GVB donor members. Please mention to our supporters how much you appreciate their support of Goleta Valley Beautiful. You can find the list of our donor members at our website at www.goletavalleybeautiful.org. Look for our major tree planting project on August 4th at Fairview Gardens.
- Statistical information about the amount/locations of trees and volunteers can now be found in the archives of the education section of our website.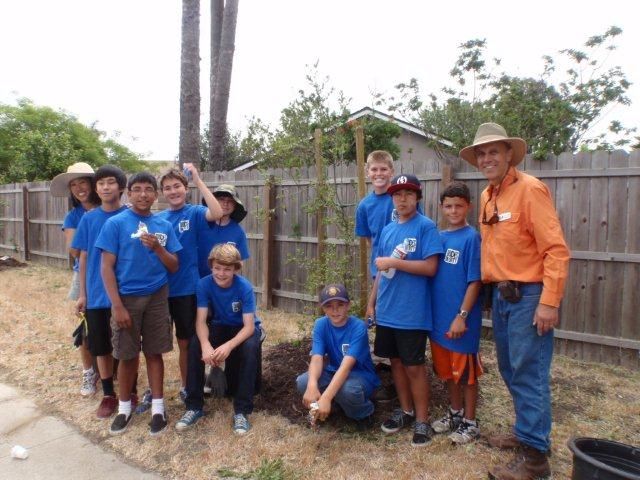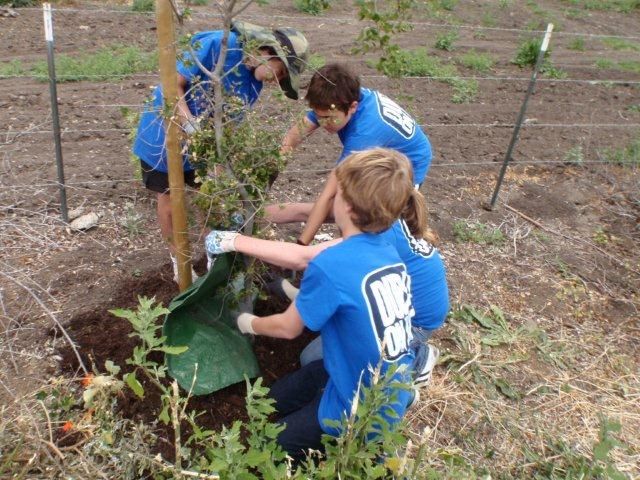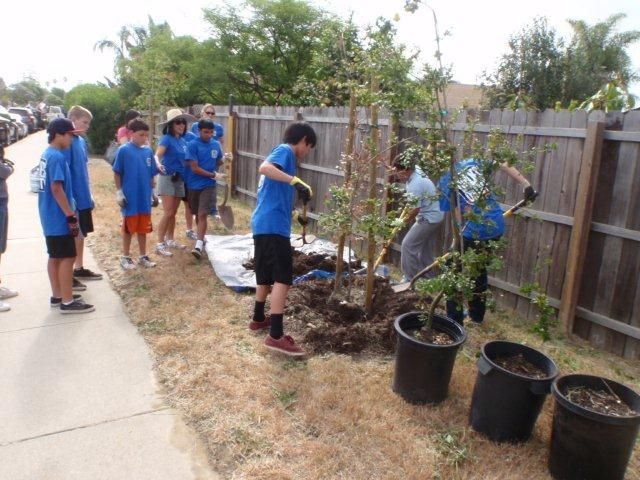 The hardworking "Dudes on Duty" planting, mulching and watering trees along Cathedral Oaks Road
Trees In Memoriam: Ongoing threats to our young trees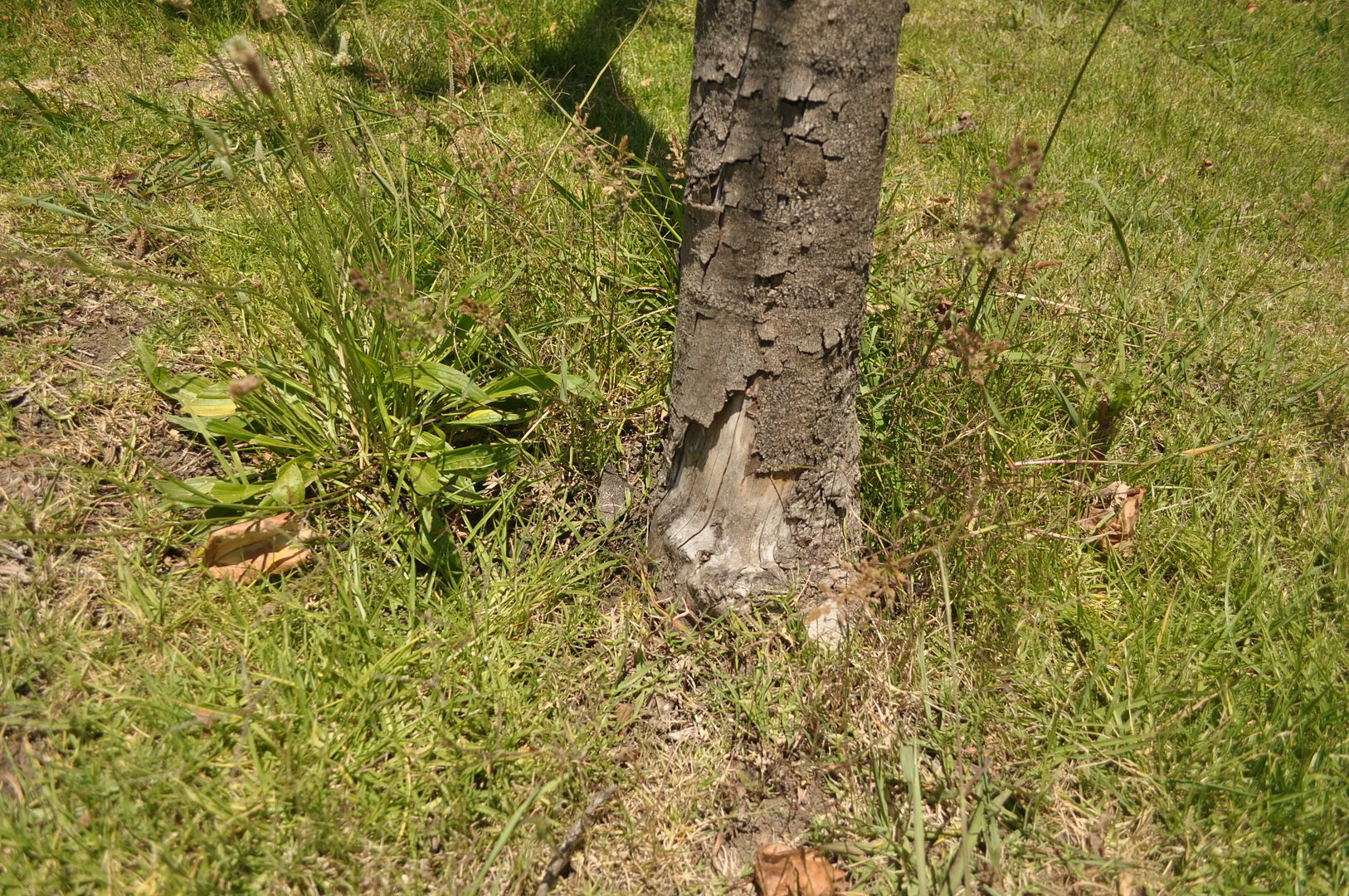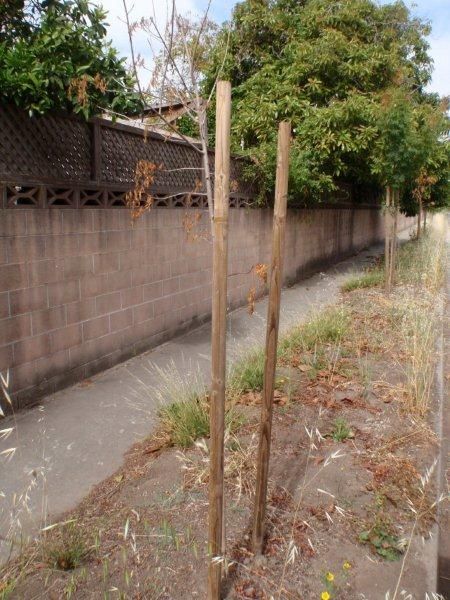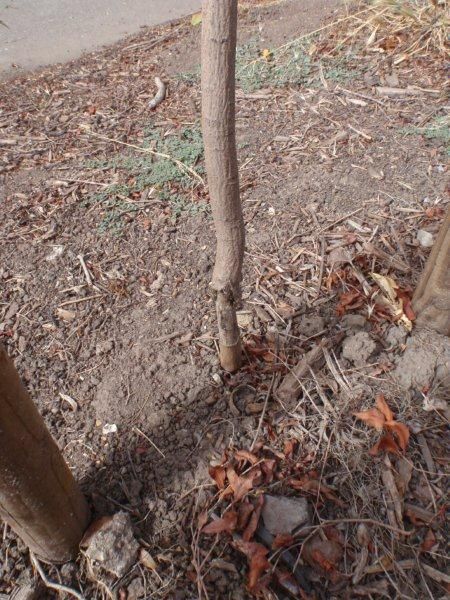 Dos Pueblos High Jacaranda planted in 2001 died in 2012 from weed trimmer damage. Cathedral Oaks & Windsor Chinese Pistache planted 2011 died in 2012 from gopher damage.
One of the major causes of death for young trees is careless use of weed trimming equipment. Please keep an area of one foot around your tree trunk of grass and weeds.
---
If the hyperlink does not work, you can cut and paste the e-link into the address area of your browser. Your comments to kknight@goletavalleybeautiful.org will help us build a better communications link. To remove your name from the monthly e-mail newsletter list, please reply to this e-mail with the word 'remove ' in the subject.
---