---
GOLETA VALLEY BEAUTIFUL NEWS HEADLINES - STORIES BELOW
· Goleta Valley Beautiful Announces 38th Annual Award Winners for 2012
· Backyard Fruit Tree Program Helps 165
· Sign up for Goleta Valley Beautiful April Volunteer Events
· Oak Worms Continue their Attack! There is still not much you can do about It.
· Goleta Valley Beautiful News Briefs
· March Goleta Valley Beautiful Volunteer Events Recap
· 2012 Membership Renewal Time- Online Membership Now Available
Goleta Valley Beautiful Announces 2012 Award Winners:
The 38th Annual Goleta Valley Beautiful Awards and Silent Auction Fundraiser will be held Sunday May 6th From 3 to 5 PM at the Stow House Gardens of Rancho La Patera. Eric Onnen will MC the event with music provided by the Bren Grass Band. Light refreshments will be served, along with a no host bar. Admission is $20. Reservations are available online at www.goletavalleybeautiful.org or by calling 685-7910.
Thanks to the Awards and Events Committee for their hard work including Co-Chairs Jennifer Price and Jon Haverty, Kim True, Jennifer Berry, Zea Bauer and Michael Bennett.
Awards
Open Space Award – San Marcos Foothill Preserve – 550 Maple Street Unit F, Carpinteria, CA 93013
Restoration Award – San Clemente Habitat Restoration and Stormwater Management System – CCBER, Harder South, MC 9615, UCSB, Santa Barbara, CA 93106
Sustainability Award – 525 Lorraine Avenue, Santa Barbara, CA 93110
"Open" Award –Chumash Gardens adjacent to the UCSB Student Resources building
Single Family Residence Award – 394 Edgewood Drive, Goleta, CA 93111
Multi-Family Residential Award – 6525 El Collegio - Tropicana del Norte, Isla Vista, CA 93111
Commercial Award –6900 Hollister Avenue - Montecito Bank and Trust, Goleta, CA 93117
Public Building/School Award – Library Plaza, UCSB
Preservation of Goleta Valley Heritage Award – 170 Magnolia Ave, Goleta CA 93117 Historic Ellwood Hotel
Farm/Orchard Award –5297 Shoreline Drive - West Covina Nursery, Santa Barbara, CA 93111
Heritage Tree Award – Australian Willow (Geijera parviflora) – Goleta Valley Community Center - 5679 Hollister Avenue Suite 1, Goleta, CA 93117
Golden Shovel Award – Rosemary "Zea" Bauer
Volunteer of the Year – Jon Haverty
Philanthropist of the Year – Greg Hind, The Hind Foundation
Community Pride – 5490 Hollister Avenue/ Pacifica Suites
Community Partner – The Jurkowitz Family and the Sanders Family
· California Arbor Day Events March 7-14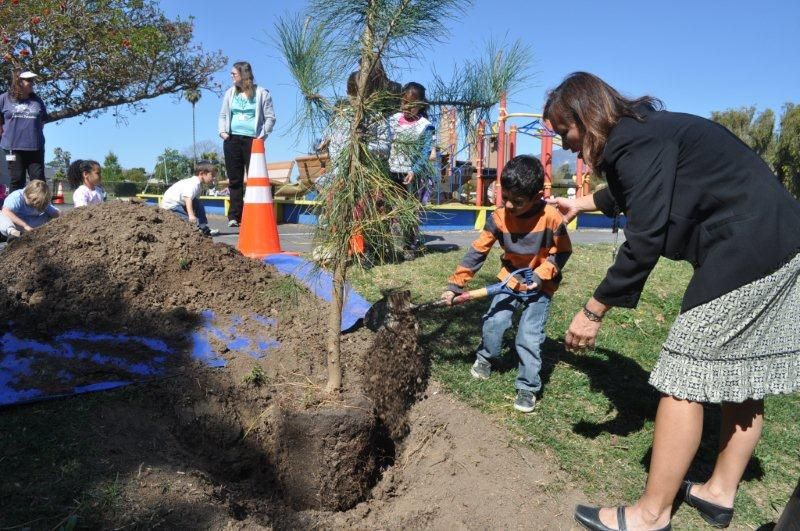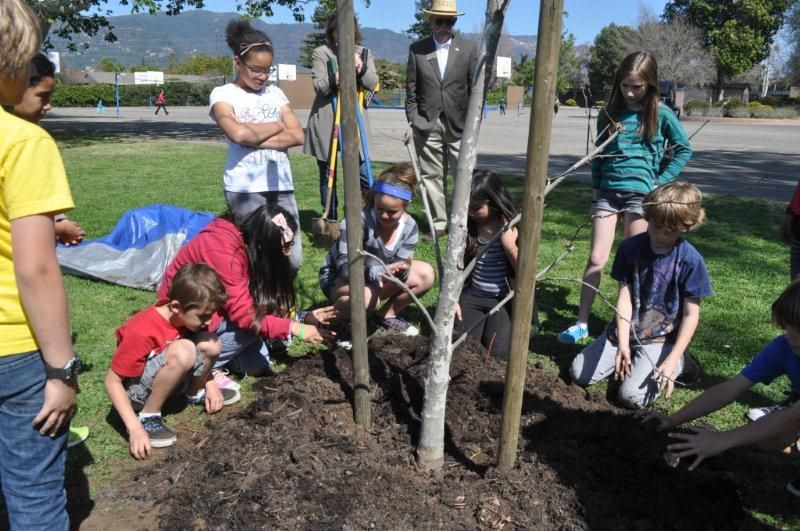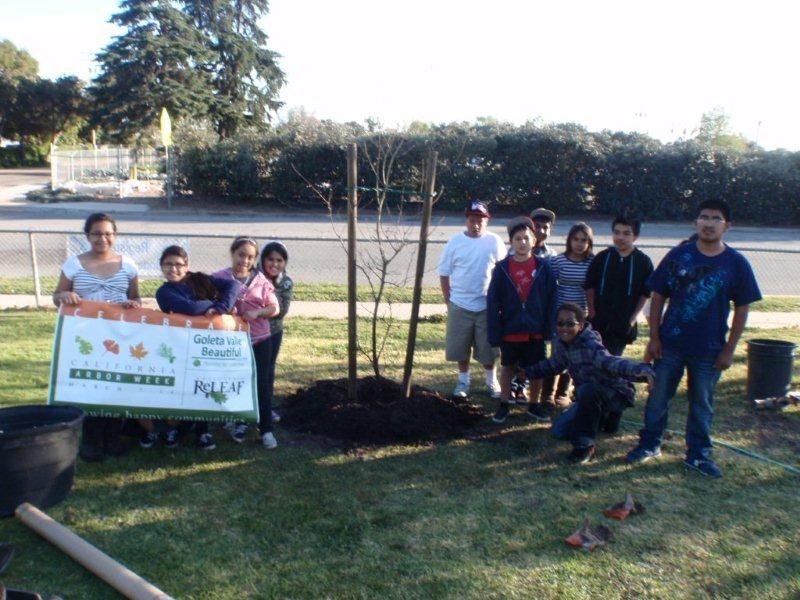 Goleta Valley Beautiful celebrated California Arbor Week at four different school sites with over 500 school children participating in the planting of 4 trees. Duirng a noon time ceremony at Kellogg Elementary, Principal Nancy Knight introduced Goleta Mayor Ed Easton who encouraged the students to celebrate Arbor Week by planting a Sycamore Tree. Kellogg Elementary Student Council officers read stories and poems about trees.
At Brandon Elementary, 60 Kindergarten students planted a Torrey Pine with the assistance of Principal Felicia Roggero and Goleta Mayor Ed Easton. Ellwood Principal Abby Vasquez led 40 Kindergarten students and staff in planting a New Zealand Christmas Tree in their Kindergarten area. And finally, 30 students in the El Camino after-school program planted a Valley Oak on the front lawn. These events were sponsored by a grant from California ReLeaf with the assistance of the Goleta Union School District, the Community Action Commission Youth Corps, and Goleta Valley Beautiful Donor Members.
· Backyard Fruit Tree Program Helps 165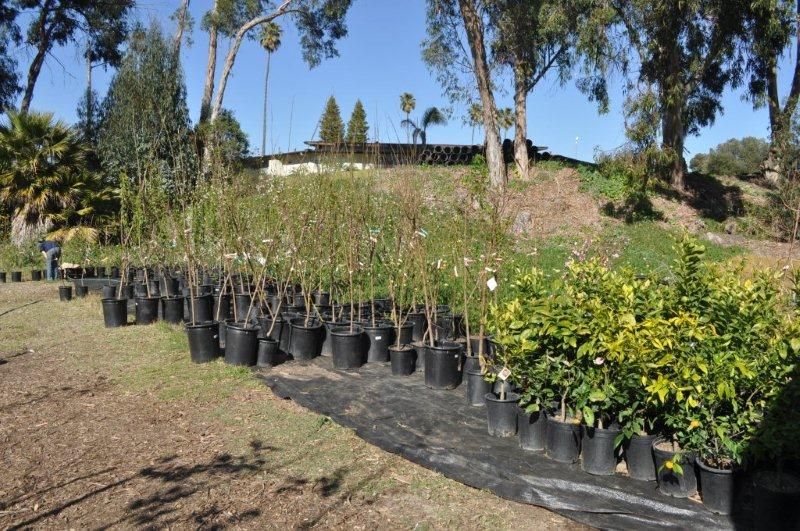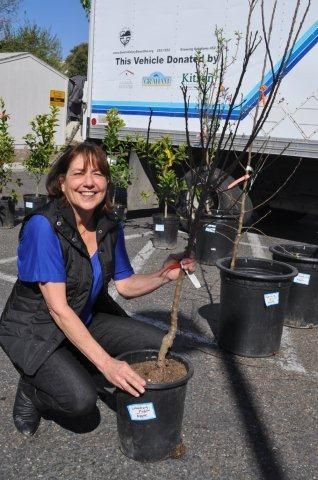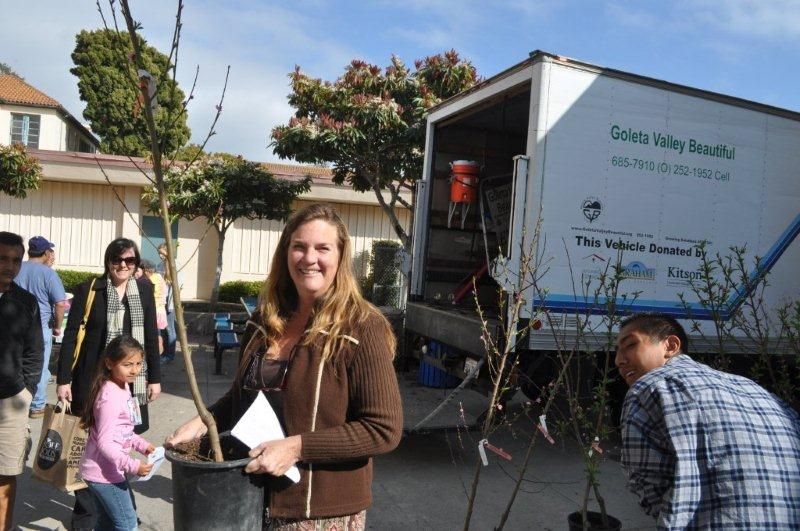 Goleta Valley Beautiful recently completed distributing 165 free fruit trees to low income families through the generous support of Citrix. Agencies currently serving low income families helped distribute the five to fifteen gallon sized trees. The agencies included Santa Barbara County Public Health Department Nutrition Services, Food Bank of Santa Barbara County, and Peoples Self Help Housing. Fruit trees were also made available to developmentally disabled clients through Alpha Resources and Devereux. Recipients chose between a variety of different species of trees including almond, apple, cherries, lemon, mandarin, orange, nectarine, peach, plum, and pluot.
Certified Arborists assisted recipients with English and Spanish demonstrations on how to plant and care for the trees. Distribution locations included La Cumbre Jr High, La Cuesta High, Isla Vista Youth Projects, Storke Ranch Apartments, the Alpha Resource Center, and the Devereux campus in Isla Vista. Attendees went home with a tree and an information sheet reminding them of proper tree planting procedures. The youth group Palabra helped with the distribution process.
Eligibility was limited to one tree per household for low-income families. Each agency verified the eligibility of applicants, who then signed up for available trees on a first come-first serve basis. Applicants also certified that the tree will be planted in the ground of a residence where the applicant lives, and where the owner approves of planting the tree.
This program was made possible through a generous contribution from CITRIX.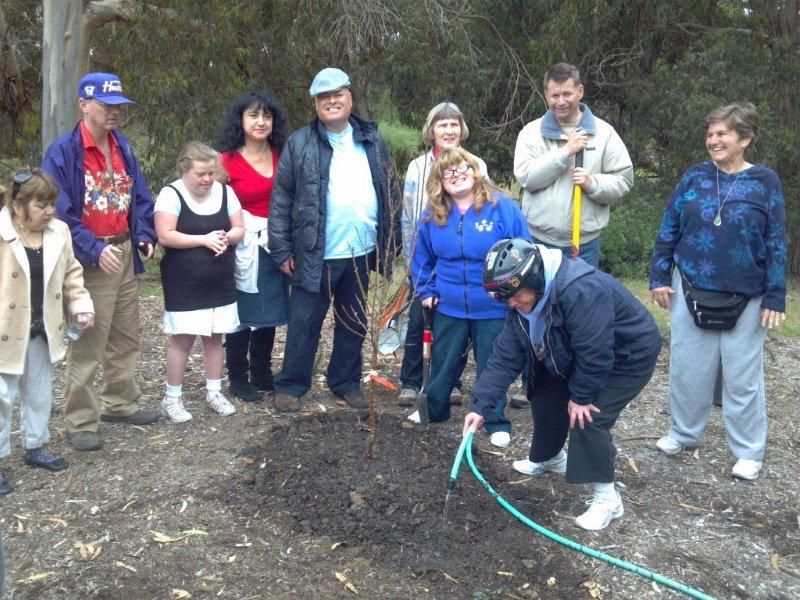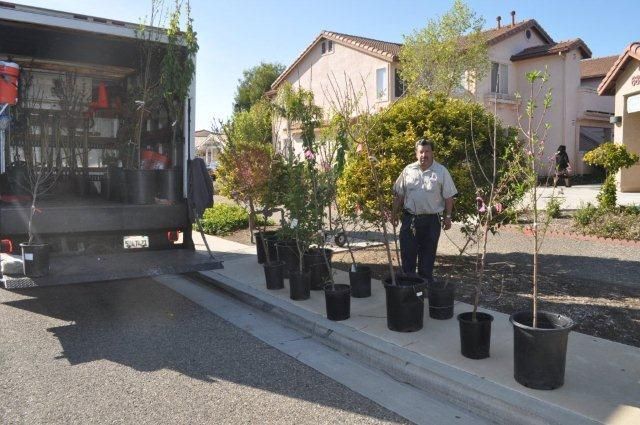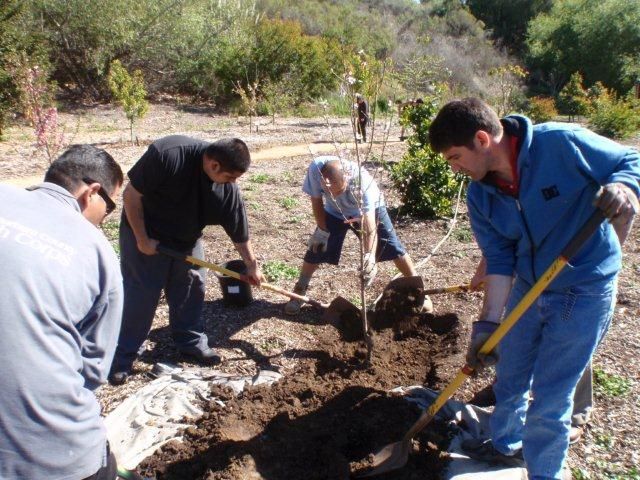 Sign up for Goleta Valley Beautiful April Volunteer Events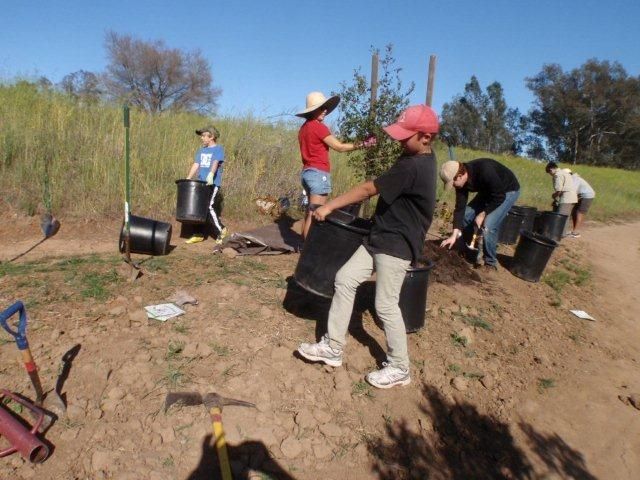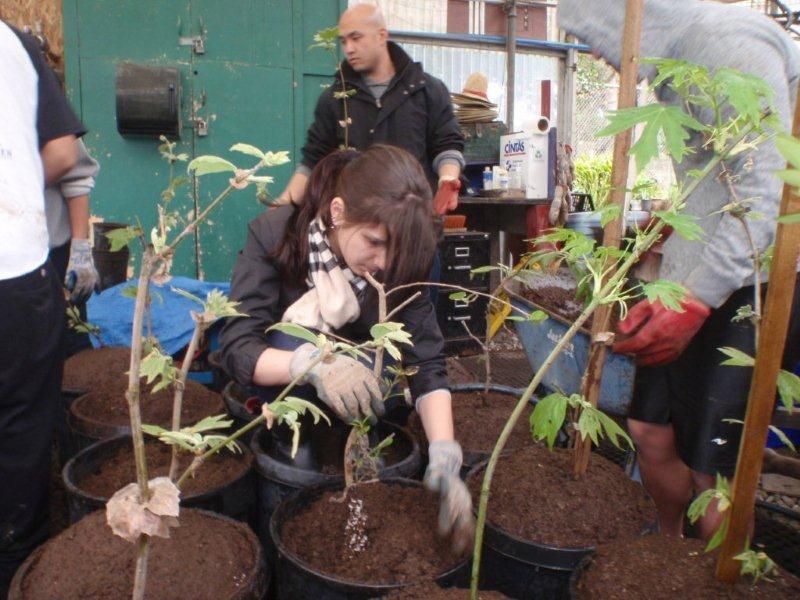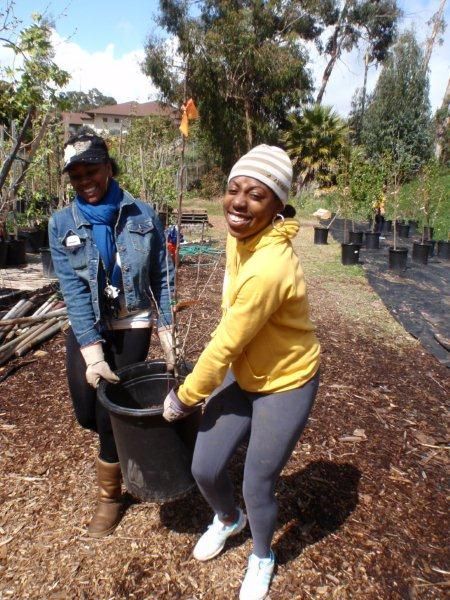 Our regular schedule with Saturday morning events from 9 to Noon, and Saturday afternoon events from 1 pm to 4 pm. We do have special projects for student interested in earning community service credits, and weekday events. We post all of our events on our website so for the latest information please check our calendar at www.goletavalleybeautiful.org.
For all volunteer events….
Please RSVP for all events by sending an e-mail to kknight@goletavalleybeautiful.org with your name, phone and e-mail, and the date, time and location of the volunteer event in which you would like to participate. For questions before the event call Ken at 685-7910, and during the day of the event at 252-1952.
No experience necessary. Goleta Valley Beautiful provides all tools and equipment. Please wear old clothes you wouldn't mind getting dirty and sturdy shoes – no open toes or flips please. All work done from the ground. Students, bring your community service forms to get signed for credit. Families welcome as long as younger children are constantly supervised.
Date Event Location
Apr 7th, Sat 9 AM to Noon Tree Planting Girsh Park Phase 1 of 2, planting 10 Trees. From Storke Road heading west, take Phelps Road to the second parking lot on your right.
Apr 7th, Sat 1 PM to 4 PM Tree Care Ellwood Elementary, xxxx Hollister Avenue for the first
Apr 14th, Sat 9 AM to Noon Tree Planting San Marcos High School –meet in the parking lot on the Turnpike side
Apr 14th , Sat 1 PM to 4 PM Tree Planting Goleta Valley Jr. High – meet in parking lot at the front of the school on xxx Stow Canyon Road
Apr 21st , Sat 9 AM to Noon Tree Pruning Dos Pueblos High School. Meet at the Alameda Ave side adjacent to the Distinguished School sign.
Apr 21st , Sat 1 PM to 4 PM Tree Planting UCSB Tree Care – Meet at Parking lot 37 on Mesa Rd
Apr 28th, Sat 9 AM to Noon Tree Planting Girsh Park 2 of 2 – Plant 15 trees
Apr 28th, Sat 1 PM to 4 PM Tree Planting Devereux Greenhouse
Litter Pickup
Roadside trash collection in the

Goleta area

on the 2nd and 4th Saturdays. Trash grabbers and bags provided by the City of Goleta.

Call Don and Judy Nason 964-4895 to RSVP

.
Graffiti Removal
Call 964-7117 to participate in graffiti removal and to report incidents in your area

as soon as you see it.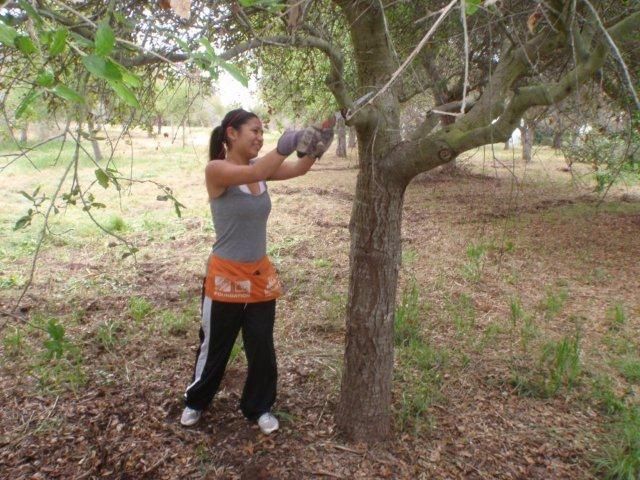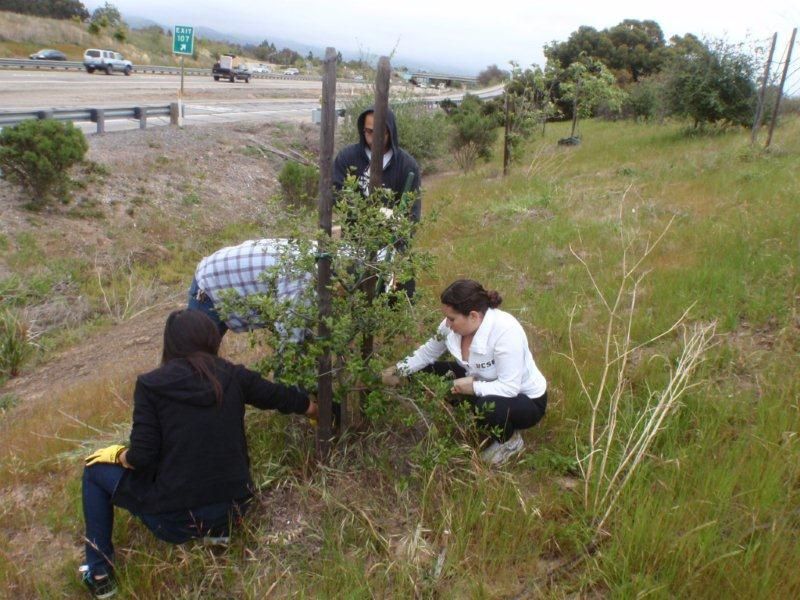 ---
· Oak Worms Continue Their Attack! There is still not much you can do about It.
We are continuing to get calls about the oak worm caterpillars which seem to be everywhere this year. They will eat all of the leaves of your oak trees including the Coast Live Oak, Island Oak, Valley Oak and any other tree born from acorns. Aside from the yucky frass (worm poop), the caterpillars are more of a nuisance than a threat to your oak trees. The leaves will grow back. The problem we have this year, however, is that because of the mild winter, the oak moths/caterpillars were active throughout the year. The danger with this is that the oak caterpillars may denude a tree of its leaves twice or more in one year. Several defoliations in one year could spell trouble for a tree. Normally we don't recommend any course of treatment for oak moth/caterpillar, but some trees may get so stressed that they need some action. For more information on oak worms and how to deal with them, try this website www.ipm.ucdavis.edu/PMG/PESTNOTES/pn7422.html .
---
Goleta Valley Beautiful News Briefs
Additional Stimulus Funding for Tree Maintenance/Sister Witness Tree Preservation - -Goleta Valley Beautiful received an additional $10,000 grant of Stimulus funds through California ReLeaf based on our track record of successful accomplishments to date. The additional funds will allow GVB to hire local at risk youth to assist in tree maintenance projects and to bring in the California Conservation Corps to tackle maintenance needs of the Sister Witness Tree. The Sister Witness Tree is a 250 year old plus heritage sycamore on San Jose Creek across from the Witness Tree in the Sizzler Restaurant patio. As we stated in last month's newsletter, the tree is in danger of failing due to lack of maintenance including a large Canary Island Palm growing out of the trunk of the 50 foot circumference sycamore. GVB forces will begin work on this project beginning April 23rd.
SoCal Gas Project 'Bettering the Air We Breathe' Begins in April- GVB volunteers will be at Girsh Park on April 7th and 28th planting 26 low allergen trees to help improve air quality, sequester carbon and all the good things that trees do for us. If you would like to help, see our volunteer calendar and contact us.
Al Turnbull Grove Stressed- During our annual tree maintenance program at the Al Turnbull Grove, we discovered the oaks trees stressed by the oak moth, but hopefully all trees will recover. One tree was killed by oak borers, another insect attracted to stressed trees that could spell trouble for the rest of the Grove. We're monitoring this closely
Goleta Valley Beautiful Board of Directors Openings –The GVB Board has three openings currently, two for general members, and a third UCSB Undergraduate position. Call 685-7910 or e-mail kknight@goletavalleybeautiful.org for more information.
Awards Volunteers Needed – There are lots of locations that deserve recognition for their excellence in landscaping and design. We could use a few more volunteers to assist with our monthly and annual recognition efforts. If you like finding and writing about Goleta Valley's gems, please contact us.
March Goleta Valley Beautiful Volunteer Events Recap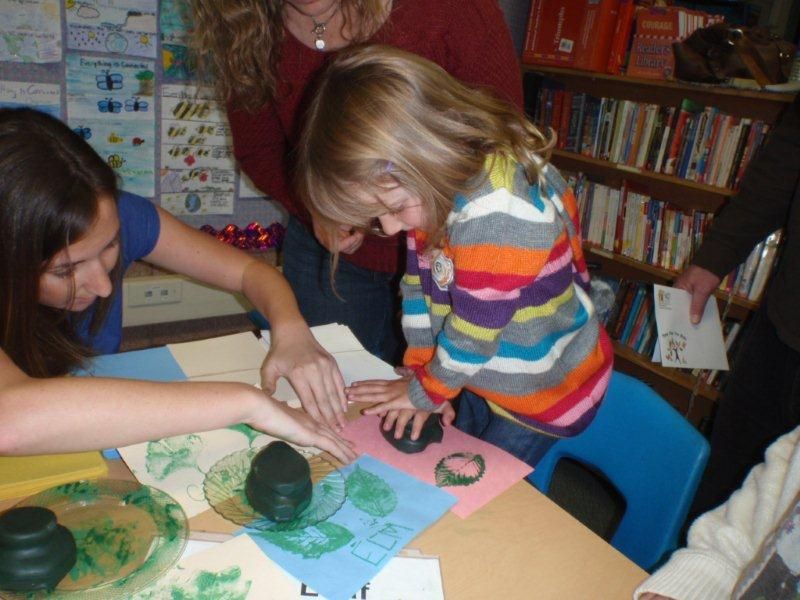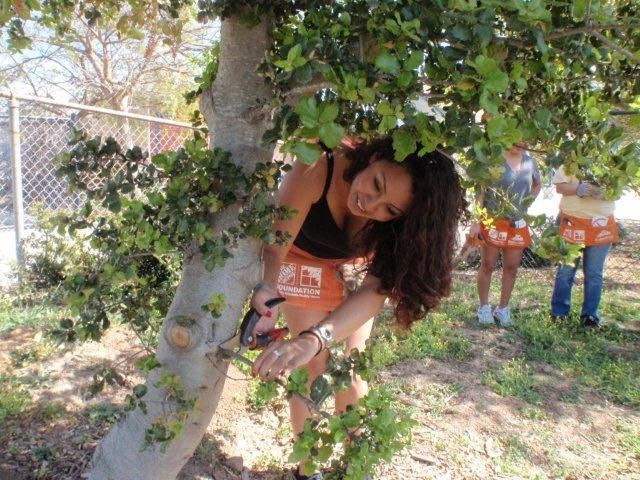 See website for additional photos www.goletavalleybeautiful.org.
Date Event New Trees Planted Replacement Trees Trees Maintained Volunteers Service Hours
Mar 3, Sat AM Lake Los Carneros Reserve 9 33 98
Mar 3, Sat PM Lake Los Carneros Reserve 9 29 87
Mar 7, Wed AM Lake Los Carneros –CAC
Mar 7, Wed PM Arbor Week Kellogg Elementary 1
Mar 7, Wed PM Arbor Week El Camino Elementary 1 30 30
Mar 8, Thurs PM Hollister Science Night
Mar 9, Fri PM Arbor Week Brandon Elementary 1 60 60
Mar 10, Sat AM Dos Pueblos High Cafeteria Rd 40 15 46
Mar 10, Sat PM San Marcos High 50 16 48
Mar 13, Tues AM Arbor Week Ellwood Elementary 1 40 40
Mar 14, Wed PM CAC 10 30
Mar 17, Sat AM Devereux Greenhouse 47 13 43
Mar 17, Sat PM Devereux Greenhouse 41 10 34
Mar 21 Wed AM Alpha –CAC 1 8 16
Mar 24, Sat AM Los Carneros Interchange 60 4 13
Mar 24, Sat PM Kellogg Elementary 35 3 9
Mar 31, Sat AM Al Turnbull Grove-Los 90 5 13
Mar 31, Sat PM Brandon Elementary 45 3 9
Totals for March 23 5 313 264 538
The Cambridge Church roadside litter collection crew collected 12.5 bags of trash with 24.5 volunteer hours this month bringing the 2012 totals to 33 bags and 68 volunteer hours.
- Volunteer groups participating in March tree care included:
UCSB Honors Program, Kappa Alpha Theta, Sigma Alpha Zeta, UCSB MedLife, Los Prietos Boys Camp, Khmer Student Association, Alpha Delta Pi, Mountain View Dudes on Duty, UCSB M.U.J.E.R., San Marcos High School, Deckers Outdoor, Dos Pueblos High School, UCSB Akanke group, Delta Sigma Pi, Goleta Valley Beautiful volunteers, El Camino Elementary, Brandon Elementary, Kellogg Elementary, and Ellwood Elementary School students, Gamma Phi Beta, Pi Alpha Phi, Chi Delta Theta, and the CAC Youth Corps.
- Sponsors for this month's events include
California ReLeaf, UCSB Coastal Fund, The Goleta Union School District, The Santa Barbara Unified School District, Beautify Dos Pueblos, San Marcos High PTA & staff, The City of Goleta, Santa Barbara County Resource Recovery and Waste Management Division, The Cheadle Center for Biodiversity and Ecological Restoration, Kellogg Elementary School, El Camino Elementary School, Devereux, the Community Action Commission Youth Corps, and hundreds of GVB donor members.
---
· 2012 Membership Renewal Time- Online Membership Now Available
By now you have received our 2012 Membership flier, and if you've already responded with a membership donation, thank you so much!. If not, this is a friendly reminder – if you haven't had a chance to make a gift, and you are moved to do so, we would like to encourage you to support the mission of Goleta Valley Beautiful in the coming year. Among the many ways to support us, including online at http://goletavalleybeautiful.org/supportus/membership/, or mail your donation to Goleta Valley Beautiful, PO Box 6756, Goleta Ca 93160. If you would like to honor your friends and family for the holidays, or remember a loved one who's passed, give an Honor Tree in their name – their family will receive a beautiful certificate from Goleta Valley Beautiful to let them know who made a charitable donation in their honor.
However you choose to support Goleta Valley Beautiful, please know how deeply appreciated you are.
Support our Supporters
Thanks to generous discounts from our local merchants. Please mention to our supporters how much you appreciate their support of Goleta Valley Beautiful. You can find the list of our donor members at our website at www.goletavalleybeautiful.org.
---
If the hyperlink does not work, you can cut and paste the e-link into the address area of your browser. Your comments to kknight@goletavalleybeautiful.org will help us build a better communications link. To remove your name from the monthly e-mail newsletter list, please reply to this e-mail with the word 'remove ' in the subject.
---