---
GOLETA VALLEY BEAUTIFUL NEWS HEADLINES - STORIES BELOW
· January 21st 2012 Young Tree Care and Pruning Workshop at San Marcos High
· In Memorial – Former Goleta Valley Beautiful President Sam Alfano
· Sign up for Goleta Valley Beautiful January Volunteer Events
· 2012 Membership Renewal Time- Online Membership Now Available
· Goleta Valley Beautiful News Briefs
· GVB Reusable Holiday Tree Rental Program to Become an Annual Holiday Event
· Thank you to our 2011 In Lieu Donors
· Why is GVB's Free Street Tree Program Ending February 1st?
· GVB members contribute plants for Long Term Care Residents
· December Goleta Valley Beautiful Volunteer Events Recap
· January 21st 2012 Young Tree Care and Pruning Workshop at San Marcos High
Our annual young tree care workshop takes a different twist this year. While we emphasize shade tree care, we'll also be adding fruit tree care for the first time. There aren't too many fruit trees in public right of ways where we normally work, and we'll try to explain why, and how you can take of fruit trees on your property.
Former Santa Barbara Arborist Dan Condon will be back joining our team of arborists for possibly the last time. Dan is spending more time in Michigan, so this is an opportune time to work with this arboricultural legend locally.
The workshop features local tree experts reviewing the fundamentals of young tree planting and care. We offer this free workshop for free (donations appreciated) Saturday, January 21st from 8:30 AM to 3:30 PM with one catch: we want you to commit to attending the entire workshop. The morning gives you background knowledge, but the afternoon provides you an opportunity to practice your technique guided by expert arborists. More important, you will be providing a community service by helping maintain over 125 young trees on the San Marcos High campus. We never leave the ground while we work.
Advance reservations required by Friday January 20th by calling 685-7910, or email to kknight@goletavalleybeautiful.org.
See the registration form coming soon to our website.
· In Memorial – Former Goleta Valley Beautiful President Sam Alfano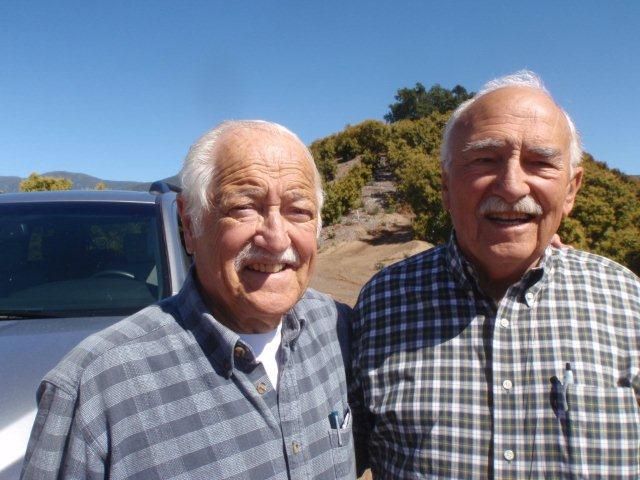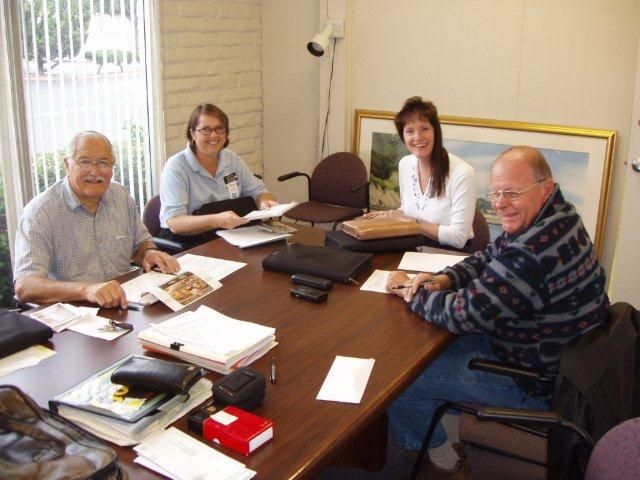 Former Goleta Valley Beautiful President Sam Alfano died on December 18th . Sam was the public face and driving force of Goleta Valley Beautiful for many years, serving as President from 1992 to 2005. Most recently, Sam was inducted into the first Goleta Valley Beautiful Honorary Board in recognition of his past services to Goleta Valley Beautiful. A large crowd of mourners attended the services at St. Raphael's Church on December 22nd
The list of what Sam gave to the community is long. Focusing just on the portions dealing with Goleta Valley Beautiful, Sam helped the organization grow along with the trees, helping us secure our first truck with the help of the Santa Barbara Foundation and Graham Chevrolet, He initiated the Annual Orchard Award, seen here with 2010 winner ? Cavaletto, recognizing the efforts of local growers to preserve working orchards. Sam helped popularize the growing of native trees, including the clones of the Witness Tree he nurtured at Lassen Open Space. He also helped spearhead the recognition of Al Turnbull's efforts at the Al Turnbull Oak Grove at Los Carneros Preserve. We benefit from his accomplishments and we mostly remember the man.
Former Goleta Valley Beautiful President Merlyn Cummings fondly remembers Sam,
"Sam is one who leaves a legacy of being an unusually fine man. He was always so thoughtful of the welfare of all Very slow to anger; so quick to smile and express his concern for others He served his church, the community, and everyone one he met with integrity and compassion. I've had the privilege of knowing and working with Sam since 1988. He never expected others to do some difficult work that he wouldn't do. He was a mentor to so many, never complaining, but always looking at the bright side. He was like a brother to me and, I expect, to many others. Rest in peace, Sam. You served and lived well."
We are working to secure permission to plant three redwood trees in the Stow Park Grove in honor of his service to this community. We'll have further details on our website as they become available.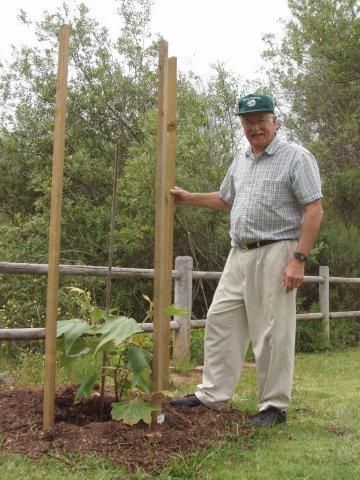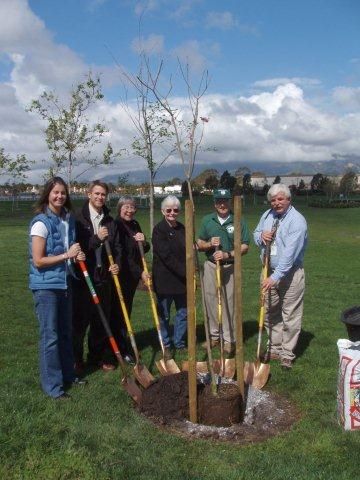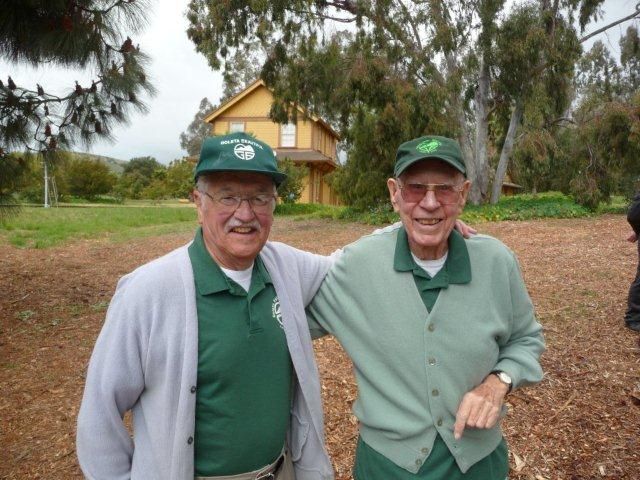 ---
Sign up for Goleta Valley Beautiful January Volunteer Events
Our regular schedule with Saturday morning events from 9 to Noon, and Saturday afternoon events from 1 pm to 4 pm. However we do have special holiday projects for student interested in earning community service credits. We post all of our events on our website so for the latest information please check our calendar at www.goletavalleybeautiful.org.
For all volunteer events….
Please RSVP for all events by sending an e-mail to kknight@goletavalleybeautiful.org (New e-mail address!) with your name, phone and e-mail, and the date, time and location of the volunteer event in which you would like to participate. For questions before the event call Ken at 685-7910, and during the day of the event at 252-1952.
No experience necessary. Goleta Valley Beautiful provides all tools and equipment. Please wear old clothes you wouldn't mind getting dirty and sturdy shoes – no open toes or flips please. All work done from the ground. Students, bring your community service forms to get signed for credit. Families welcome as long as younger children are constantly supervised.
Date Event
Jan 7, Sat AM Dos Pueblos High - 7266 Alameda Dr. – Meet at the distinguished school sign in the parking lot.
Jan 7, Sat PM Street Tree Planting -7200 Cathedral Oaks Road – Meet at Cathedral Oaks Road and Alameda Dr. at the North east corner of the DPHS Student Parking lot
Jan 14, Sat AM County Parks – Tuckers Grove – Meet at Tuckers Grove Entrance at Cathedral Oaks Road and Turnpike Ave.
Jan 14, Sat PM CCBER San Nicolas Wetland – Ortega Slope – Meet at the lagoon side of the Ortega Dining Area
Jan 21, Sat AM/PM Young Tree Care Workshop – San Marcos High School Cafeteria – 4750 Hollister Ave.
Jan 25, Wed AM Sam Alfano Memorial – Stow Grove (Proposed-please call 685-7910 for verification)
Jan 28, Sat AM UCSB – Meet at lot 3 at the end of UCEN Road
Jan 28, Sat PM Isla Vista School – Tree Care- Meet at the IV School Parking Lot on El Colegio across from Santa Catalina dorms.
Litter Pickup
Roadside trash collection in the

Goleta area

on the 2nd and 4th Saturdays. Trash grabbers and bags provided by the City of Goleta.

Call Don and Judy Nason 964-4895 to RSVP

.
Graffiti Removal
Call 964-7117 to participate in graffiti removal and to report incidents in your area

as soon as you see it.
· 2012 Membership Renewal Time- Online Membership Now Available
By now you have received our 2012 Membership flier, and if you've already responded with a membership donation, thank you so much!. If not, this is a friendly reminder – if you haven't had a chance to make a gift, and you are moved to do so, we would like to encourage you to support the mission of Goleta Valley Beautiful in the coming year.
All gifts dated before December 31st are tax-deductible for 2011. We hope you will consider a year-end gift to Goleta Valley Beautiful this December. Among the many ways to support us, including online at http://goletavalleybeautiful.org/supportus/membership/, or mail your donation to Goleta Valley Beautiful, PO Box 6756, Goleta Ca 93160. If you would like to honor your friends and family for the holidays, or remember a loved one who's passed, give an Honor Tree in their name – their family will receive a beautiful certificate from Goleta Valley Beautiful to let them know who made a charitable donation in their honor.
However you choose to support Goleta Valley Beautiful, please know how deeply appreciated you are.
Goleta Valley Beautiful News Briefs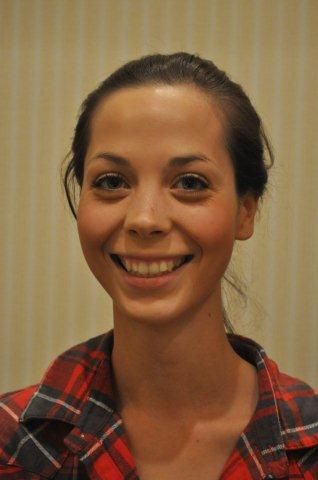 Caitlin Griffins
New GVB Board Members – Undergraduate Board Member Hayley Cox is off to Spain for study abroad in January, so she recruited UCSB undergraduate Caitlin Griffins as her replacement. Caitlin was elected to the Goleta Valley Beautiful Board of Directors in December. The GVB Board has two openings currently, one for a general member vacated by retiring Board Member Oscar Briones, and a second UCSB Undergraduate position. Call 685-7910 or e-mail kknight@goletavalleybeautiful.org for more information.
- The Fruit Tree Distribution Program for Low Income Families sponsored by Citrix Online will begin soon. We've received 165 fruit trees of various species and we've repotted them in anticipation of distribution in March. Details are still being developed.
- Awards Volunteers Needed – There are lots of locations that deserve recognition for their excellence in landscaping and design. We could use a few more volunteers to assist with our recognition efforts. If you like finding and writing about Goleta Valley's gems, please contact us.
- Goleta Valley Beautiful Wish List: Please call GVB at 685-7910 if you can help with our wish list posted on our website www.goletavalleybeautiful.org. We need help with packaged treats for our volunteers. Think of us next time you stop by the grocery store.
---
· GVB Reusable Holiday Tree Rental Program to Become an Annual Holiday Event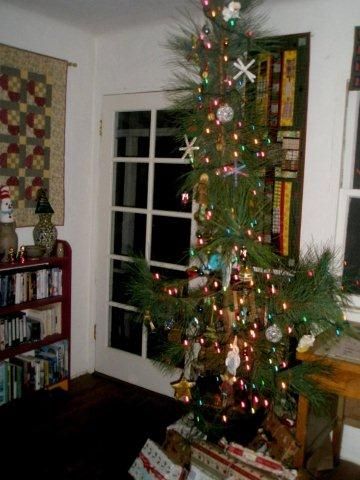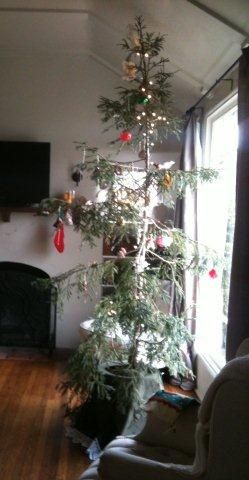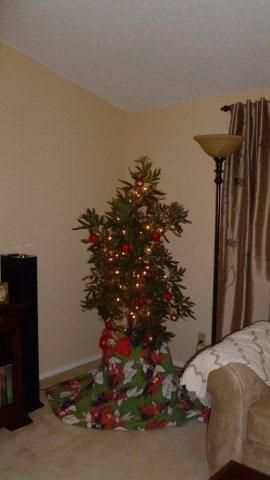 Torrey Pine Redwood Catalina Ironwood
We were surprised by the interest in the public's desire to rent a tree over the holidays and to stylishly decorate it like you see above. Our most popular trees rented included Catalina ironwoods, followed by Torrey Pines, Redwood, Coast Live Oak, Cedar, and Bay. Thanks to the Community Environmental Council, the Santa Barbara Botanic Garden and other websites that helped popularize what was essentially a program based on a whim. The trees rented this year are all from our 2000 tree inventory at the Devereux Growing Grounds. They are all destined to be planted at public areas including schools, parks, roads and restoration areas.
We're likely to do this again next year, although if you want to rent a tree anytime during the year, please give us a call.
· Thank you to our 2011 In Lieu Donors
At this time of year, we want to express our thanks to our in-lieu donors. While we couldn't survive without our cash donors, donors who provide us goods and services in lieu of cash are essential for our ongoing ability to provide public services.
Some of our major continuing in-lieu providers;
For the past ten years, Santa Barbara Airbus provides GVB with a bus and driver to conduct the annual Heritage Tree and History Tours valued at $800 annually
For the past year Marborg Inc. provides GVB with a secure monthly storage box for our files and materials valued at $1200 annually.
For the past ten years Camino Real Marketplace provides GVB with a secure storage area for our truck, water trailer, and storage box, without which we could not function.
For 15+ years, Pacifica Suites provides Goleta Valley Beautiful with a room for the monthly Board meetings, without which we could not function.
For 10+ years, Santa Barbara County Resource Recovery and Waste Management provides us with tons of green waste mulch delivered to us at our request.
Since our inception, we have the support of local governments and schools and universities (listed on our website) to provide staff support for planning, permits, ongoing maintenance for public trees.
We receive a discount from local businesses for the trees and supporting materials that we purchase each year, from a large list of businesses on our website.
We can't list everyone here but we'll try on our website. Please let us know if we've haven't given you proper thanks. You deserve it.
Why is GVB's Free Street Tree Program Ending February 1st?
Our grant funding allowing us to plant free trees is running out March 15th. We won't have enough time to get permits, install root shields and other advance preparation after February 1st, so get your requests in now. We'll still plant trees for you, but we'll have to charge $200 for it, basically what it costs us. We guarantee our trees for two years from installation till they become established.
Some people think they can do it a lot cheaper by ignoring regulations and just going out digging a hole and putting a discount tree from a local home improvement store in the parkway between the curb and sidewalk . Please don't do that. Unauthorized trees are subject to removal by the City if they don't meet City standards, which require planting specific species, installing root shields, and locating trees away from utilities and visual obstructions. If we want to have a strong urban forest for future generations, there are a number of items to take into consideration when planting trees. Please take advantage of our free street tree program before it expires, and also sign up for our Young Tree Care Workshop on January 21st. Call us at 685-7910 for more information.
---
· GVB members contribute plants for Long Term Care Residents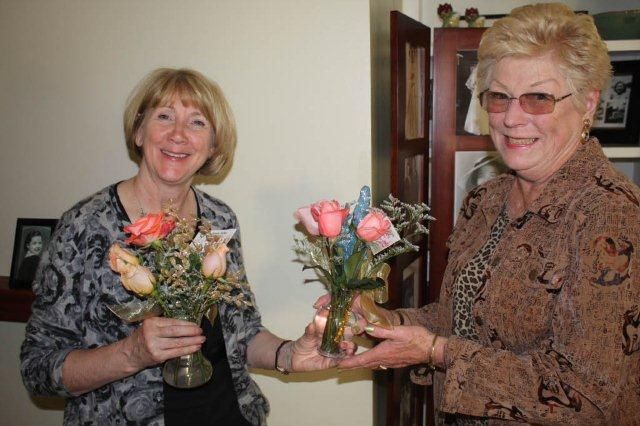 For the sixth year, Goleta Valley Beautiful will deliver "Happy New Year" Bouquets to two assisted living facilities to bring some sparkle into the lives of folks who need some cheer. This year the deliveries will occur Thursday, Dec. 29 between noon and 1 p.m.
Buena Vista Care Center receives 17 individual arrangements which are conveyed to residents staff feels would enjoy the colorful blooms in their rooms. Activity Director Julie Mullins represents her Administrator William Pringle on the distribution.
Heritage House Assisted Living Community Activities Coordinator Ann Howorth handles the incoming ten floral arrangements for her Administrator Rosemarie Harris. These flowers are sent to the Garden Room where memory care residents dine and visitors can enjoy as well.
The New Year project is directed and implemented by Lori Grimaud-Roper, past Goleta Valley Beautiful Vice-President, and her spouse Marc Bradley. Often cards and thank you letters from resident family members are received by Goleta Valley Beautiful, with comments that the flowers brought a great deal of joy and uplift into the lives of their relatives.
December Goleta Valley Beautiful Volunteer Events Recap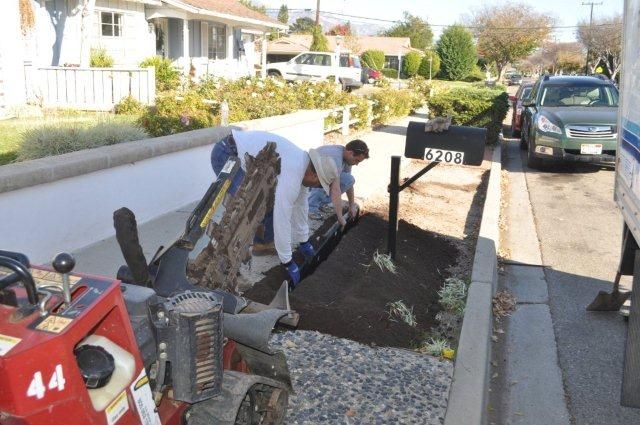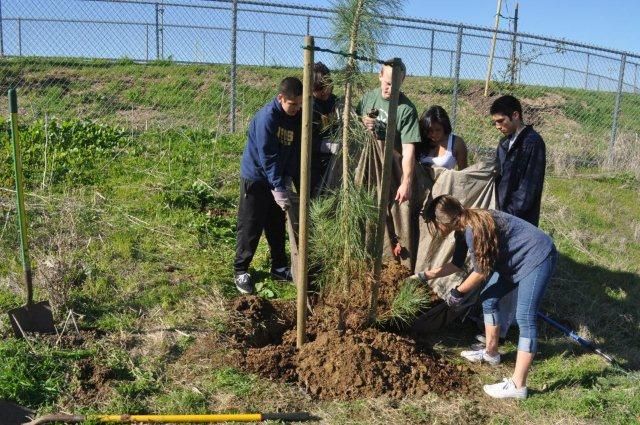 See website for additional photos www.goletavalleybeautiful.org.
Date Event New Trees Planted Replacement Trees Trees Maintained Volunteers Service Hours
Dec 2, Fri PM San Clemente Site Preparation 10 30
Dec 3, Sat AM San Clemente 10 1 20 62
Dec 3, Sat PM CCBER – West Storke 5 38 12
Dec 7, Wed AM Tree Care – Greenhouse with CAC 4 12
Dec 10, Sat AM Dos Pueblos 6 28 90
Dec 10, Sat PM Tree Care – Root Shields 5 16
Dec 16, Fri PM 6210 Cumberland Dr. 2
Dec 16 , Fri PM 6204 Cumberland Dr. 3 7 21
Dec 17, Sat AM 6203 Cumberland Dr. 2
Dec 17, Sat AM 6208 Stow Canyon 1
Dec 17, Sat AM 6132 Barrington Dr. 2
Dec 17, Sat AM 559 Chadwick Way 1
Dec 17, Sat AM 7621 Dartmoor 1
Dec 20, Tues AM Treegator Removal 8 24
Dec 21, Wed AM Repot Fruit Trees 3 9
Dec 24, Sat AM 165 Kamala Way 1 10 30
Totals for December 34 133 306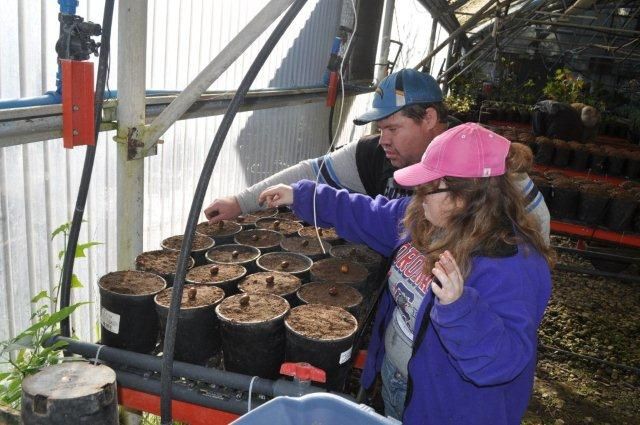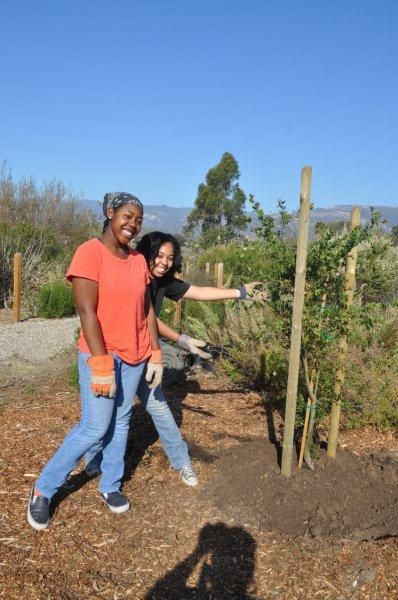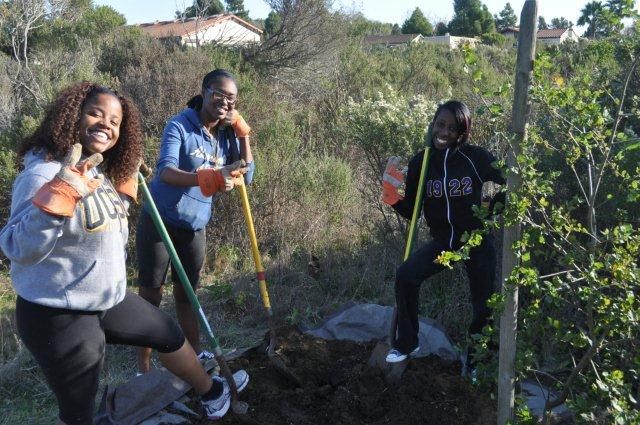 The Cambridge Church roadside litter collection crew collected 6 bags of trash with 16.5 volunteer hours this month bringing the 2011 totals to 124.5 bags and 263 volunteer hours.
- Volunteer groups participating in December tree care included:
Sigma Gamma Rho Sorority, UCSB Black Student Union, Los Prietos Boys Camp, Dos Pueblos High School, Dos Pueblos High School Leadership, and Beautify Dos Pueblos.
- Sponsors for this month's events include
Dos Pueblos High, Santa Barbara Unified School District, California Department of Forestry and Fire Protection, California ReLeaf, Cheadle Center for Biodiversity and Ecological Restoration, UCSB Coastal Fund, Devereux, Santa Barbara County Resource Recovery and Waste Management, Green Trees for the Golden State, and many more.
Support our Supporters
Thanks to generous discounts from our local merchants. Please mention to our supporters how much you appreciate their support of Goleta Valley Beautiful. You can find the list of our donor members at our website at www.goletavalleybeautiful.org.
---
If the hyperlink does not work, you can cut and paste the e-link into the address area of your browser. Your comments to kknight@goletavalleybeautiful.org will help us build a better communications link. To remove your name from the monthly e-mail newsletter list, please reply to this e-mail with the word 'remove ' in the subject.
---