---
GOLETA VALLEY BEAUTIFUL NEWS HEADLINES - STORIES BELOW
· Goleta Valley Beautiful Honorary Board Established
· Sign up for Goleta Valley Beautiful December Volunteer Events
· 2012 Membership Renewal Time- Online Membership Now Available
· Goleta Valley Beautiful News Briefs
· Be sustainable and rent a Living Reusable Holiday Tree From GVB
· Research Shows Trees Along Roads Have Significant Benefits
· January 21st 2012 Young Tree Care and Pruning Workshop at San Marcos High
· GVB Free Street Tree Program Ends February 1
· November Goleta Valley Beautiful Volunteer Events Recap
Goleta Valley Beautiful Honorary Board Established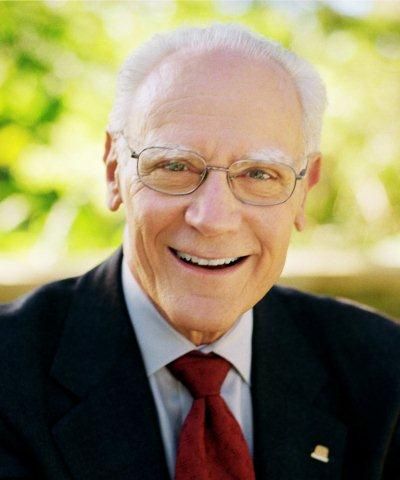 Michael Towbes Merlyn Cummings
Michael Towbes was recently appointed to the Goleta Valley Beautiful Honorary Board, reflecting his significant investment in the future of GVB. Mr. Towbes recently provided Goleta Valley Beautiful with a $13,500 matching grant reflecting GVB's ability to raise similar funds from local supporters including Citrix Online, Mentor, Deckers and Brittingham Foundation. Mr. Towbes joins a distinguished group of community leaders including former long time Goleta Valley Beautiful President Sam Alfano, former Goleta City Councilwoman Jean Blois, Marborg Inc. Presidents David and Mario Borgatello, Kitson Landscape Management Founder Brent Kitson, Wynmark President mark Linehan, Dos Pueblos Ranch Manager Henry Schulte, and the newest member of the Honorary Board Merlyn Cummings.
Merlyn Cummings announced his retirement from the Goleta Valley Beautiful Board of Directors this past month after serving 23 years on the Board in just about every role possible. Merlyn joined Goleta Valley Beautiful upon his retirement as a teacher at Goleta Valley Junior High, after which he embarked on a successful career in real estate. Merlyn is well known for his community service activities, and has helped perpetuate the lemon industry in Goleta with his miniature lemon crates that he crafts in his workshop. Merlyn also led the way for future investment in Goleta Valley Beautiful by naming GVB to receive a portion of his estate in his will. Thank you for all of your fine years of service and welcome to the Goleta Valley beautiful Honorary board.!
---
Sign up for Goleta Valley Beautiful December Volunteer Events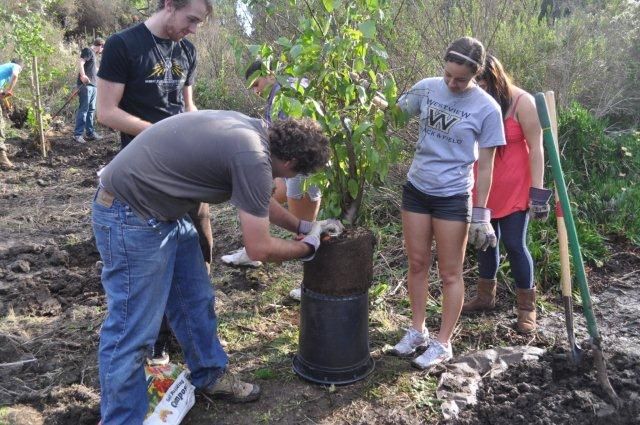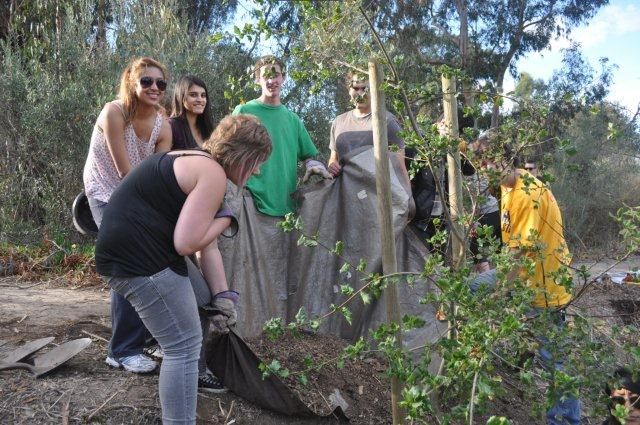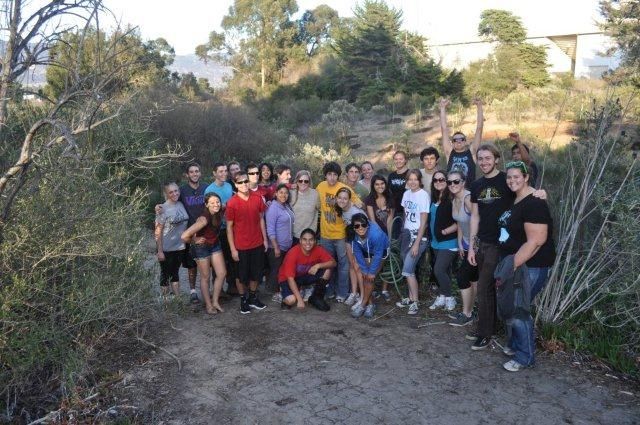 Our regular schedule with Saturday morning events from 9 to Noon, and Saturday afternoon events from 1 pm to 4 pm will end for the year on December 17th when we take off a couple of weeks for the holidays. However we do have special holiday projects for student interested in earning community service credits (see below). We post all of our events on our website so for the latest information please check our calendar at www.goletavalleybeautiful.org.
For all volunteer events….
Please RSVP for all events by sending an e-mail to kknight@goletavalleybeautiful.org (New e-mail address!) with your name, phone and e-mail, and the date, time and location of the volunteer event in which you would like to participate. For questions before the event call Ken at 685-7910, and during the day of the event at 252-1952.
No experience necessary. Goleta Valley Beautiful provides all tools and equipment. Please wear old clothes you wouldn't mind getting dirty and sturdy shoes – no open toes or flips please. All work done from the ground. Students, bring your community service forms to get signed for credit. Families welcome as long as younger children are constantly supervised.
Sat, December 3, 9 AM- 12 PM – Tree Planting at UCSB San Clemente Housing – Meet at the northwest corner of parking lot 38 adjacent to Harder Stadium -- Park at UCSB's Parking Lot 38
Sat, December 3, 1 PM to 4 PM –– Tree Planting Event – CCBER West Storke – Meet at parking lot behind 766 Laurel Walk Road
Sat, December 10, 9 AM – 12 PM – Tree Planting Event – Dos Pueblos High School – 7266 Alameda Drive – Meet at the Distinguished School Sign in the parking lot
Sat, December 10, 1 PM to 4 PM –Root Shields Installation Event – Meet at 6204 Cumberland Drive
Sat, December 17, 9 AM to 12 PM – Tree Planting Event – CCBER San Nicolas Wetland/Ortega Dining Commons Slope – Meet at the lagoon-side of the Ortega Dining Commons
Sat, December 17, 1 PM to 4 PM – Tree Planting Event – Devereux Greenhouse
December 21-31 – No projects due to the winter holidays.
Holiday Community Service Events
GVB has several outdoor projects ranging from 3 to 30 hours that can be accomplished over the holidays at your own pace. Students can earn community service credits. 685-7910 or e-mail kknight@goletavalleybeautiful.org for more information.
Litter Pickup
Roadside trash collection in the

Goleta area

on the 2nd and 4th Saturdays. Trash grabbers and bags provided by the City of Goleta.

Call Don and Judy Nason 964-4895 to RSVP

.
Graffiti Removal
Call 964-7117 to participate in graffiti removal and to report incidents in your area

as soon as you see it.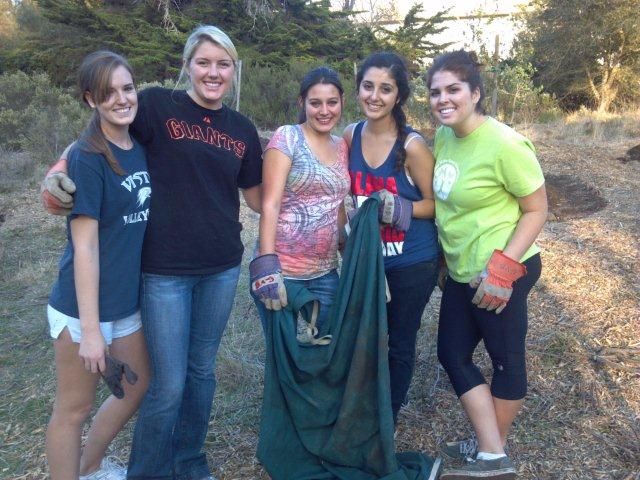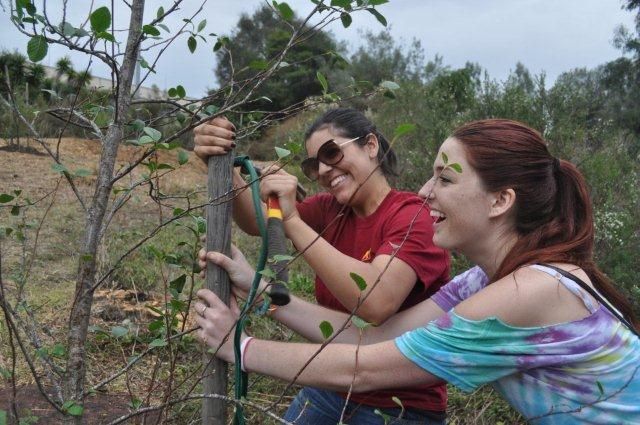 Goleta Valley Beautiful News Briefs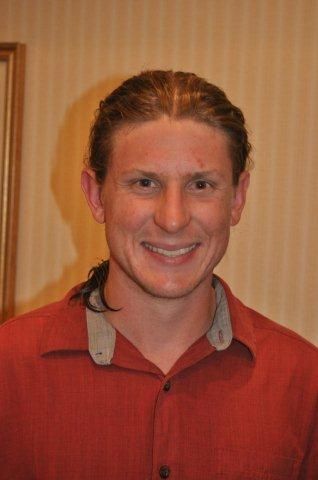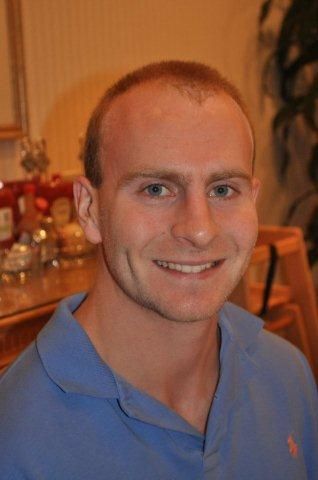 Jake Sahl Jon Haverty
New GVB Board Members – Jon Haverty and Jake Sahl were elected to the Goleta Valley beautiful Board of directors in November. Jon has been very active in Goleta Valley Beautiful volunteer tree planting events when he is not working as a emergency room medical scribe at Cottage Hospital. Jake is a first year Master Candidate at the UCSB Bren School of Environmental Science as well as a Fall Intern at the Greenhouse. The GVB Board has two openings currently, one for a general member vacated by retiring Board Member Merlyn Cummings, and a second UCSB Undergraduate position. Call 685-7910 or e-mail kknight@goletavalleybeautiful.org for more information.
Largest number of GVB UCSB Interns Ever Complete their Fall 2011 term – GVB has had the good fortune to receive the support of the UCSB Coastal Fund to finance stipends for 16 Greenhouse and Growing Ground Interns during the fall term, the largest number ever. In addition, Michelle and Jerry worked as Mapping Interns to keep track of our tree plantings on Google Earth. See the education section of our website for their latest work. We were also lucky to have Melody S. as an urban forest researcher to help prepare the documentation for proposed new tree sites. The next generation is in good hands with the quality of work that these interns produce.
Greenhouse and Growing Grounds Interns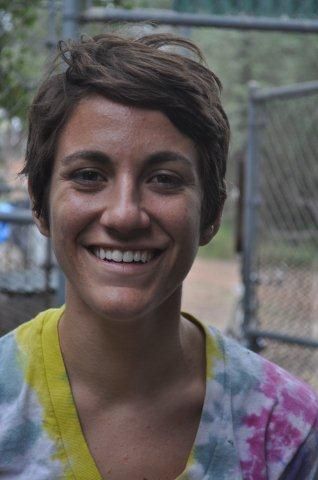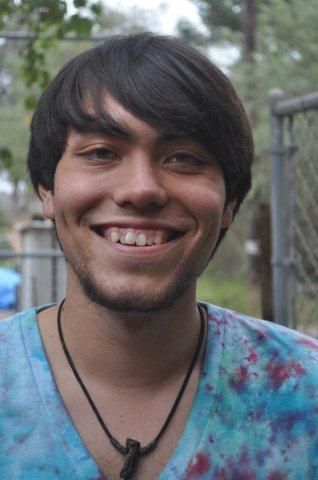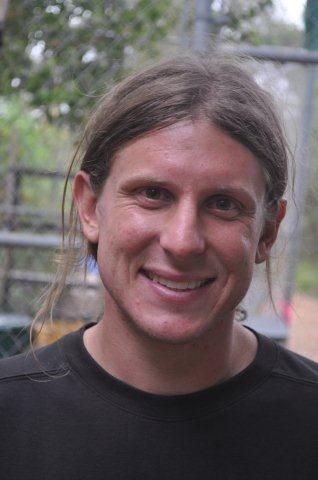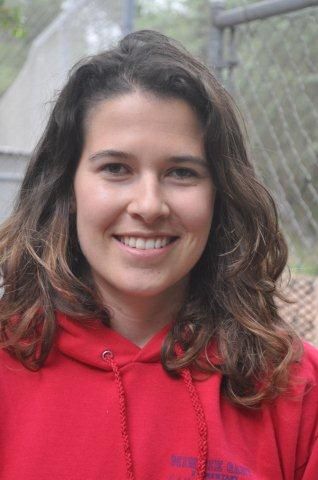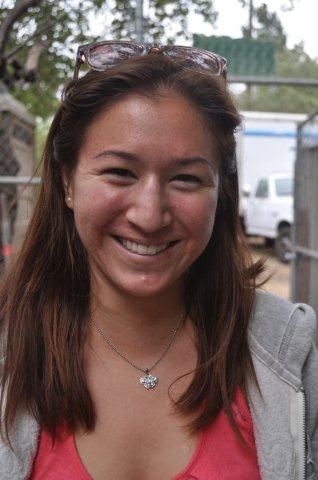 Carissa Hayes Christina Terracciano Matt Manabat Emily Jensen-Wolf Jake Sahl Laura Stone Lexi Yang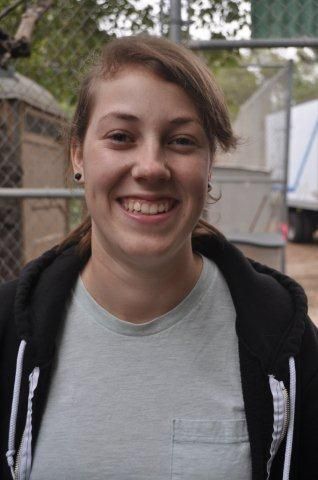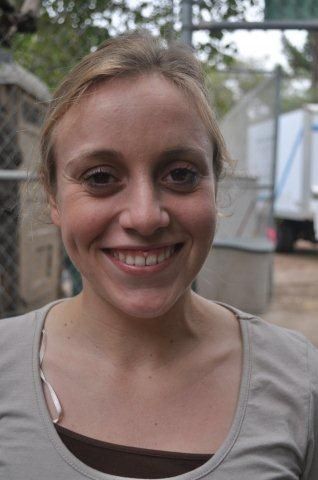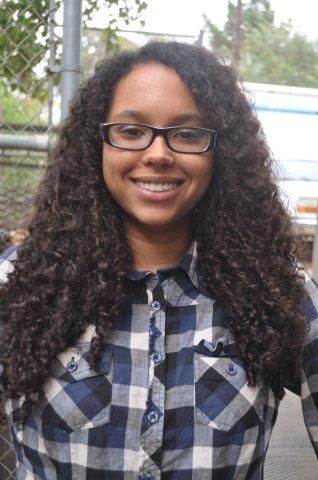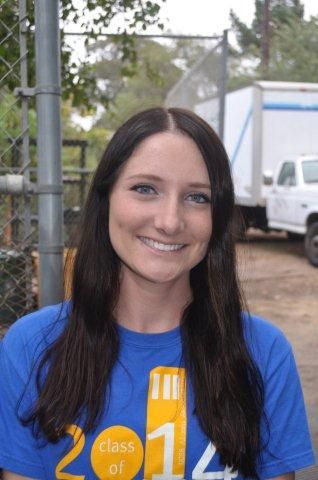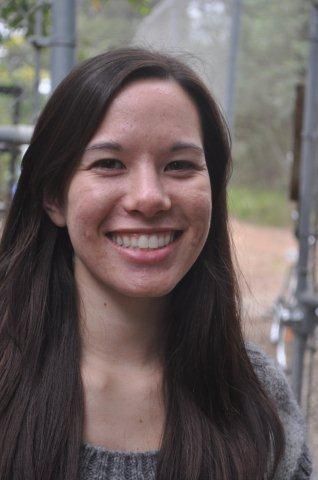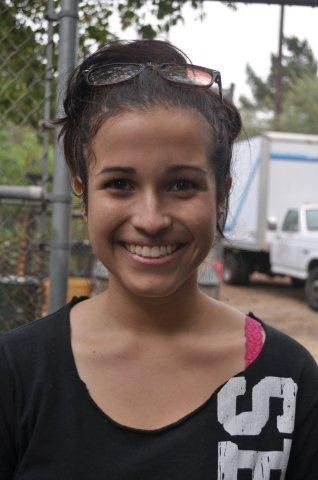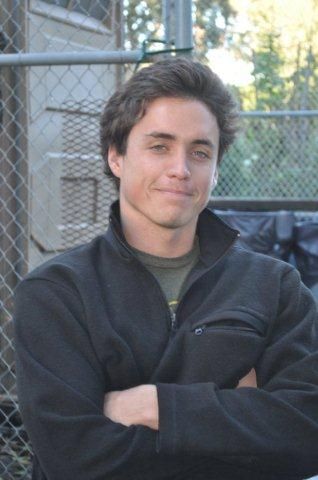 Lindsay Neuman Lindsey Bennett Liz Camilo Marta Mazess Rachel Frame Victoria Masjuan Paul Nagle
Mapping Interns Urban Forest Researcher Intern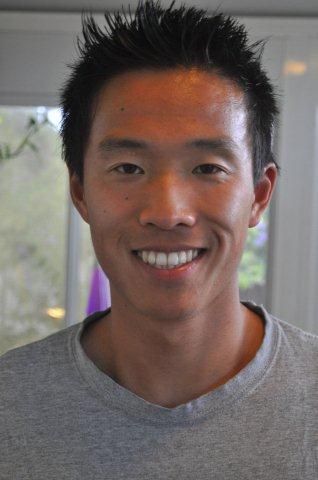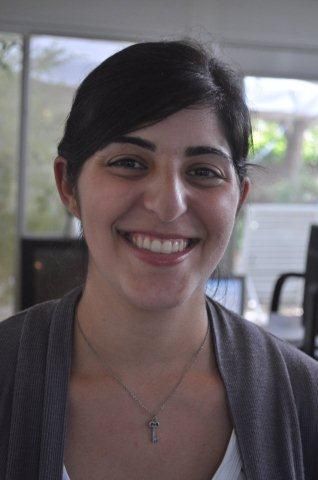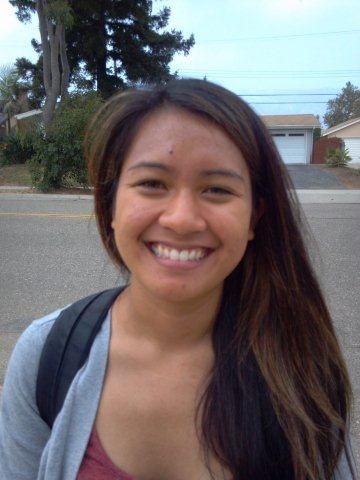 Jerry Li Michelle Binur Melody Seesangrit Not pictured: Greenhouse and Growing Grounds Intern Christian Correa
- Congratulations to Graffiti minimalist extraordinaire Ed Graper who receives a 2011 Local Hero designation from the Santa Barbara Independent. Ed is our go-to guy whenever we have a graffiti issue. This award is just a small tribute for the many hours of community service that Ed provides to our community. Well done, Ed!
- The Fruit Tree Distribution Program for Low Income Families sponsored by Citrix Online is almost ready to begin. We're developing and adjusting administrative procedures so that we can reach the right people in the most convenient, cost-effective way. We'll have more details in next month's newsletter.
- Honor Trees Are a Great Way to Remember Loved Ones: Honor trees come with a certificate that can be sent to the honoree. In addition to our Dos Pueblos High School Honor Grove site, GVB can also plant Honor Trees on any private sites. Any trees planted on private property require someone to assume responsibility to provide ongoing maintenance. For more information, call 685-7910.
- Goleta Valley Beautiful Wish List: Please call GVB at 685-7910 if you can help with our wish list posted on our website www.goletavalleybeautiful.org. We need help with packaged treats for our volunteers. Think of us next time you stop by the grocery store.
---
· Be sustainable and rent a living, reusable Holiday Tree from GVB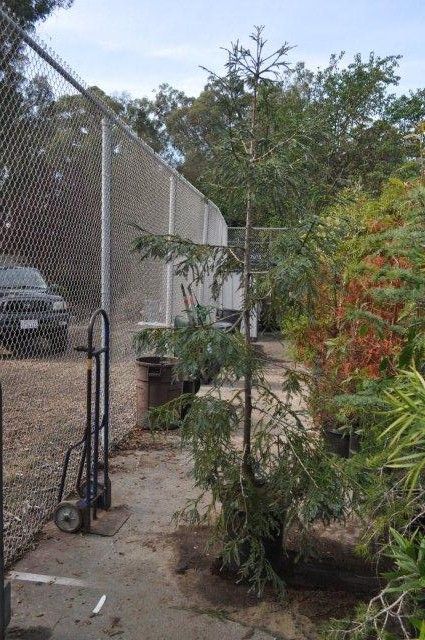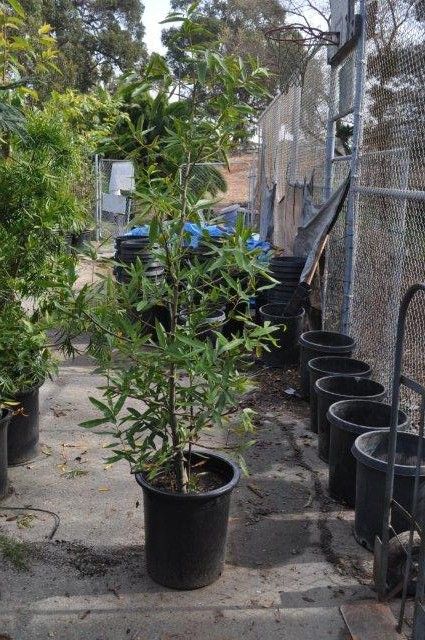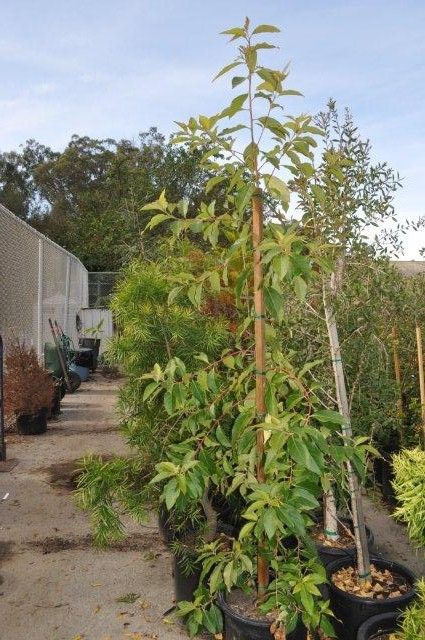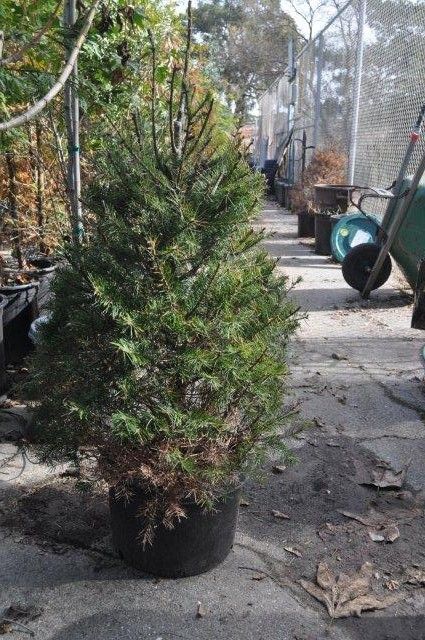 Redwood California Bay Fern Pine Traditional Pine
Goleta Valley Beautiful grows over 2000 trees at our Devereux Growing Grounds. This holiday, you can rent a tree from our inventory before we plant it in a public park, street or school. While our trees are not pruned to a pyramid shape, please consider decorating with a tree that you don't have to throw out after the holidays. Return it to us and we'll plant if for a long, sustainable future.
You can rent one of our trees during December for a $25 donation. For an additional $10, we'll drop it off and pick it up. We have a great assortment of 5' to 9' trees, including California natives like Coast Live Oak, California Bay, Torrey Pine Island Oak, Ironwood, Catalina and Holly Leaf Cherry. We also have an assortment of non natives like Fern Pine, Melaluca, and an assortment of traditionally pruned Christmas Trees. Call 685-7910 to order your tree.
· Research Shows Trees Along Roads Have Significant Benefits
Check out the full article at http://www.ufei.org/files/pubs/22BenefitsofUrbanStreetTrees.pdf which talks about the 22 benefits of urban street trees.
An excerpt from the research paper, "For a planting cost of $250-600 (includes first 3 years of maintenance) a single street tree returns over $90,000 of direct benefits (not including aesthetic, social and natural) in the lifetime of the tree. Street trees (generally planted from 4 feet to 8 feet from curbs) provide many benefits to those streets they occupy. These trees provide so many benefits that they should always be considered as an urban area default street making feature. With new attentions being paid to global warming causes and impacts more is becoming known about the many negative environmental impacts of treeless urban streets. We
are well on the way to recognizing the need for urban street trees to be the default design…"
· January 21st Young Tree Care and Pruning Workshop
See the registration form coming soon to our website.
GVB Free Street Tree Program Ends February 1- Program Extended to Unincorporated Area
Goleta Valley Beautiful tree planting grant programs end on March 15, 2012, and in order to secure permits and schedule projects, we are establishing February 1, 2012 as our cutoff date for taking new orders. We will be planting street trees in several neighborhoods in December through March. We are now accepting street tree requests from the unincorporated area of Goleta Valley. If you live at one of the following addresses, you qualify for a free street tree; 4723, 4740, 4753, 4785 Baxter, 4711, 4718, 4723, 4742, 4754, 4759, 4771, 4795 Glenbrook, 547, 535, 523, 511, 497 Halkirk, 4799 Frazier
Bond Funding for new tree projects looks pretty iffy in the future, so this may be your last chance for a while to take advantage of this very generous offer. We take care of the cost of purchasing the tree, securing a permit, installing it and providing follow-up advice on care. All we ask is that you water the tree once a week during the summer for the first two summers while it is getting established. For more information about our free street tree program, call us at 685-7910, or send us an e-mail at kknight@goletavalleybeautiful.org
---
November Goleta Valley Beautiful Volunteer Events Recap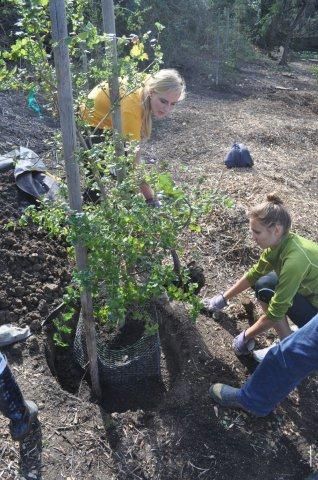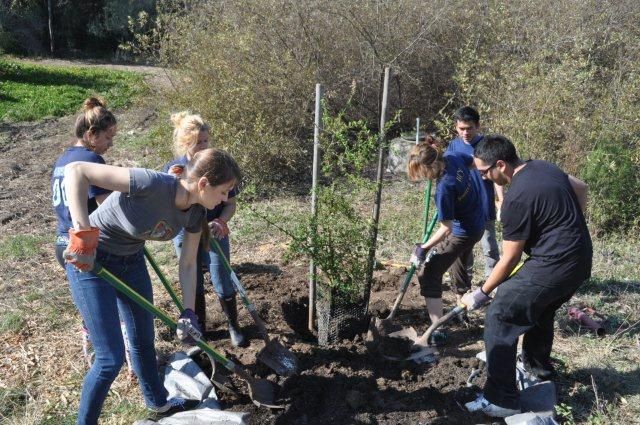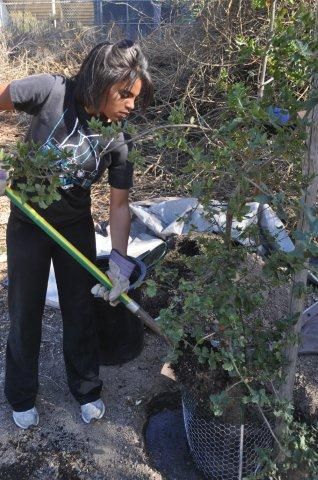 See website for additional photos www.goletavalleybeautiful.org.
Date Event New Trees Planted Replacement Trees Trees Maintained Volunteers Service Hours
Nov 3, Thurs PM La Patera Science Night 4 12
Nov 4, Fri PM Kellogg School 2 10 30
Nov 5, Sat AM Tree Care - San Marcos High School 9 31 95
Nov 5, Sat PM Tree Care – Stadium Rd-W/Harder Stadium 10 13 42
Nov 12, Sat AM Tree Care – Stadium Rd-W/Harder Stadium 11 25 75
Nov 12, Sat PM Tree Care – Stadium Rd-W/Harder Stadium 9 29 85
Nov 16, Wed AM Tree Care – Greenhouse with CAC 5 15
Nov 18 , Fri PM Tree Care – Stadium Rd-W/Harder Stadium 3 26 79
Nov 19, Sat AM Alameda Dr- Dos Pueblos High 8 42 114
Nov 19, Sat PM Tree Care – Stadium Rd-W/Harder Stadium 10 45 136
Nov 23, Wed AM Greenhouse with CAC 5 15
Nov 30, Wed PM CAC
Totals for November 62 241.5 698
The Cambridge Church roadside litter collection crew collected 14 bags of trash with 33.5 volunteer hours this month bringing the 2011 totals to 118.5 bags and 251.5 volunteer hours.
- Volunteer groups participating in November tree care included: San Marcos High School students, UCSB Mu Delta, Theta Nu Kappa, Alpha Phi Alpha, UCSB National Society of Black Engineers, GVB Greenhouse Interns, UCSB National Pan Hellenic Council, Gamma Phi Beta, Kappa Alpha Omega, Sigma Alpha Gamma, Sigma Alpha Beta, UCSB Honors Program, Santa Barbara City College, Kappa Alpha Theta, Alpha Gamma Omega, UCSB Environmental Affairs Board (EAB), UCSB Associated Students, UCSB Naked Voices, UCSB Community Affairs Board (CAB), Alpha Delta Pi, Alpha Epsilon Phi, Los Prietos Boys Camp, Sigma Lambda Gamma, Dos Pueblos High Leadership, Phi Alpha Delta, Santa Barbara City College Communications Class, Alpha Gamma Omega, and S.U.R.E. (Scientific Understanding Reason Enrichment Club).
- Sponsors for this month's events include San Marcos High, Santa Barbara Unified School District, California Department of Forestry and Fire Protection, California ReLeaf, Cheadle Center for Biodiversity and Ecological Restoration, UCSB Coastal Fund, Devereux, Santa Barbara County Resource Recovery and Waste Management, Brittingham Foundation, and many more.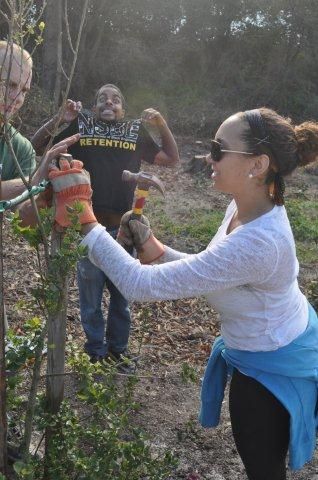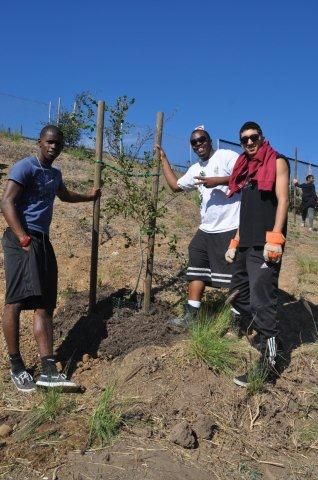 Support our Supporters
Thanks to generous discounts from our local merchants. Please mention to our supporters how much you appreciate their support of Goleta Valley Beautiful. You can find the list of our donor members at our website at www.goletavalleybeautiful.org.
---
If the hyperlink does not work, you can cut and paste the e-link into the address area of your browser. Your comments to kknight@goletavalleybeautiful.org will help us build a better communications link. To remove your name from the monthly e-mail newsletter list, please reply to this e-mail with the word 'remove ' in the subject.
---