---
GOLETA VALLEY BEAUTIFUL NEWS HEADLINES - STORIES BELOW
· GVB Free Street Tree Program Ends February 1
· Lots of Restoration Plantings in November- Sign up for Goleta Valley Beautiful Volunteer Events
· Citrix Online Hosts GVB Advisory Council
· Goleta Valley Beautiful News Briefs
· ARRA Project Extended to Allow More Plantings Along Cathedral Oaks
· WCISA Comes to Goleta
· Science Night Demonstrations Gain New Tools
· October Goleta Valley Beautiful Volunteer Events Recap
GVB Free Street Tree Program Ends February 1- Program Extended to Unincorporated Area
Goleta Valley Beautiful volunteers really want to plant a new street tree by your house, but time is running out. All of our tree planting grant programs will end by March 15, 2012, and in order to secure permits and schedule projects, we are establishing February 1, 2012 as our cutoff date for taking new orders. Some of our recent street tree planting projects are shown above
We are now accepting street tree requests from the unincorporated area of Goleta Valley. If you live at one of the following addresses, you qualify for a free street tree;
4723, 4740, 4753, 4785 Baxter
4711, 4718, 4723, 4742, 4754, 4759, 4771, 4795 Glenbrook
547, 535, 523, 511, 497 Halkirk
4799 Frazier
Bond Funding for new tree projects looks pretty iffy in the future, so this may be your last chance for a while to take advantage of this very generous offer. We take care of the cost of purchasing the tree, securing a permit, installing it and providing follow-up advice on care. All we ask is that you water the tree once a week during the summer for the first two summers while it is getting established. For more information about our free street tree program, call us at 685-7910, or send us an e-mail at kknight@goletavalleybeautiful.org
---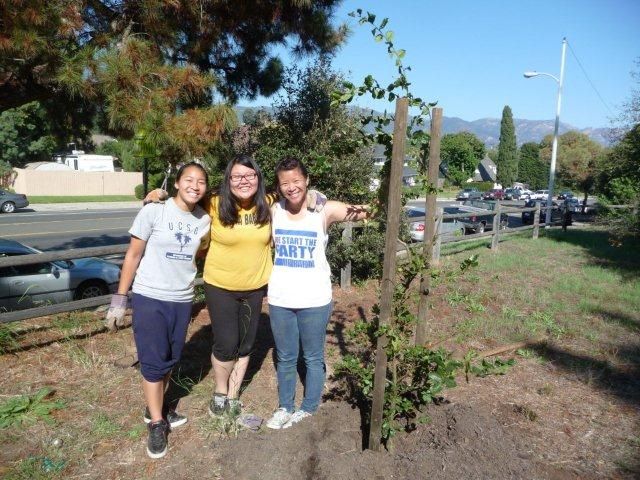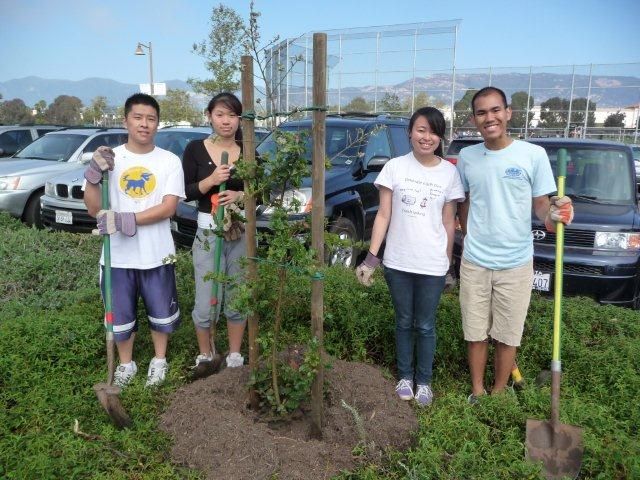 Lots of Restoration Plantings in November- Sign up for Goleta Valley Beautiful Volunteer Events
We're back to our regular schedule with Saturday morning events from 9 to Noon, and Saturday afternoon events from 1 pm to 4 pm. We post all of our events on our website so for the latest information please check our calendar at www.goletavalleybeautiful.org.
For all volunteer events….
Please RSVP for all events by sending an e-mail to kknight@goletavalleybeautiful.org (New e-mail address!) with your name, phone and e-mail, and the date, time and location of the volunteer event in which you would like to participate. For questions before the event call Ken at 685-7910, and during the day of the event at 252-1952.
No experience necessary. Goleta Valley Beautiful provides all tools and equipment. Please wear old clothes you wouldn't mind getting dirty and sturdy shoes – no open toes or flips please. All work done from the ground. Students, bring your community service forms to get signed for credit. Families welcome as long as younger children are constantly supervised.
Sat, November 5, 9 AM- 12 PM – Tree Planting at San Marcos High School – 4750 Hollister Avenue – Meet on Turnpike side of Road in Parking Lot A
Sat, November 5, 1 PM to 4 PM –– Tree Planting Event – Meet at Stadium Rd West of Harder Stadium – Park at UCSB's Parking Lot 38
Sat, November 12, 9 to Noon –– Tree Planting Event – Meet at Stadium Rd West of Harder Stadium – Park at UCSB's Parking Lot 38
Sat, November 12, 1 PM to 4 PM – Tree Planting Event – Meet at Stadium Rd West of Harder Stadium – Park at UCSB's Parking Lot 38
Sat, November 19, 9 AM to 12 PM – Tree Planting Event – Dos Pueblos High School – 7266 Alameda Drive – Meet at the Distinguished School Sign in the parking lot
Sat, November 19, 1 PM to 4 PM – Tree Planting Event – Meet at Stadium Rd West of Harder Stadium – Park at UCSB's Parking Lot 38
Sat, November 26 – No event due to Thanksgiving holiday
Litter Pickup
Roadside trash collection in the

Goleta area

on the 2nd and 4th Saturdays. Trash grabbers and bags provided by the City of Goleta.

Call Don and Judy Nason 964-4895 to RSVP

.
Graffiti Removal
Call 964-7117 to participate in graffiti removal and to report incidents in your area

as soon as you see it.
Citrix Online Hosts GVB Advisory Council
32 members of the Goleta Valley Beautiful Advisory Council met in the Citrix Online conference room on October 6th for a brainstorming session about Goleta Valley Beautiful's ongoing projects and new initiatives. Santa Barbara Airbus CEO and former Goleta mayor Eric Onnen led the council through a discussion of fruit tree distribution program sponsored by Citrix that is scheduled to be announced next month. The ideas proposed during this meeting will help make this exciting new program more successful and sustainable.
Though Goleta Valley Beautiful has worked with at-risk youth for years, we've reviewed ways to expand and improve current programs by working with organizations like Palabra and the Goleta Valley Historical Society to provide skilled development opportunities.
Science and nature based education is an integral part of the mission of Goleta Valley Beautiful. We received excellent suggestions about organizations and groups that would benefit from our educational outreach programs. We appreciate everybody who participated in the 2011 Advisory Council. If you would like to participate in the October 11th 2012 Advisory Council, please contact us 685-7910.
Goleta Valley Beautiful News Briefs
- Bauers Return: Goleta Valley Beautiful Secretary Zea Bauer and her husband Joe are back home after extensive recuperation from a car crash in Colorado. We're glad they are back.
- Honor Trees Are a Great Way to Remember Loved Ones: Honor trees come with a certificate that can be sent to the honoree. In addition to our Dos Pueblos High School Honor Grove site, GVB can also plant Honor Trees on any private sites. Any trees planted on private property require someone to assume responsibility to provide ongoing maintenance. For more information, call 685-7910.
- Goleta Valley Beautiful Wish List: Please call GVB at 685-7910 if you can help with our wish list posted on our website www.goletavalleybeautiful.org. We need help with packaged treats for our volunteers. Think of us next time you stop by the grocery store.
---
ARRA Project Extended to Allow More Plantings Along Cathedral Oaks
We thought that the American Recovery and Reinvestment Act (ARRA) program would be completed in October when we finished the two-year watering program for the 180+ trees that we planted. We discovered some unexpended funds to continue the CCC crews tree planting operations in Goleta. In December, we hope to plant some additional Oaks along Cathedral Oaks Road if we can secure the permits.
WCISA Comes to Goleta
The Western Chapter of the International Society of Arboriculture (WCISA) held a sold out conference for 120 attendees in Goleta at the UCSB Western Conference Center, formerly on the Devereux campus. Moderators Bill Spiewak and Ken Knight hosted some of the country's leading tree experts in discussions about the latest aspects of tree management. WCISA hopes to make this an annual event.
---
Science Night Demonstrations Gain New Tools
Goleta Valley Beautiful Greenhouse Interns, sponsored by the UCSB Coastal Fund, helped staff Science Night demonstrations at Mountain View, Laguna Blanca and Kellogg Elementary Schools over the past month. A popular new item in our arsenal of educational tools is the mini-microscopes that allow young students to explore the intricacies of leaf structure at a cellular level.
October Goleta Valley Beautiful Volunteer Events Recap
See website for additional photos www.goletavalleybeautiful.org. We thank the Alliance for Community Trees for once again sponsoring NeighborWoods Month events during the month of October. Our NeighborWoods T-shirts went to our volunteers at Devereux, to our UCSB Greenhouse Interns, and to select Greenhouse volunteers.
Date Event New Trees Planted Replacement Trees Trees Maintained Volunteers Service Hours
Oct 1, Sat AM San Marcos High School 10 25 124
Oct 1, Sat PM Street Tree City Root Shields
Oct 5, Wed All Tree-Care -- Devereux Greenhouse 5 15
Oct 7, Fri AM ARRA Watering
Oct 8, Sat AM Tree Care -- Dos Pueblos High School 10 33 104
Oct 8, Sat PM CCBER North Parcel West Side 7 21 65
Oct 12, Wed AM Tree Care – 5975 Berkeley & 6132 Barrington 2 4 12
Oct 14 , Fri PM Hope School Preparation 10 30
Oct 15, Sat AM Hope School 14 69 205
Oct 15, Sat PM Hope School 7 11 39
Oct 17, Mon all ARRA Watering 140 12 96
Oct 19, Wed AM Tree Care Event -- Alpha 1 7 7
Oct 18, Tues Mt View Science Night 5 15
Oct 21, Fri PM Hope Elementary 7 11 33
Oct 22, Sat AM Girsh Park – 7050 Phelps Rd 11 21 127
Oct 22, Sat PM Stonebridge Open Space 8 23 73
Oct 26, Wed AM Tree Care Event-7512 Padova 2 5 15
Oct 27, Thurs PM Laguna Blanca Science Night 4 16
Oct 27, Thurs PM Kellogg Science Night 4 16
Oct 29, Sat PM El Camino Hillside Planting 5 3 9
Totals for October 84 140 269 1005
The Cambridge Church roadside litter collection crew collected 13 bags of trash with 13.5 volunteer hours this month bringing the 2011 totals to 104.5 bags and 218 volunteer hours.
- Volunteer groups participating in October tree care included: San Marcos High School, UCSB Honors, UCSB Tennis Club, Community Affairs Board, Environmental Affairs Board, Health and Wellness Corps, Pi Alpha Phi, Lambda Theta Nu, Hermanas Unidas, Phi Iota Alpha, Mu Delta, Circle K, Gamma Phi Beta, Alpha Phi Omega, Sigma Alpha Zeta, Pocket Full of Sunshine, Women of the World, Lambda Sigma Gamma, Dos Pueblos High/Beautify Dos Pueblos, Devereux Greenhouse Interns, Alpha clients and staff, Fire Station 11, Community Action Commission Youth Corps, Los Prietos Boys Camp, California Conservation Corps, Mormon Elder Missionary volunteers, and Goleta Valley Beautiful.
- Sponsors for this month's events include California Department of Forestry and Fire Protection, California ReLeaf, American Relief and Recovery Assistance (ARRA), the Central Coast Urban Forest Council, the Santa Barbara County Resource Recovery and Waste Division, UCSB Coastal Fund, Devereux, City of Goleta, Towbes Foundation, Yardi, Inc., the Alliance for Community Trees, Citrix Online, Marborg, Camino Real Marketplace, Pacifica Suites, Channel City Lumber, The Brittingham Foundation, Santa Barbara Unified School District, Cheadle Center for Biodiversity and Ecological Restoration, Hope Elementary District West Covina Nurseries, San Marcos Growers, the Foundation for Girsh Park, Kitson Landscape Management and many more.
Support our Supporters
Thanks to generous discounts from our local merchants. Please mention to our supporters how much you appreciate their support of Goleta Valley Beautiful. You can find the list of our donor members at our website at www.goletavalleybeautiful.org.
---
If the hyperlink does not work, you can cut and paste the e-link into the address area of your browser. Your comments to kknight@goletavalleybeautiful.org will help us build a better communications link. To remove your name from the monthly e-mail newsletter list, please reply to this e-mail with the word 'remove ' in the subject.
---