---
GOLETA VALLEY BEAUTIFUL NEWS HEADLINES - STORIES BELOW
· Mentor Invests in Goleta Valley Beautiful – Towbes Matches Gift
· October is NeighborWoods Month – Sign up for Goleta Valley Beautiful Volunteer Events
· Day of Caring Projects Attract 120 Volunteers
· Goleta Valley Beautiful News Briefs
· ARRA Project To Be Completed in October
· San Jose Creek Gets 9 Additional Oaks During Creek Week Plantings
· Green makeover at Fire Station 11
· September Goleta Valley Beautiful Volunteer Events Recap
Mentor Invests in Goleta Valley Beautiful – Towbes Matches Gift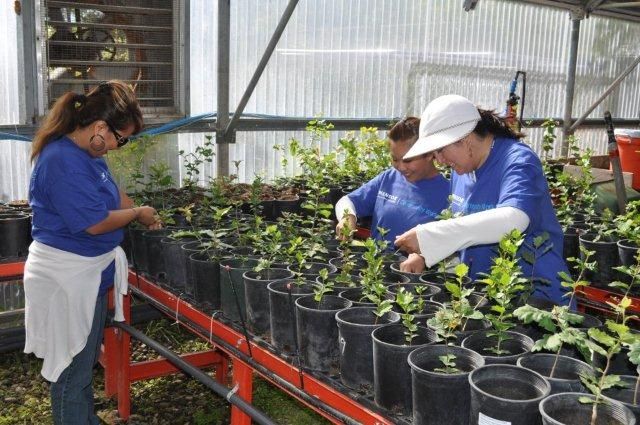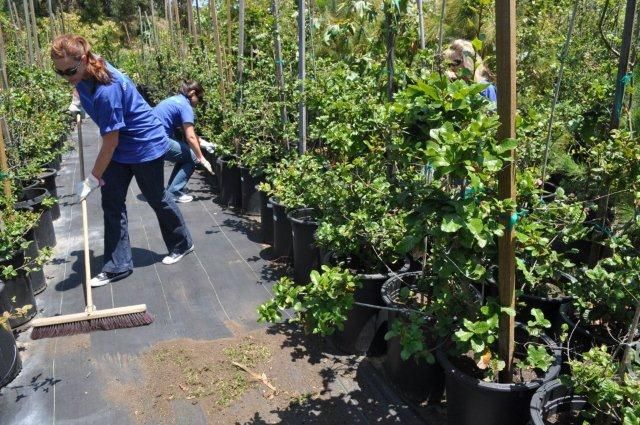 Mentor Worldwide LLC has become the newest Champion of the Good Land with a gift that will go toward the beautification of the Goleta. This gift is matched dollar for dollar through a previous pledge by Philanthropist Michael Towbes. These generous contributions together provide Goleta Valley Beautiful with funding to continue critical work in planting and caring for public trees throughout the Goleta Valley. "We send our sincerest thanks to these supporters, said Goleta Valley Beautiful President David J. Fainer, "The community will be able to see the effects of these gifts for generations".
Mentor employees recently provided a day long service project at the Devereux Greenhouse where volunteers help care for over 2000 trees at the Growing Grounds. These trees are destined for public schools parks and streets throughout southern Santa Barbara County.
---
October is NeighborWoods Month – Sign up for Goleta Valley Beautiful Volunteer Events
The Alliance for Community Trees is once again sponsoring NeighborWoods Month events during the month of October. We'll be distributing NeighborWoods T-shirts to select volunteers during the month, wish we had enough for all of you. We're back to our regular schedule with Saturday morning events from 9 to Noon, and Saturday afternoon events from 1 pm to 4 pm. We post all of our events on our website so for the latest information please check our calendar at www.goletavalleybeautiful.org.
For all volunteer events….
Please RSVP for all events by sending an e-mail to kknight@goletavalleybeautiful.org (New e-mail address!) with your name, phone and e-mail, and the date, time and location of the volunteer event in which you would like to participate. For questions before the event call Ken at 685-7910, and during the day of the event at 252-1952.
No experience necessary. Goleta Valley Beautiful provides all tools and equipment. Please wear old clothes you wouldn't mind getting dirty and sturdy shoes – no open toes or flips please. All work done from the ground. Students, bring your community service forms to get signed for credit. Families welcome as long as younger children are constantly supervised.
Sat, October 1, 9 AM to Noon – San Marcos High School Tree Planting- 4750 Hollister Avenue – Meet at the Hollister Avenue side parking lot and proceed to the rear of the tennis courts.
Sat, October 1, 1 PM to 4 PM – City Street Tree Planting Preparation – Meet at the Devereux Greenhouse. At the corner of Storke and El Collegio, bear right onto Slough Road for ½ mile, turn left onto Devereux Way. Proceed 50 feet to the stop sign at the top of the hill. Turn right on Falberg Way and proceed halfway through the circular road to the dirt road leading down to the Greenhouse. We'll leave for other sites immediately after 1 PM so please don't be late.
Sat, October 8, 9 to Noon – Dos Pueblos High School Tree Planting – Meet at the Distinguished School Sign in the Parking Lot. Dos Pueblos is located at 7266 Alameda Avenue.
Sat, October 8, 1 PM to 4 PM – UCSB North Parcel West Side Tree Planting – Meet at the Isla Vista School Parking Lot, 6875 El Collegio Road
Sat, October 15, 9 am to Noon – Hope Elementary School Tree Planting Part 1 of 2, 3970 La Colina Rd, 93110
Sat, October 15, 1 PM to 4 PM – Hope Elementary School Tree Planting Part 2 of 2, 3970 La Colina Rd, 93110
Sat, October 22, 9 Am to Noon – Girsh Park Tree Planting – Meet at 7050 Phelps Rd in the parking lot next to the Maintenance Building
Sat, October 22, 1 PM to 4 PM – Stonebridge Open Space Tree Planting – 6200 Cathedral Oaks Road (between Windsor Avenue and Carlo Drive on the south side)
Sat, October 29, 9 AM to Noon – Cathedral Oaks and Glen Annie Tree Planting – meet at the southeast corner
Sat, October 29, 1 Pm to 4 PM – El Camino Elementary School Tree Planting – 5020 San Simeon Dr
Litter Pickup
Roadside trash collection in the

Goleta area

on the 2nd and 4th Saturdays. Trash grabbers and bags provided by the City of Goleta.

Call Don and Judy Nason 964-4895 to RSVP

.
Graffiti Removal
Call 964-7117 to participate in graffiti removal and to report incidents in your area

as soon as you see it.
Day of Caring Project Attracts 120 Volunteers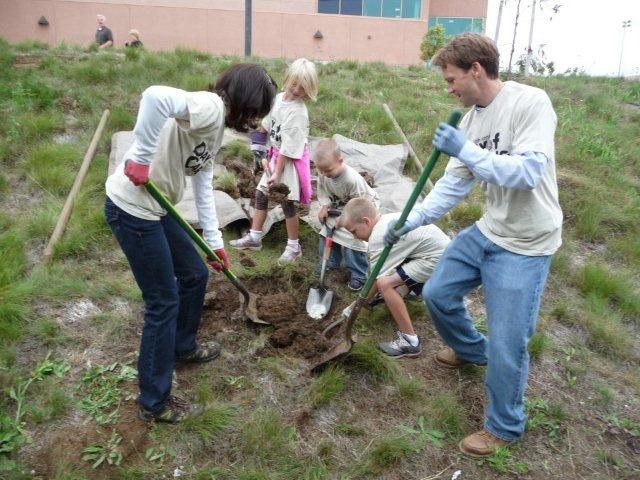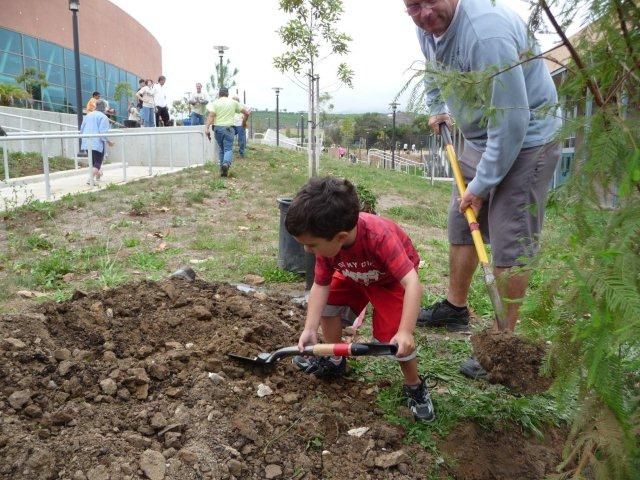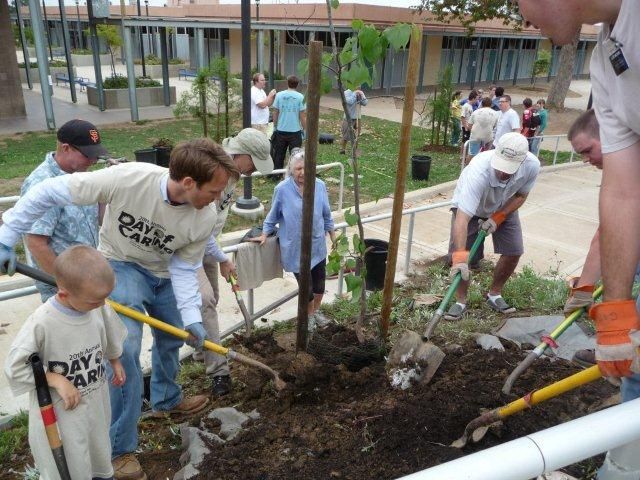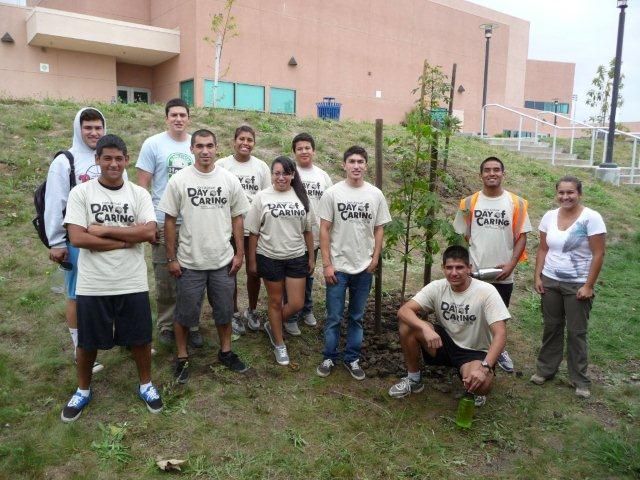 Thanks to the United Way for organizing the Annual Day of Caring again. Each year, Goleta Valley Beautiful conducts large scale projects with the assistance of enthusiastic Day of Caring volunteers. On September 17th, 120 volunteers contributed 360 volunteer hours to plant 17 trees around the Dos Pueblos High School Performing Arts Center as well as maintain 25 previously planted trees. Other projects conducted that day included planting native ground cover plants, trash pickup, painting and other general clean up around the school.
Participating groups included a throng of volunteers from various wards of the Jesus Christ Church of Latter Day Saints, Reina De Mar Native Daughters of the Golden West, Impulse, MYE, and Dos Pueblos High School Leadership, Parents, Faculty and Beautify Dos Pueblos members. Sponsors for the event included San Marcos Growers, Marborg, California Department of Forestry and Fire Protection, Channel City Lumber, Crop Production Services, Devereux, UCSB Coastal Fund, Beautify Dos Pueblos and hundreds of Goleta Valley Beautiful donor members.
Goleta Valley Beautiful News Briefs
All fall 2011 Greenhouse intern photos here with names and smaller in a couple of rolls
- New Greenhouse Interns-Thanks to the continuing support from the UCSB Coastal Fund (financed and operated by students!), Goleta Valley beautiful will have ten interns working the Fall Term at the Devereux Greenhouse and Growing Grounds. The interns will be learning the principles of Greenhouse management while they care for over 2000 trees destined for panting in public areas around the Goleta Valley,
- Science Nights Return- We'll be appearing at Science Nights this for the first time this year at Mountain View School on October 18th and Laguna Blanca and Kellogg Schools on Oct 27th. New items this year include portable microscopes and tree measuring devices.
- The most littered place in town - The little pathway from Calle Real up to Fairview, beside the Pizza place, is now the most littered place in town according to the one who should know. This is an observation from Litter Pick Up Coordinator Don Nason.
- New Fruit Tree Program : Developing a new fruit tree distribution program will take more effort than we originally anticipated. We are developing a new program for distributing fruit trees to low income residents in partnership with local social service, affordable housing, and other charitable organizations to select recipients. A grant from a major donor has made this new program possible. We expect to initiate this program in spring 2012. Stay tuned for more details.
- Bauers Recovering From Car Accident: Goleta Valley Beautiful Secretary Zea Bauer and her husband Joe were involved in a single car accident while visiting relatives in Colorado. Zea and Joe are making good progress at recovering from their injuries. We expect them to return sometime in October to continue their recovery and rehabilitation process. We expect them to make a full recovery.
- Website Changes: Webmaster Logan Franken has been working on totally revising the Goleta Valley Beautiful website over the past year. Tell us what you think.
- Free Street Trees: If you would like to arrange for a street tree to be planted in the parkway in front of your property, and you are willing to water it for the first several years while it is getting established, please give us a call and we'll work with public officials to provide you a tree free of charge. We'll begin planting as soon as we have enough orders to justify renting a trencher to put in root shields next to the sidewalk.
- Honor Trees Are a Great Way to Remember Loved Ones: Honor trees come with a certificate that can be sent to the honoree. In addition to our Dos Pueblos High School Honor Grove site, GVB can also plant Honor Trees on any private sites. Any trees planted on private property require someone to assume responsibility to provide ongoing maintenance. For more information, call 685-7910.
- Goleta Valley Beautiful Wish List: Please call GVB at 685-7910 if you can help with our wish list posted on our website www.goletavalleybeautiful.org. We need help with packaged treats for our volunteers. Think of us next time you stop by the grocery store.
---
ARRA Project To Be Completed in October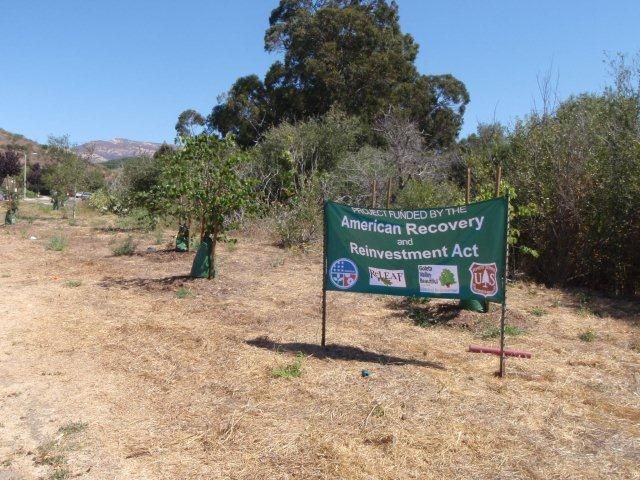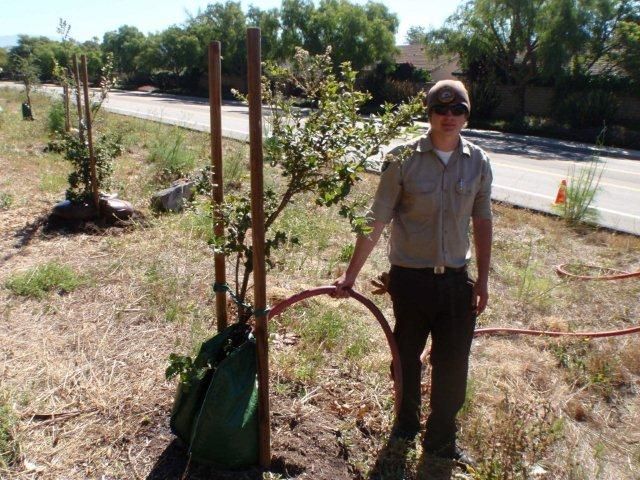 The American Recovery and Reinvestment Act (ARRA) helped fund jobs in our area for 14 urban forestry professionals. Their jobs involved supervising and implement tree planting and care projects in the public areas of the Goleta Valley. Goleta Valley Beautiful worked with California ReLeaf to secure funds for projects in our area two years ago. The last portion of the project will be completed in October with California Conservation Crews completing the establishment of 271 trees at schools, parks and roads within the Goleta Valley. The next time you see new oaks planted along Cathedral Oaks road, think of us and give thanks for the ARRA.
San Jose Creek Gets 9 Additional Oaks During September 24th Creek Week Plantings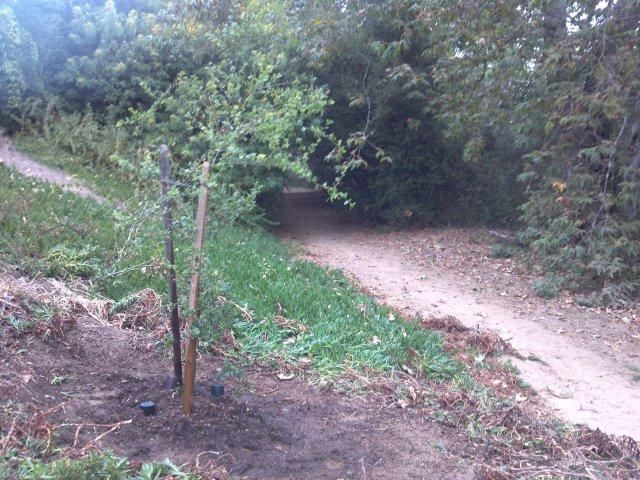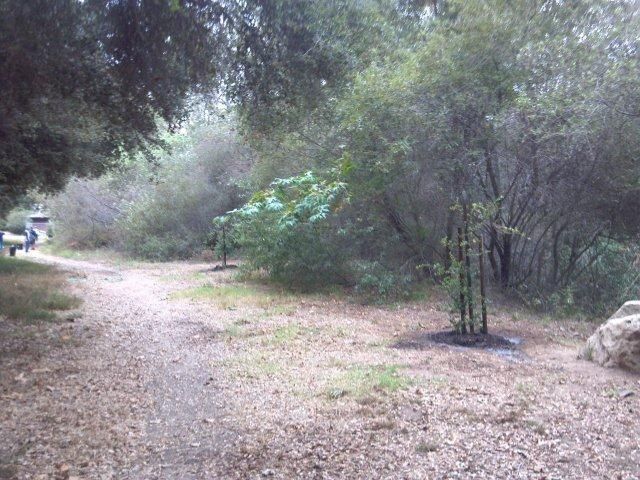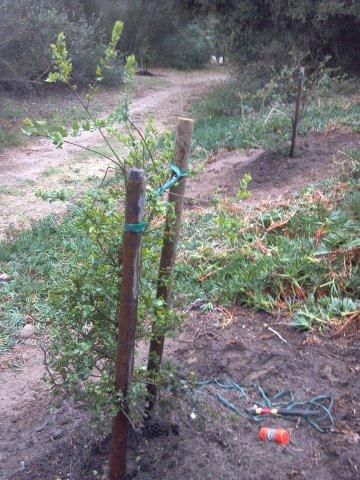 It took two days of hard work by an 8 person crew from the Los Prietos Boys Camp to install nine 15 gallon Coast Live Oak trees along the west side of San Jose Creek south of Berkeley Rd. The Goleta Water District provided water for the occasion, and we stretched out over 700 feet of garden hose to get water to each of the tree sites. The whole process took longer than planned as we first had to hand carry materials to each site, and to remove large sections of invasive ice plant to provide sufficient growing room for the trees.
The nine trees, all grown from acorns, were raised at the Devereux Greenhouse and Growing Grounds operated by Goleta Valley beautiful. The acorns were collected from the great oak growing near San Jose Creek within Kellogg Ranch that blew down in a storm last year. The acorns collected from this tree and the resulting new trees will insure the genetic characteristics of the heritage oak will be passed along for future generations. Thanks to the Goleta Water District, Santa Barbara County Flood Control, Resource Recovery and Waste Management Division, City of Goleta Stormwater Management, Devereux and Los Prietos Boys Camp for making this project happen.
---
Green makeover at Fire Station 11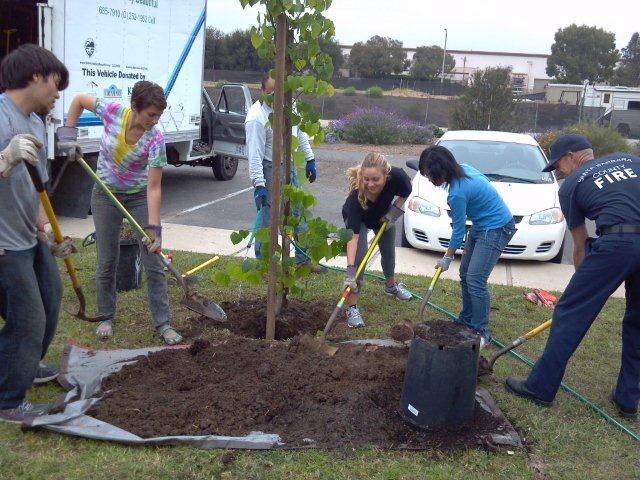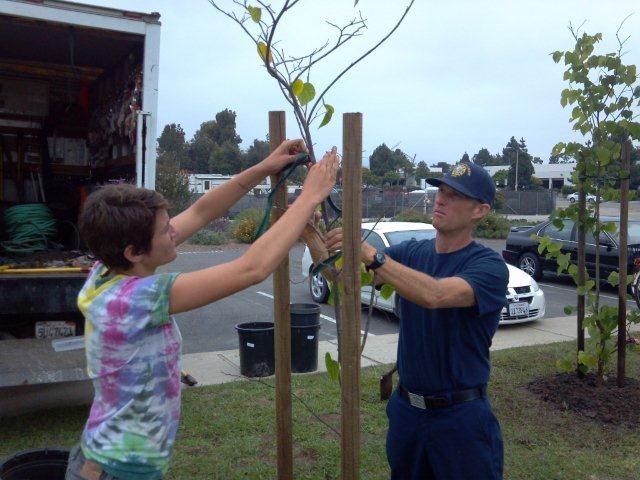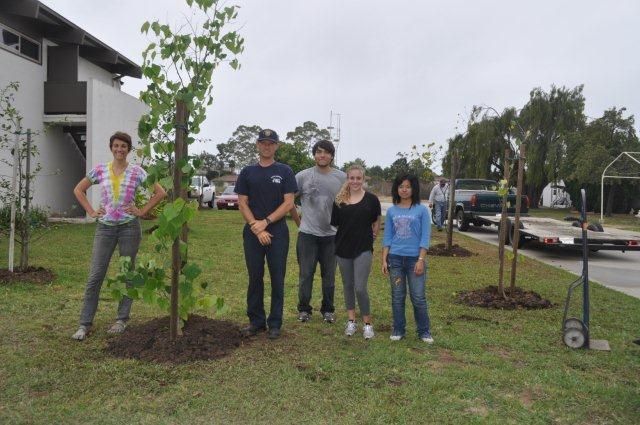 Firefighters at Station 11 joined in to complete the planting of two new alders and 8 redbud trees at Fire Station 11 at the corner of Frey Way and Storke Road, just south of the Home Depot Store. After a couple of planting days, the west side of the station will now be better able to withstand the high temperatures caused by the sun's heat. It will take a few years, but passive energy conservations is one of the best long term investments for a homeowner. Your children may not thank you now, but you will be providing for them far into the future. Thanks to the California Department of Forestry and Fire Protection for making portions for this event possible.
September Goleta Valley Beautiful Volunteer Events Recap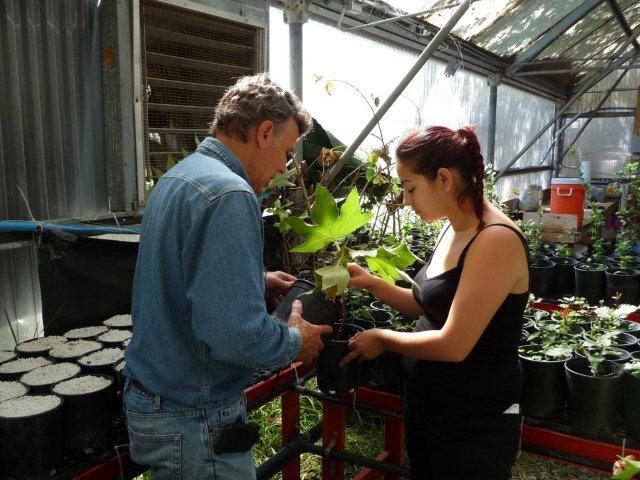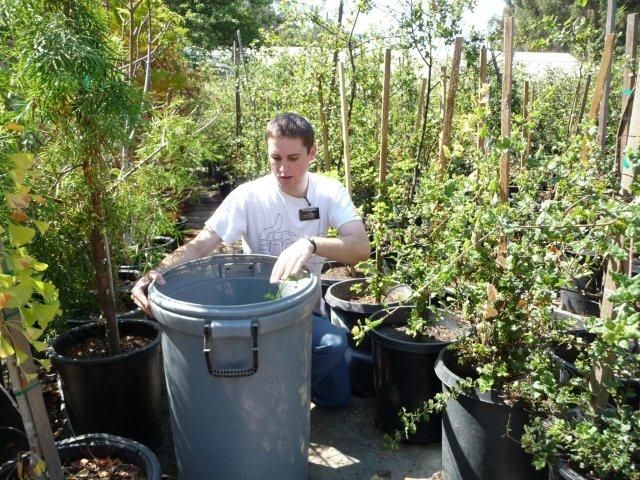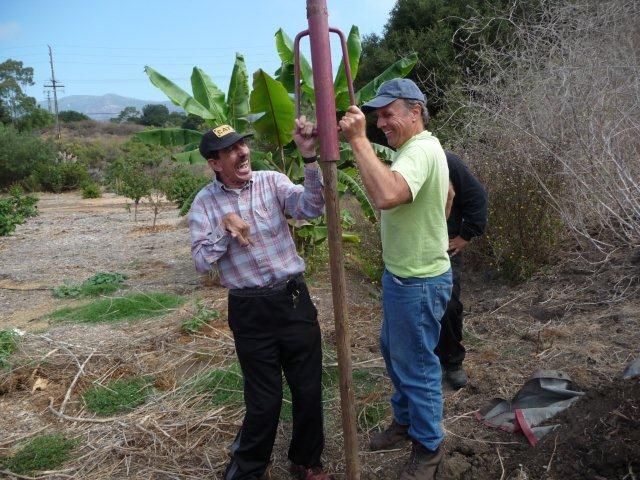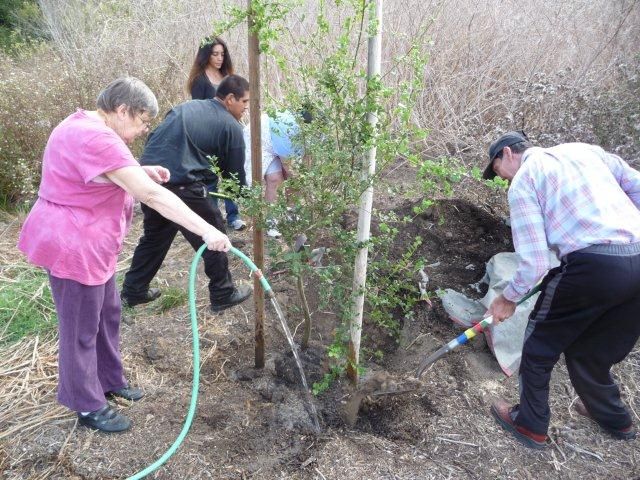 See website for additional photos www.goletavalleybeautiful.org
Date Event New Trees Planted Replacement Trees Trees Maintained Volunteers Service Hours
Sept 2, Fri PM Fire Station 11 3 10 30
Sept 3, Sat AM Tree Care – Devereux Greenhouse 10 30
Sept 6, Tues All ARRA Watering 100 8 64
Sept 7, Wed AM Greenhouse - CAC Youth Corps- 4 16
Sept 10, Sat AM Tree Care – Devereux Greenhouse 2 6
Sept 13, Tues PM Devereux Greenhouse – Tree Care 3 6
Sept 17, Sat AM Dos Pueblos High – Day of Caring 16 1 25 120 360
Sept 17 , Sat PM Greenhouse Maintenance 2 6
Sept 21, Wed AM CAC Youth Corps – Alpha 1 8 8
Sept 23, Fri PM Creek Week –San Jose Creek 10 30
Sept 24, Sat AM Creek Week – San Jose Creek 9 11 33
Sept 24, Sat PM Fire Station 11 6 7 27
Sept 28, Wed AM Greenhouse - CAC Youth Corps- 3 9
Sept 30, Fri PM Rabobank 2 9 27
Totals for September 34 3 185 197 624
The Cambridge Church roadside litter collection crew collected 12.5 bags of trash with 29.5 volunteer hours this month bringing the 2011 totals to 91.5 bags and 197.5 volunteer hours.
- Volunteer groups participating in September tree care included: Devereux Greenhouse Interns, Alpha clients and staff, Fire Station 11, Community Action Commission Youth Corps, Los Prietos Boys Camp, California Conservation Corps, Mormon Elder Missionary volunteers, and Goleta Valley Beautiful. Special thanks to former intern, Paul Nagle, for coming back to volunteer at the Greenhouse in September.
- Sponsors for this month's events include California Department of Forestry and Fire Protection, California ReLeaf, American Relief and Recovery Assistance (ARRA), the Central Coast Urban Forest Council, the Santa Barbara County Resource Recovery and Waste Division, UCSB Coastal Fund, Devereux, City of Goleta, Towbes Foundation, Yardi, Inc., the Alliance for Community Trees, Santa Barbara County United Way, Citrix Online, Marborg, Camino Real Marketplace, Pacifica Suites and many more.
Support our Supporters
Thanks to generous discounts from our local merchants. Please mention to our supporters how much you appreciate their support of Goleta Valley Beautiful. You can find the list of our donor members at our website at www.goletavalleybeautiful.org.
---
If the hyperlink does not work, you can cut and paste the e-link into the address area of your browser. Your comments to kennethknight@cox.net will help us build a better communications link. To remove your name from the monthly e-mail newsletter list, please reply to this e-mail with the word 'remove ' in the subject.
---