---
Click here www.goletavalleybeautiful.org to see this newsletter on the web and to see the new changes to our website
---
GOLETA VALLEY BEAUTIFUL NEWS HEADLINES - STORIES BELOW
· Sign up for September 2-11 Goleta Valley Beautiful Volunteer Events
· Thank You State Farm
· Goleta Valley Beautiful News Briefs
· Coastal Safari a Success
· Summer Activities with our Partner Groups
· August Goleta Valley Beautiful Volunteer Events Recap
Sign Up for September 2011 Goleta Valley Beautiful Volunteer Events
Beginning with the Day of Caring on September 17th, we'll move back to our fall schedule with Saturday morning events from 9 to Noon, and Saturday afternoon events from 1 pm to 3 pm. We'll meeting at the Devereux Greenhouse unless we designate otherwise.
For all volunteer events….
Please RSVP for all events by sending an e-mail to goletavalleybeautiful@gmail.com with your name, phone and e-mail, and the date, time and location of the volunteer event in which you would like to participate. For questions before the event call Ken at 685-7910, and during the day of the event at 252-1952.
No experience necessary. Goleta Valley Beautiful provides all tools and equipment. Please wear old clothes you wouldn't mind getting dirty and sturdy shoes – no open toes or flips please. All work done from the ground. Students, bring your community service forms to get signed for credit. Families welcome as long as younger children are constantly supervised.
Sat, September 3, 9 to Noon – Greenhouse Tree Care – Meet at the Devereux Greenhouse. At the corner of Storke and El Collegio, bear right onto Slough Road for ½ mile, turn left onto Devereux Way. Proceed 50 feet to the stop sign at the top of the hill. Turn right on Falberg Way and proceed halfway through the circular road to the dirt road leading down to the Greenhouse.
Sat September 10, 9 to Noon – Greenhouse Maintenance – Meet at the Devereux Greenhouse. At the corner of Storke and El Collegio, bear right onto Slough Road for ½ mile, turn left onto Devereux Way. Proceed 50 feet to the stop sign at the top of the hill. Turn right on Falberg Way and proceed halfway through the circular road to the dirt road leading down to the Greenhouse.
Sat, September 17, 9 to 1 – Dos Pueblos High School Tree Care & More – Meet at the Distinguished School Sign in the Parking Lot. Dos Pueblos is located at 7266 Alameda Avenue.
Sat, September 24, 9 to Noon – San Jose Creek Tree Planting – Planting of up to 9 oaks. Meet at the west side of San Jose Creek where Berkeley St. ends just past Kellogg.
Sat, September 24, 1 to 4 PM – Street Tree Planting – Sites TBA
Litter Pickup
Roadside trash collection in the

Goleta area

on the 2nd and 4th Saturdays. Trash grabbers and bags provided by the City of Goleta.

Call Don and Judy Nason 964-4895 to RSVP

.
Graffiti Removal
Call 964-7117 to participate in graffiti removal and to report incidents in your area

as soon as you see it.
---
Thank You State Farm
A car accident on north side of Cathedral Oaks Road west of la Patera Road resulted in the destruction of one of the Coast Live Oaks Goleta Valley Beautiful planted just under two years ago. Normally this would be a City of Goleta issue since the street trees are in a public right of way, however Goleta Valley Beautiful is still responsible for the trees until this winter of 2012 when the trees will be considered established. State Farm contacted GVB about paying for the cost of the destroyed tree, and eventually paid for not only a replacement tree, but also paid for a larger replacement tree to reflect the past two years growth of the original tree, along with two more years of maintenance costs.
The significance of this event is that State Farm recognized that an older tree has more value than a younger tree. If a public tree (no matter what size) is destroyed by accident or on purpose, many jurisdictions will accept as a replacement the planting of a new 15 gallon tree. Goleta Valley Beautiful applauds State Farm insurance for recognizing the true replacement value of a tree. Note: State Farm insures the GVB truck.
Goleta Valley Beautiful News Briefs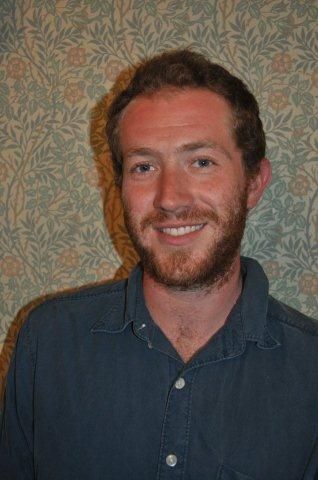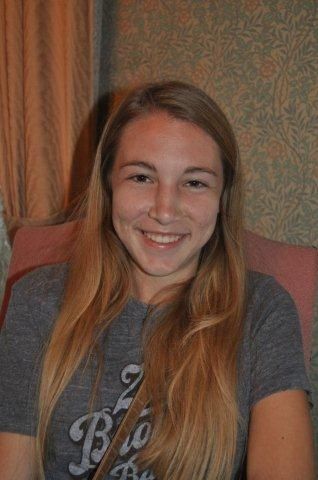 Eli O'Donohue Jeremy Ballew Kori Nielsen Stephanie Brown
- Board Member Changes: We say fond farewell to Board member Richard Jenkins who is moving out of the area, and to Peter Shao who is going off to college. We welcome new Board members Eli O'Donohue, Jeremy Ballew, and Kori Nielsen pictured above. Also pictured above is Stephanie Brown, who transitioned this summer from doing data entry paperwork to becoming the summer Coastal Fund sponsored Devereux Greenhouse Manager. She'll be transitioning back into the office mode in the Fall.
- New Fruit Tree Program : In October, GVB will be announcing a new program for distributing fruit trees to low income residents. GVB will be working in partnership with local social service, affordable housing, and other charitable organizations to select recipients. A grant from a major donor has made this new program possible. Full details in our next newsletter.
- Treegator Thefts: During our normal rounds of summer watering, we discovered twenty Treegators (Portable tree irrigators used for watering trees) had been removed from our newly planted street trees along Hollister Avenue between Palo Alto and Pacific Oaks. The missing Treegators, with a total value of $400, are not insured so we will have to replace them with member funds. This is the first time that a theft of this magnitude has occurred. GVB provides Treegators for free to any GVB donor with a GVB sponsored tree, so we must conclude that those responsible for taking the Treegators are non-members.
- Bauers in Car Accident: Goleta Valley beautiful Secretary Zea Bauer and her husband Joe were involved in a single car accident while visiting relatives. Zea is recuperating from numerous broken bones with her daughter in Colorado while Joe remains hospitalized. Our thoughts and prayers are with them.
- Website Changes: Webmaster Logan Franken has been working on totally revising the Goleta Valley Beautiful website over the past year. The new changes are being rolled out over the next several weeks. We appreciate your patience while we improve our website. Please be aware that we're working on making everything functional as soon as possible.
- Free Street Trees: If you would like to arrange for a street tree to be planted in the parkway in front of your property, and you are willing to water it for the first several years while it is getting established, please give us a call and we'll work with public officials to provide you a tree free of charge. We'll begin planting as soon as we have enough orders to justify renting a trencher to put in root shields next to the sidewalk.
- Honor Trees Are a Great Way to Remember Loved Ones: Honor trees come with a certificate that can be sent to the honoree. In addition to our Dos Pueblos High School Honor Grove site, GVB can also plant Honor Trees on any private sites. Any trees planted on private property require someone to assume responsibility to provide ongoing maintenance. For more information, call 685-7910.
- Goleta Valley Beautiful Wish List: Please call GVB at 685-7910 if you can help with our wish list posted on our website www.goletavalleybeautiful.org
---
Coastal Safari a Success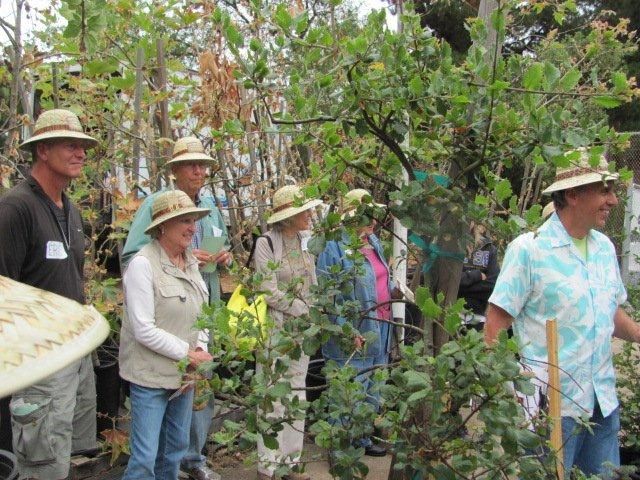 If you didn't hear about the Coastal Safari at Devereux on August 20th, blame the Executive Director for not getting the word out in an e-mail blast. For the thirty some people who did find the Devereux Greenhouse, they donned safari hats and were treated to a variety of goodies along with a tour by 'Bwana' Ken Knight of the 2000+ trees at Devereux. Thanks to all the Board members and to Janis and Chris at Devereux for making the Coastal Safari a success. Personal tours of the Devereux Greenhouse and Growing Grounds are available by calling 685-7910.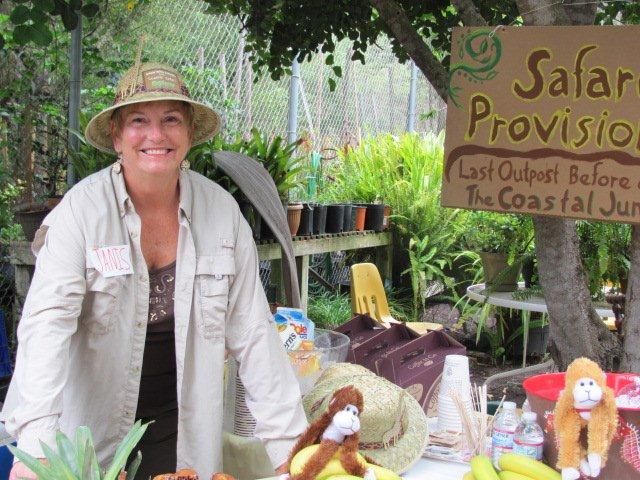 ---
Summer activities with our partner groups
Thanks to generous support from the Santa Barbara Foundation, Yardi, Inc, California ReLeaf, Cal Fire and the Towbes Foundation, among others, we are continuing our efforts to work with at-risk youth, special needs, job development, and affordable housing organizations to promote the joy of planting a tree. If your organization would like to be involved, please let us know at 685-7910.
August Goleta Valley Beautiful Volunteer Events Recap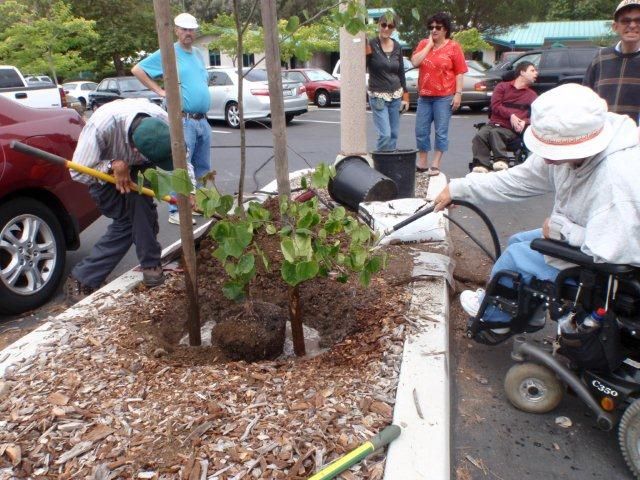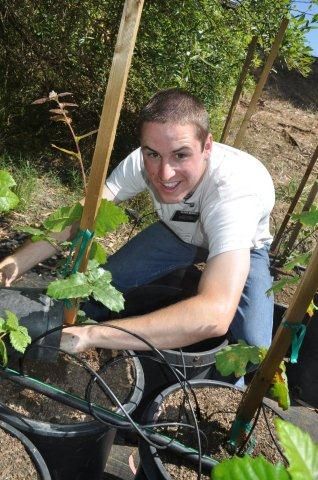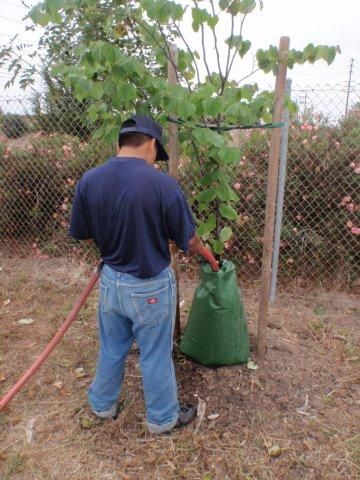 See website for additional photos www.goletavalleybeautiful.org
Date Event New Trees Planted Replacement Trees Trees Maintained Volunteers Service Hours
Aug 1, Mon All ARRA Watering 1 130 7 8
Aug 3, Wed AM Greenhouse spraying 1 5
Aug 6, Sat AM ARRA Watering and Greenhouse 40 8 64
Aug 10, Wed AM SB Foundation- Greenhouse 4 16
Aug 13, Sat AM Tree Care – Devereux Greenhouse 2 6
Aug 17, Wed AM SB Foundation – Kellogg/Alpha 1 1 8 8
Aug 20, Sat AM Coastal Safari – Devereux Greenhouse 20 40
Aug 27, Sat AM Greenhouse Maintenance 10 30
Aug 27, Sat AM Fire Station 11 1 1 3
Aug 31, Wed AM SB Foundation – Greenhouse
Totals for August 2 2 170 61 180
The Cambridge Church roadside litter collection crew collected 13.5 bags of trash with 15.5 volunteer hours this month bringing the 2011 totals to 78.5 bags and 168 volunteer hours.
- Volunteer groups participating in August tree care included: Environmental Affairs Board, Community Action Commission Youth Corps, Los Prietos Boys Camp, California Conservation Corps, Mormon Elder volunteers, and Goleta Valley Beautiful. Special thanks to former intern, Paul Nagle, for coming back to volunteer at the Greenhouse in August.
- Sponsors for this month's events include California Department of Forestry and Fire Protection, California ReLeaf, American Relief and Recovery Assistance (ARRA), the Central Coast Urban Forest Council, the Santa Barbara County Resource Recovery and Waste Division, UCSB Coastal Fund, Devereux, City of Goleta, Towbes Foundation, Yardi, Inc., the Alliance for Community Trees, Santa Barbara County United Way, Citrix Online, Marborg, Camino Real Marketplace, Pacifica Suites and many more.
Support our Supporters
Thanks to generous discounts from our local merchants. Please mention to our supporters how much you appreciate their support of Goleta Valley Beautiful. You can find the list of our donor members at our website once we finish our changes.
---
If the hyperlink does not work, you can cut and paste the e-link into the address area of your browser. Your comments to kennethknight@cox.net will help us build a better communications link. To remove your name from the monthly e-mail newsletter list, please reply to this e-mail with the word 'remove ' in the subject.
---