---
Click here www.goletavalleybeautiful.org to see this newsletter on the web
---
GOLETA VALLEY BEAUTIFUL NEWS HEADLINES - STORIES BELOW
· Sign Up for August 2011 Goleta Valley Beautiful Volunteer Events
· Goleta Valley Beautiful News Briefs
· GVB Helps You Learn the Joy of Planting a Tree
· August Goleta Valley Beautiful Volunteer Events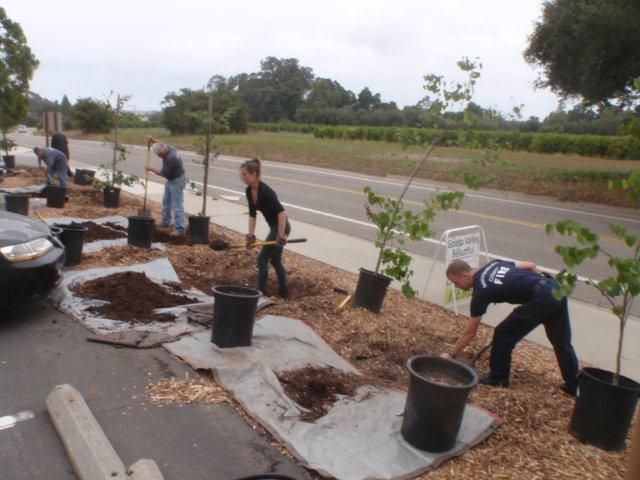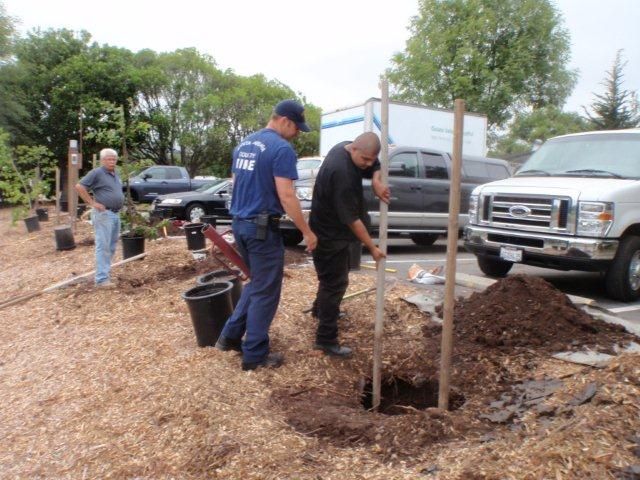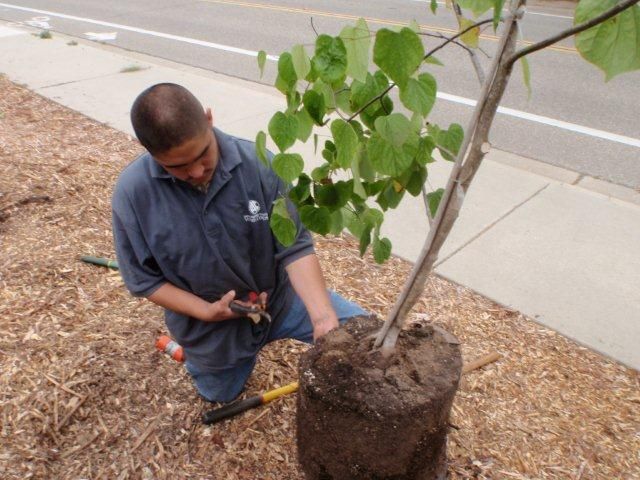 Sign Up for August 2011 Goleta Valley Beautiful Volunteer Events
We're on our summer schedule with Saturday morning events from 9 to Noon, usually meeting at the Devereux Greenhouse unless we designate otherwise. We cut back on our tree planting (with some notable exceptions) but we are still out there watering and caring for new trees, and growing trees at the Devereux Greenhouse
For all volunteer events….
Please RSVP for all events by sending an e-mail to kennethknight@cox.net with your name, phone and e-mail, and the date, time and location of the volunteer event in which you would like to participate. For questions before the event call Ken at 685-7910, and during the day of the event at 252-1952.
No experience necessary. Goleta Valley Beautiful provides all tools and equipment. Please wear old clothes you wouldn't mind getting dirty and sturdy shoes – no open toes or flips please. All work done from the ground. Students, bring your community service forms to get signed for credit. Families welcome as long as younger children are constantly supervised.
Sat, August 6, 9 to Noon – Dos Pueblos High School Tree Care Meet at the Distinguished School Sign in the Parking Lot. Dos Pueblos is located at 7266 Alameda Avenue
Sat August 13, 9 to Noon – Greenhouse Tree Care – Meet at the Devereux Greenhouse
Sat, August 20, 9 to Noon – Greenhouse Tree Care – Meet at the Devereux Greenhouse
Sat, August 27, 9 to Noon – Greenhouse Tree Care – Meet at the Devereux Greenhouse
Litter Pickup
Roadside trash collection in

on vacation in August.

Picking up again in September.
Graffiti Removal
Call 964-7117 to participate in graffiti removal and to report incidents in your area

as soon as you see it.
Goleta Valley Beautiful News Briefs
- More updates next month.
- California Urban Forest Council Free 2011 Membership – Goleta Valley Beautiful members also receive free 2011 membership in the California Urban Forest Council. The California Urban Forest Council is the nation's oldest urban forest council, sustaining and expanding California's urban forests to make our communities healthier and stronger. Check out their website at www.caufc.org.
- Free Street Trees – If you would like to arrange for a street tree to be planted in the parkway in front of your property, and you are willing to water it for the first several years while it is getting established, please give us a call and we'll work with public officials to provide you a tree free of charge. We'll begin planting as soon as we have enough orders to justify renting a trencher to put in root shields next to the sidewalk.
- Honor Trees Are a Great Way to Remember Loved Ones: Honor trees come with a certificate that can be sent to the honoree. In addition to our Dos Pueblos High School Honor Grove site, GVB can also plant Honor Trees on any private sites. Any trees planted on private property require someone to assume responsibility to provide ongoing maintenance. For more information, call 685-7910.
- Goleta Valley Beautiful Wish List: Please call GVB at 685-7910 if you can help with our wish list posted on our website www.goletavalleybeautiful.org
---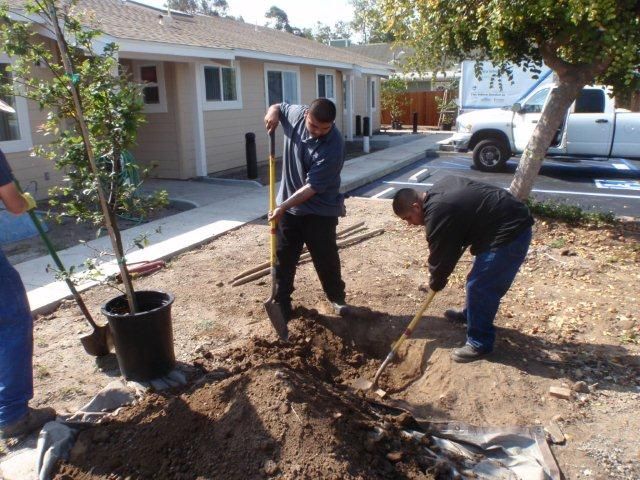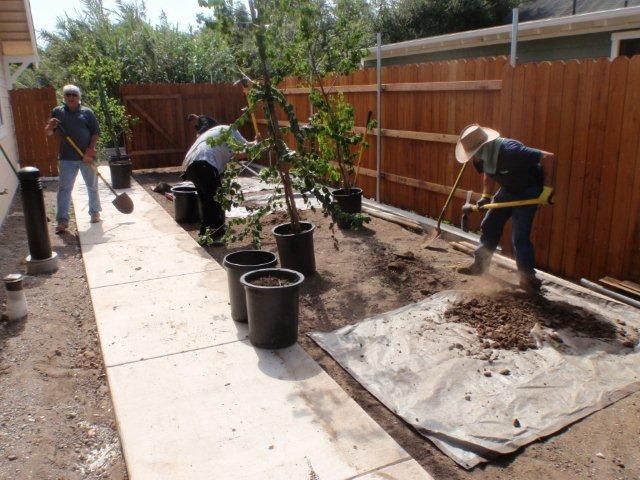 >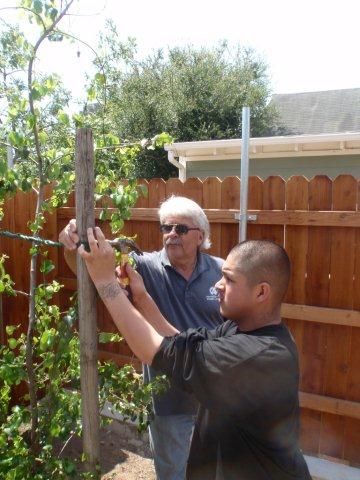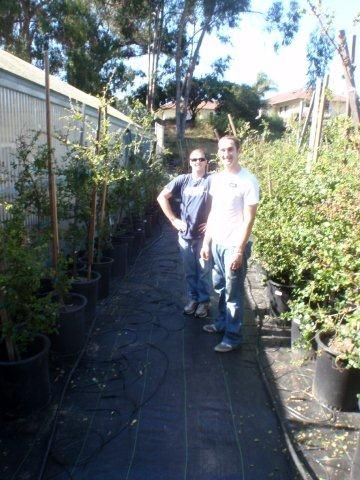 >
GVB Helps You Learn the Joy of Planting a Tree
Thanks to generous support from the Santa Barbara Foundation, Yardi, Inc, California ReLeaf, Cal Fire and the Towbes Foundation, among others, we are continuing our efforts to work with at-risk youth, special needs, job development, and affordable housing organizations to promote the joy of planting a tree. If your organization would like to be involved, please let us know at 685-7910.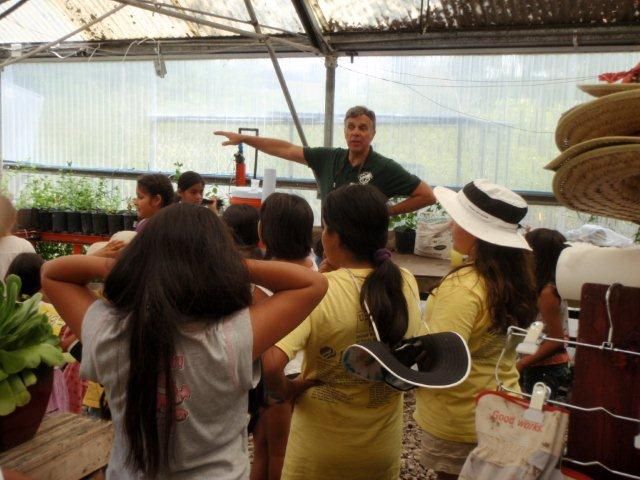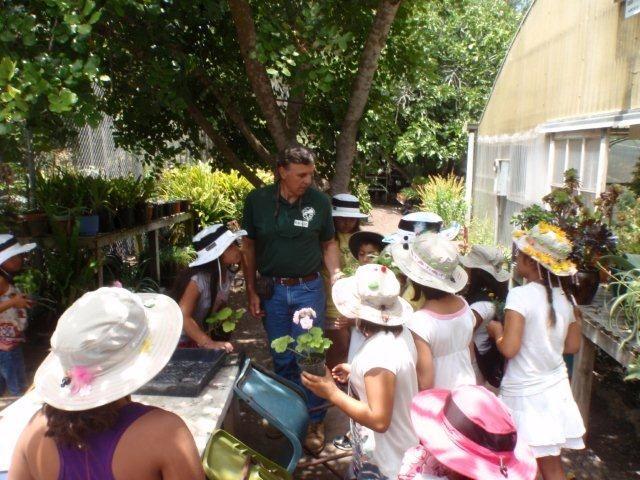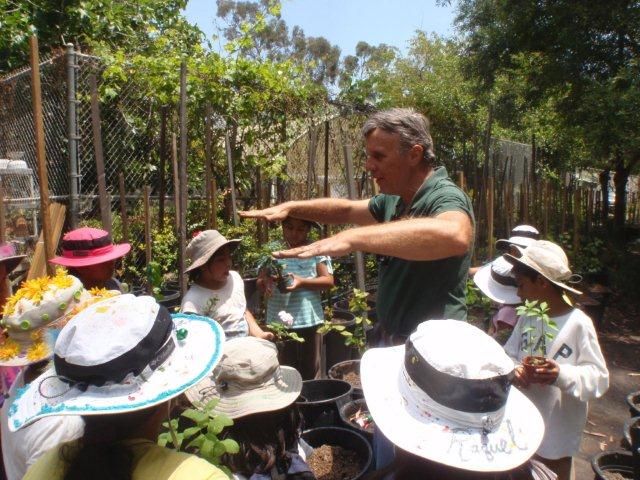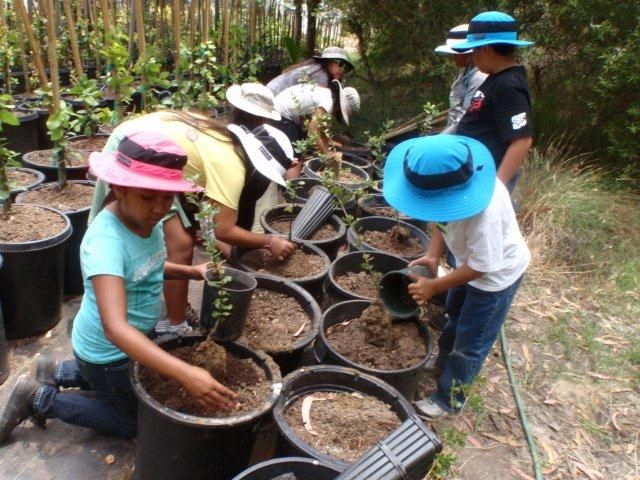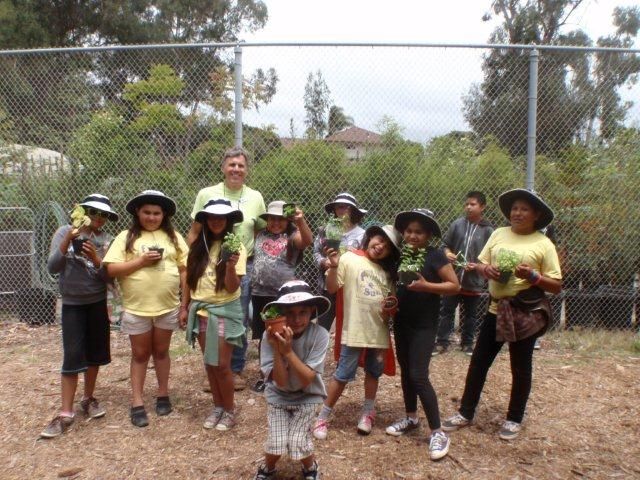 July Goleta Valley Beautiful Volunteer Events Feature Recap
-We planted 26 trees in July, quite a bit more than usual due to plantings at Fire Station 14 and at the County Housing Authority's Braddock House.
See website for additional photos www.goletavalleybeautiful.org
Date Event New Trees Planted Replacement Trees Trees Maintained Volunteers Service Hours
July 5, Tues All ARRA Watering 98 1 10
July 6, Wed All Braddock House 6 5 15
July 7, Thurs AM Fun in the Sun – Greenhouse 2 4
July 9, Sat AM Braddock House 14 10 36
July 11, Sat AM ARRA – Watering 42 1 10
July 13, Wed AM Fire Station 14 Tree Planting 6 7 21
July 14, Thurs AM Fun in the Sun – Greenhouse 1 2
July 16, Sat AM Greenhouse 2 6
July 20, Wed AM Greenhouse 4 12
July 23, Sat AM Greenhouse 10 30
Totals for July 26 140 43 146
The Cambridge Church roadside litter collection crew collected 14 bags of trash with 8 volunteer hours this month bringing the 2011 totals to 65 bags and 139 volunteer hours.
- Volunteer groups participating in June tree care included: Environmental Affairs Board, Community Action Commission Youth Corps, Los Prietos Boys Camp, California Conservation Corps, UCSB Honors, and Goleta Valley Beautiful.
- Sponsors for this month's events include California Department of Forestry and Fire Protection, California ReLeaf, American Relief and Recovery Assistance (ARRA), the Central Coast Urban Forest Council, the Santa Barbara County Resource Recovery and Waste Division, UCSB Coastal Fund, Devereux, City of Goleta, Beautify Dos Pueblos, Santa Barbara Secondary Schools, Dos Pueblos High, Towbes Foundation, Yardi, Inc., the Alliance for Community Trees, Santa Barbara County United Way, Citrix Online, Marborg, Camino Real Marketplace, Pacifica Suites and many more.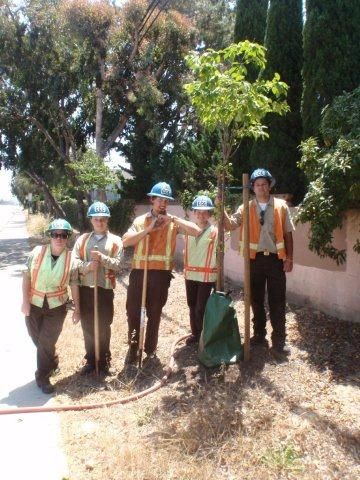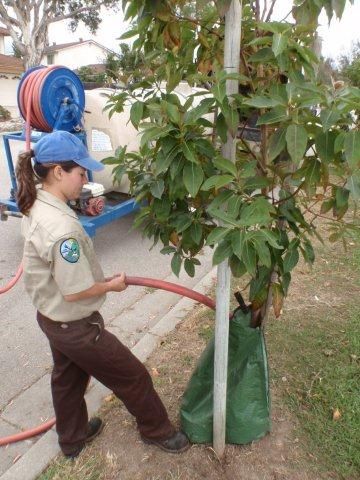 Support our Supporters
---
If the hyperlink does not work, you can cut and paste the e-link into the address area of your browser. Your comments to kennethknight@cox.net will help us build a better communications link. To remove your name from the monthly e-mail newsletter list, please reply to this e-mail with the word 'remove ' in the subject.
---