---
Click here www.goletavalleybeautiful.org to see this newsletter on the web
---
GOLETA VALLEY BEAUTIFUL NEWS HEADLINES - STORIES BELOW
· GVB Educational Programs Continue with CAC Youth Corps and Los Prietos Boys Camp
· Goleta Urban Forest Management Plan to be reviewed again in June by the Goleta City Council
· Sign Up for June 2011 Goleta Valley Beautiful Volunteer Events
· Goleta Valley Beautiful News Briefs
· Annual Event and Heritage Tree Tour Events Well Attended and Appreciated
· Recap of May Goleta Valley Beautiful Volunteer Events
GVB Educational Programs Continue with CAC Youth Corps and Los Prietos Boys Camp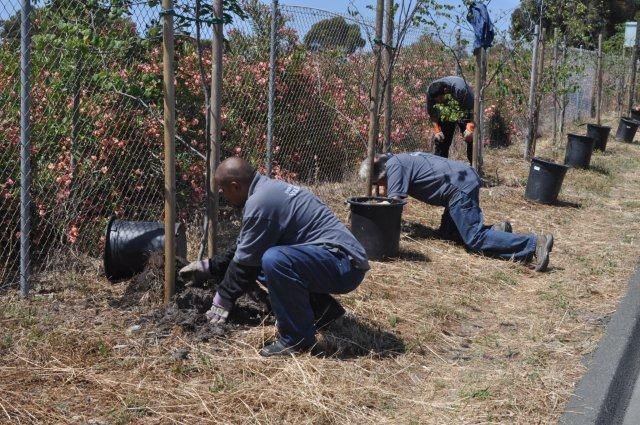 As part of Goleta Valley Beautiful's educational programs, we've now started weekly educational programs with the Community Action Commission's Youth Corps, as well as reviving an active program with the Los Prietos Boys Camp. Over the summer our goal is to provide a broad overview of the value of community services and the skills needed to become an active practitioner. Our hands on programs have so far ranged from learning the techniques of repotting plants at the Devereux Greenhouse, tree planting, and the ongoing maintenance needed to sustain trees until they can establish themselves. Our sponsors for these events include the Santa Barbara Foundation, Yardi, Inc, among others. We are fortunate to have excellent supervisors including Joe Aquino with CAC and Dan Hernandez with Santa Barbara County.
Goleta Urban Forest Management Plan to be reviewed again in June by the Goleta City Council
The Goleta City Council discussed the draft Goleta Urban Forest Management Plan for about an hour at their May 3rd afternoon session. The Council appointed Michael Bennett and Ed Easton as an Ad Hoc Subcommittee to review the Draft Plan and report back to the City Council as a June meeting with suggested revisions. The day before, Councilman Bennett resigned from the Goleta Valley Beautiful Board in order to avoid any appearance of a conflict of interest.
GVB encourages all interested Goleta residents to monitor the City of Goleta website and download information about this item. This is an opportunity to appear before the City Council and show your support for urban forest issues in the city. For further information check the City of Goleta website at http://www.cityofgoleta.org/ and check under government meetings.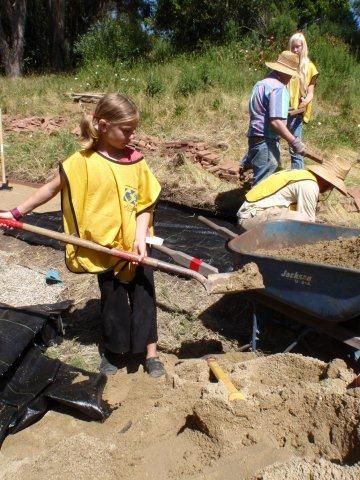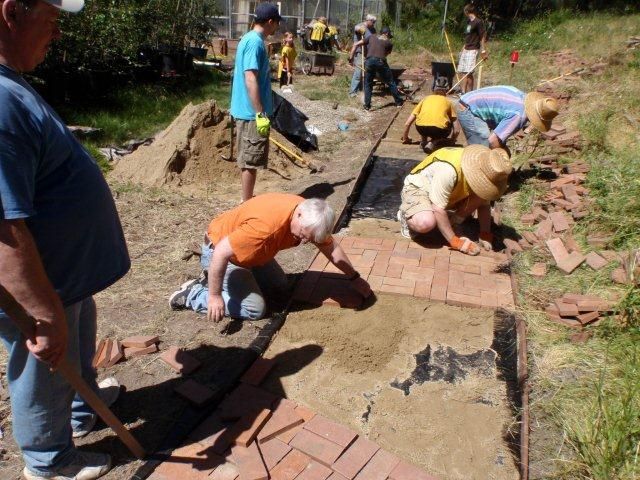 Sign Up for June 2011 Goleta Valley Beautiful Volunteer Events
Beginning June 11, GVB will be going to our summer schedule with Saturday morning events from 9 to Noon, usually meeting at the Devereux Greenhouse unless we designate otherwise. We'll go to the beach in the afternoon like everyone else.
For all volunteer events….
Please RSVP for all events by sending an e-mail to kennethknight@cox.net with your name, phone and e-mail, and the date, time and location of the volunteer event in which you would like to participate. For questions before the event call Ken at 685-7910, and during the day of the event at 252-1952.
No experience necessary. Goleta Valley Beautiful provides all tools and equipment. Please wear old clothes you wouldn't mind getting dirty and sturdy shoes – no open toes or flips please. All work done from the ground. Students, bring your community service forms to get signed for credit. Families welcome as long as younger children are constantly supervised.
Sat, June 4, 9 to Noon – City Tree Care – Meet at the Devereux Greenhouse
Sat, June 4, 1-4 – Greenhouse Tree Care – Meet at the Devereux Greenhouse
Sat, June 11, 9 to Noon – Dos Pueblos High School Tree Planting Meet at the Distinguished School Sign in the Parking Lot. Dos Pueblos is located at 7266 Alameda Avenue
Sat June 18, 9 to Noon – Tree planting and care-location to be determined –Meet at Devereux Greenhouse
Sat, June 25 , 9 to Noon – Greenhouse Tree Care – Meet at the Devereux Greenhouse
Coming in July –Volunteers needed on Thursday July 7th and 14 from 11:30 to 1:30 for the United Way 'Fun in the Sun' Program at the Devereux Greenhouse. GVB volunteers will be taking children on a tour of the Devereux Greenhouse and doing a few programs involving trees. If you have a few hours to spend with some deserving children, please let us know. No experience is necessary, bit it helps to have a lot of enthusiasm!
Litter Pickup
Roadside trash collection in the

Goleta area

on the 2nd and 4th Saturdays. Trash grabbers and bags provided by the City of Goleta.

Call Don and Judy Nason 964-4895 to RSVP
Graffiti Removal
Call 964-7117 to participate in graffiti removal and to report incidents in your area

as soon as you see it.
Goleta Valley Beautiful News Briefs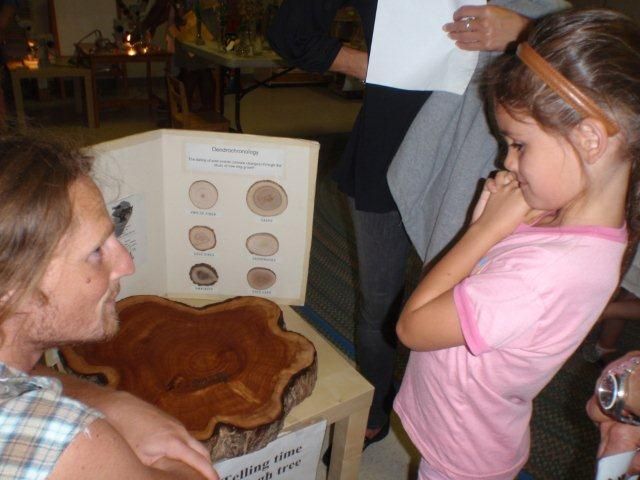 >
- Santa Barbara Bank and Trust and Raytheon Step Up to the Towbes Challenge Grant – As a result of the Towbes Challenge Grant, two more local institutions have contributed to GVB's Fundraising efforts. We appreciate their support.
- Science Nights Wrap Up for the School Year. – GVB Interns and staff participated in four Science Night events last month as the school year drew to a close. Our presentations and interactive exhibits were visited by over 800 students and parents last month. We'll be back at it again in the fall.
- Seventeen Spring Interns complete their term with GVB – We had a record seventeen interns working with Goleta Valle Beautiful this term, some volunteer, some paid, some for credit, and all essential to our efforts. Our Coastal Fund Interns working at the Greenhouse included Jerry Li, Brittney Eugenio, Jeremy Dean, Alexandra Yang, Nicole Beaulieu, Rachel Frame, and Christina Impastato. Our Urban Forestry Interns filling in for George Jimenez and also working Science Nights and at the Greenhouse included Cindy Au, Allison Gracer, Alan Krespan, Paul Nagle, Ariel Ouziel, Mark Pollack and Aubree Fairchild. Grant interns included Tiffany Koh and Eli O'Donohue. Tiffany Armstrong served as our Heritage Tree Project Intern- more information on that next month. We'll all be celebrating with a dinner at Naan Stop and bobas on Friday evening June 3rd at 5:30 pm if you want to come join us.
- California Urban Forest Council Announces Free 2011 Membership – Goleta Valley Beautiful members also receive free 2011 membership in the California Urban Forest Council. The California Urban Forest Council is the nation's oldest urban forest council, sustaining and expanding California's urban forests to make our communities healthier and stronger. Check out their website at www.caufc.org.
- Free Street Trees – A Secret We Want Everyone to Know If you would like to arrange for a street tree to be planted in the parkway in front of your property, and you are willing to water it for the first several years while it is getting established, please give us a call and we'll work with City of Goleta officials to provide you a tree free of charge. We'll begin planting as soon as we have enough of a minimum to rent a trencher to put in root shields next to the sidewalk.
- Honor Trees Are a Great Way to Remember Loved Ones: Honor trees come with a certificate that can be sent to the honoree. In addition to our Dos Pueblos High School Honor Grove site, GVB can also plant Honor Trees on any private sites. Any trees planted on private property require someone to assume responsibility to provide ongoing maintenance. For more information, call 685-7910.
- Goleta Valley Beautiful Wish List: Please call GVB at 685-7910 if you can help with our wish list posted on our website www.goletavalleybeautiful.org
Annual Event and Heritage Tree Tour Events Well Attended and Appreciated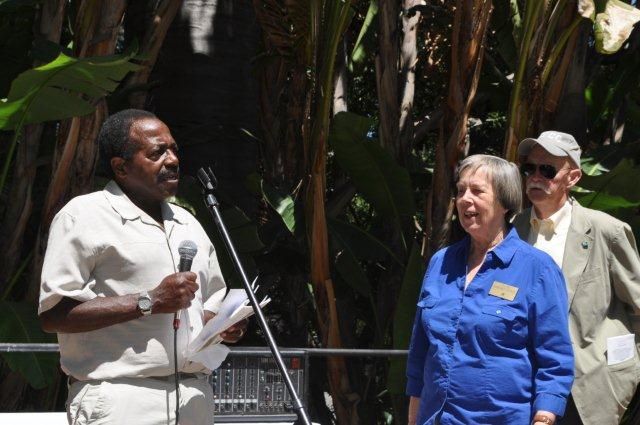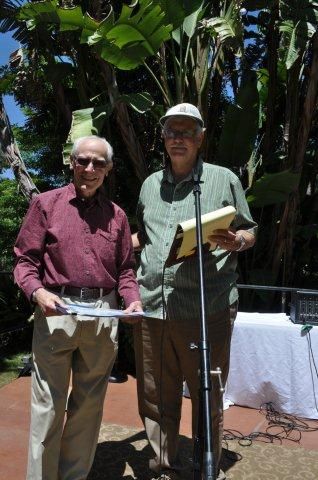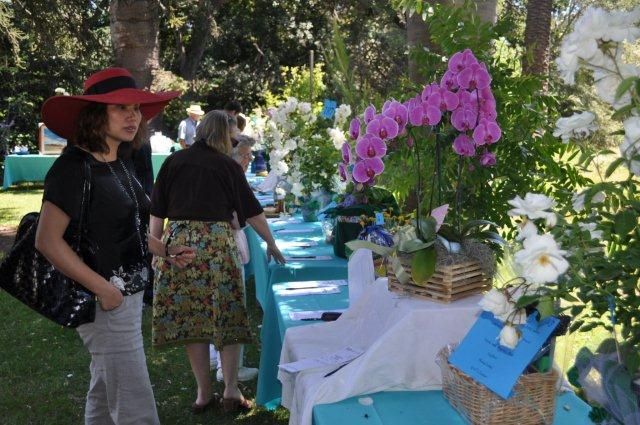 Goleta Valley beautiful celebrated its 37th Annual Awards Event on 5/1/11 with the largest attendance ever at our event. Prior to the awards, a crowd of 150 enjoyed a delicious meal from County Meat market Catering, and browsed through a wide assortment of Silent Auction offerings while listening to music from the Bren Grass Band.
We had a full bus for the 10th Annual Heritage Tree and History Tour. Santa Barbara Airbus once again made our event possible. In addition to the new areas on the tour like the Stow Lab on the La Patera Ranch, we were also able to figure out why there are beautifully lush redwood trees growing without irrigation and encased in asphalt along Mandarin Avenue in Old Town Goleta. Redwood trees should normally fizzle out in conditions like that, but we figure that the roots have tapped into the water table that is pretty close to the surface around there. See our website for additional information and photos.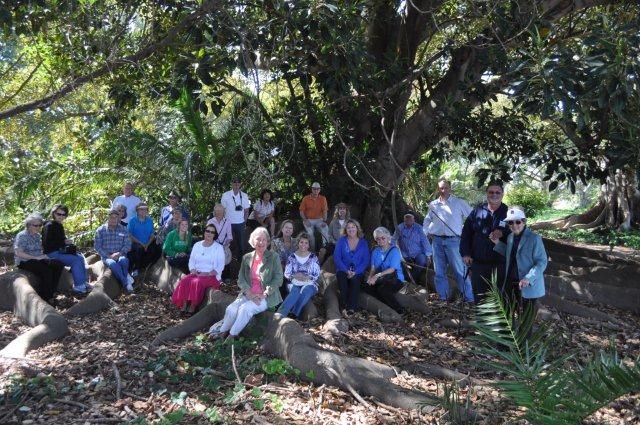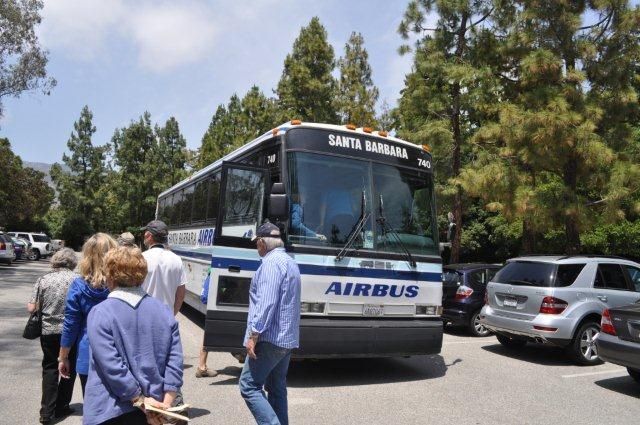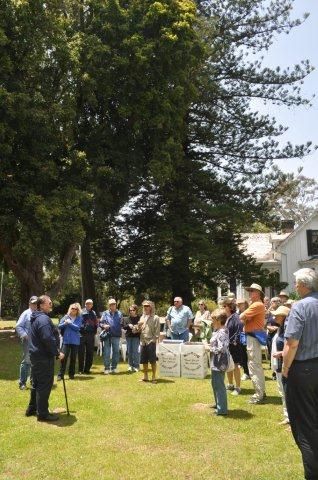 ---
Recap of May Goleta Valley Beautiful Volunteer Events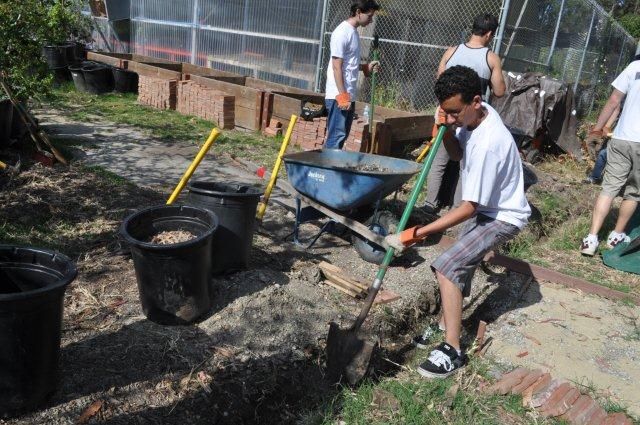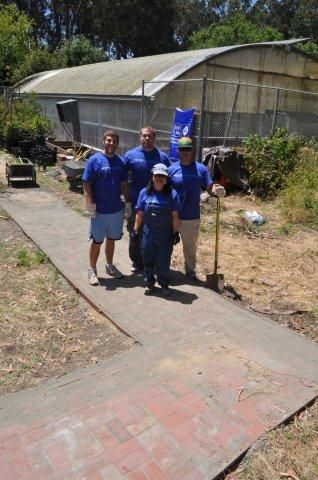 - May was a banner volunteer month – We only planted 3 trees, but we did loads of work on a mountain of maintenance needs around the Goleta Valley. The Devereux Greenhouse now has a brick sidewalk linking it to the main Devereux campus for use by the developmentally disabled clients. That project was a result of a lot of hard work by the Mormon Helping Hands group, UCSB Mu Delta, Mentor Corporation and Santa Barbara County United Way. But perhaps the high point of this month's volunteer events was a spontaneous outbreak of dancing in the San Marcos High parking lot following a 5/14/11 event there.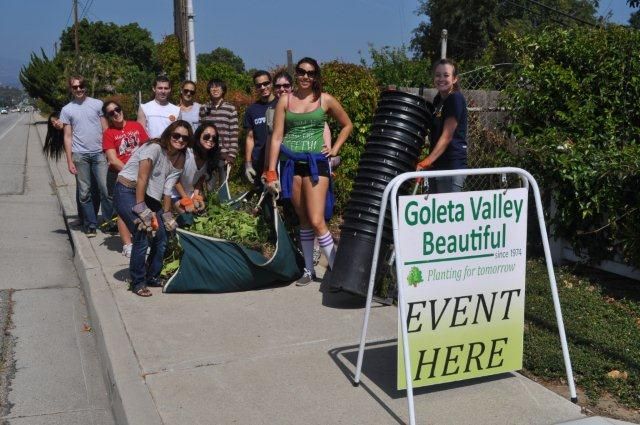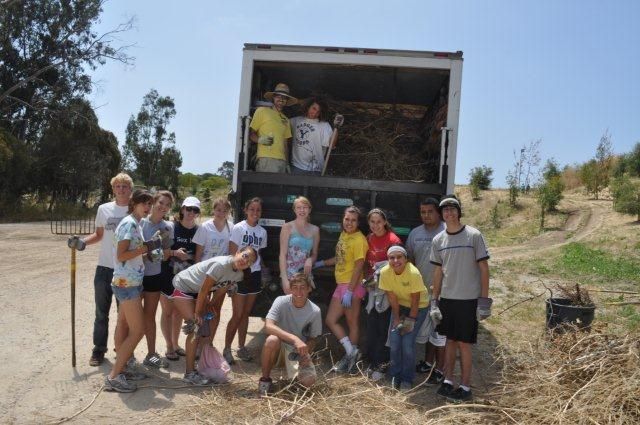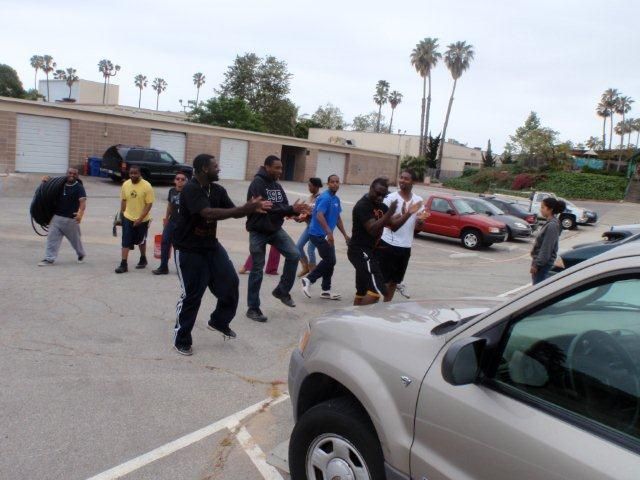 See website for additional photos www.goletavalleybeautiful.org
Date Event New Trees Planted Replacement Trees Trees Maintained Volunteers Service Hours
Apr 28, Thu PM Montessori Center School Science Night 5 20
Apr 30, Sat AM Greenhouse-Mormon Helping Hands 59 171
Apr 30, Sat PM Greenhouse 5 17
May 1, Sat PM 37th Annual Awards Event 16 222
May 5, Thu PM Brandon Elementary Science Night 4 12
May 7, Sat AM Northgate/Hollister 2 45 9 28
May 7, Sat PM Ellwood/Windsor 1 20 12 43
May 12, Thu PM Washington Elementary Science Night 5 15
May 14 , Sat AM San Marcos High 2 26 28 85
May 14, Sat PM UCSB Tree Care 50 22 67
May 19, Thu PM Isla Vista Elementary Science Night 4 16
May 21, Sat AM Dos Pueblos High 150 66 199
May 21, Sat PM Hollister 1 Tree Care 10 13 41
May 22, Sun AM Greenhouse 12 34.5
May 22, Sun PM 10th Annual Heritage Tree and History Tour 7 35
May 24, Tues AM Mentor at Greenhouse 5 15
Totals for May 3 301 272 1018.5
The Cambridge Church roadside litter collection crew collected 3 bags of trash with 10 volunteer hours this month bringing the 2011 totals to 49 bags and 104 hours.
-Volunteer groups participating in May tree care included: Mormon Helping Hands, Rancho La Patera, Mentor Corp., Dos Pueblos Leadership, UCSB Circle K, Los Prietos Boys Camp, Dos Pueblos students, parents and staff, UCSB Mu Delta, Phi Alpha Delta, Sex and Relationships Club, Tau Beta Pi, Public Health Brigade, Black Graduate Union, Muslim Student Association, Honors Program, Urban Hip Hop Dance Team, Alpha Kappa Delta Phi, Alpha Phi Alpha, and Goleta Valley Beautiful.
- Sponsors for this month's events include California Department of Forestry and Fire Protection, California ReLeaf, American Relief and Recovery Assistance (ARRA), the Central Coast Urban Forest Council, the Santa Barbara County Resource Recovery and Waste Division, UCSB Coastal Fund, Devereux, City of Goleta, Beautify Dos Pueblos, Santa Barbara Secondary Schools, Cal Fire, San Marcos High, West Covina Nurseries, Dos Pueblos High, Towbes Foundation, Cheadle Center for Biodiversity and Ecological Restoration, Mentor, Goleta Union School District, Yardi, Inc., the Alliance for Community Trees, Santa Barbara County United Way and Citrix Online.
Support our Supporters
Thanks to generous discounts from West Covina Nurseries, San Marcos Growers, Crop Production Services, Channel City Lumber, and numerous other local merchants. Please mention to our supporters how much you appreciate their support of Goleta Valley Beautiful. You can find the list of our donor members at http://www.goletavalleybeautiful.org/Membership.asp
---
If the hyperlink does not work, you can cut and paste the e-link into the address area of your browser. Your comments to kennethknight@cox.net will help us build a better communications link. To remove your name from the monthly e-mail newsletter list, please reply to this e-mail with the word 'remove ' in the subject.
---