---
War is not the answer. Trees are the answer
---
GVB NEWS HEADLINES - STORIES BELOW
· GVB celebrates a record year and prepares for 2011
· January 2nd Memorial services for Goleta Valley Beautiful Board of Director Geoffrey Alan 'Al' Turnbull
· Sign Up for January 2011 Goleta Valley Beautiful Activities including Young Tree Care Workshop
· Goleta Valley Beautiful News Briefs
· Kitson Landscape Management, Inc. donates their 1000 gallon water trailer to GVB
· UCSB Coastal Fund partners with Goleta Valley Beautiful with a $9700 grant for Devereux Greenhouse operations
· Marborg Industries sets the pace for major donor support and renewing members!
· ReLeaf awards second grant for heritage tree, workshop and public outreach
· December Award Winner
---
GVB celebrates a record year and prepares for 2011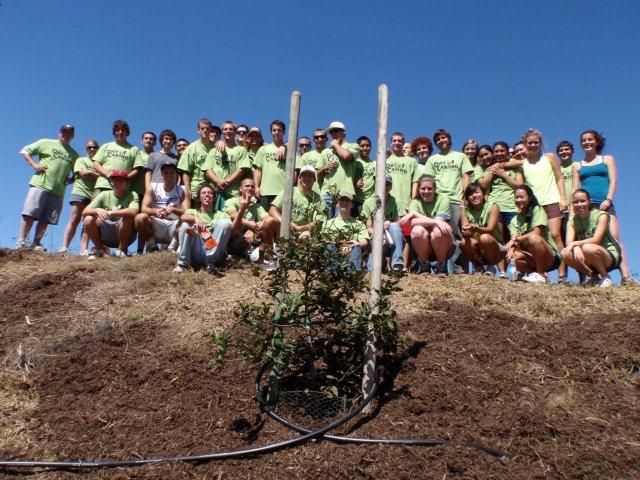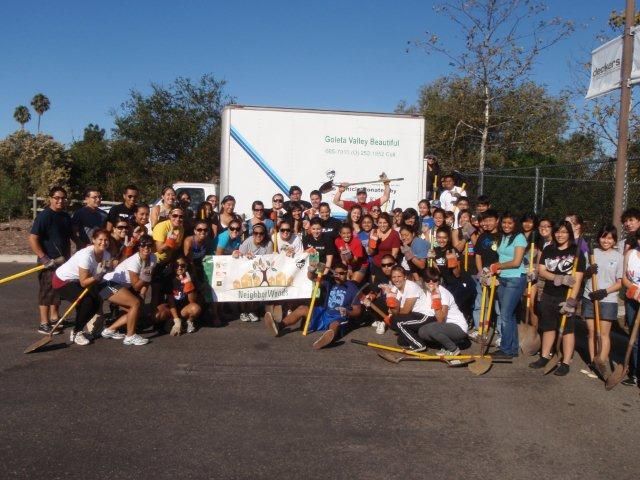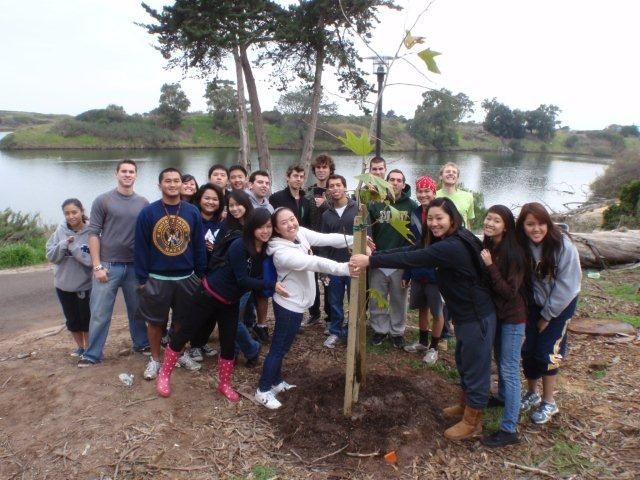 Goleta Valley Beautiful just completed one its most successful years ever. The statistics show the most participation ever; 144 projects in which 2242 volunteers contributed 8447 hours of community service, a new record for community participation! The outcomes are equally impressive; we planted 481 trees in schools, along roads and in parks throughout the Goleta Valley area, collected 60 bags of trash from alongside streets, conducted Project Learning Tree and Young Tree Care Workshops, spent 360 hours cleaning graffiti, and reached 800 elementary children with our Science Night educational programs. We planted 33 different species of trees to keep with our diversity theme, but 40% of our trees were native Coast Live Oak. We are developing the foundation for a strong future with our work on the Goleta Urban Forest Management Plan.
January 2nd Memorial services for Goleta Valley Beautiful Board of Director Geoffrey Alan 'Al' Turnbull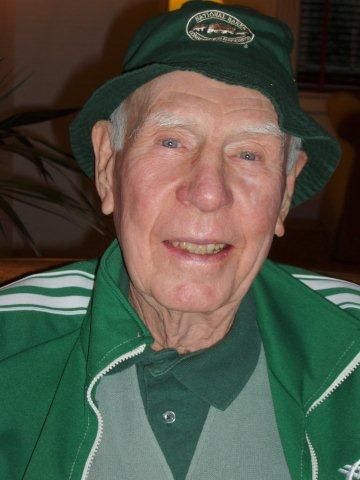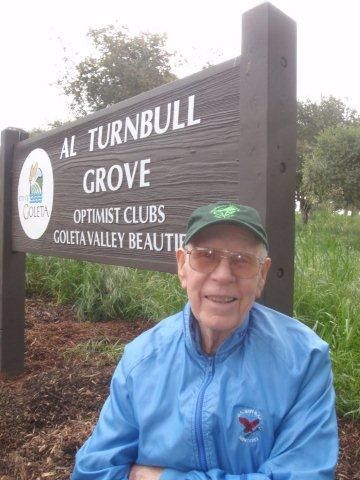 Join us January 2nd, 2011 at 3 PM in Friendship Manor's Jameson Hall, 6647 El Collegio Road in Isla Vista as we remember a dear friend. If you can't make it, take some time to enjoy one of Al's legacies at the Al Turnbull Grove next to the Goleta Depot in Lake Los Carneros Preserve.
Sign Up for January 2011 Goleta Valley Beautiful Activities including Young Tree Care Workshop
The Saturday January 22nd Young Tree Care Workshop is your once a year, hands-on opportunity to learn how to do trees right with the help of the best arborist trainers in the area including Dan Condon, Bill Spiewak, Bill Millar, and George Jimenez. In just one morning, we'll teach you the basics about how to plant, prune and care for young trees. And in the afternoon, we'll be putting your new skills to work on the young trees at Dos Pueblos High School. It's only ten dollars to attend the 8:30 to 3:30 pm workshop, and lunch is included. Attendance at the entire event can provide students with 6 community service credits, and professionals seeking a refresher with CEU's. Sponsors for the event include California ReLeaf, City of Goleta, Central Coast Urban Forest Council, Santa Barbara Secondary School District, and Goleta Valley Beautiful.
Why do we do this? We not only want more people to know the proper way to care for trees, but we also want to expand the number of qualified people who can assist with our weekly public tree care events. To get the full benefit of this workshop, you must commit to attend for the entire 8:30 am to 3:30 pm program. You'll be glad you did. To register, see our flier on the Goleta Valley Beautiful website, or call 685-7910 for more information.
For all volunteer events….
Please RSVP for all events by sending an e-mail to kennethknight@cox.net with your name, phone and e-mail, and the date, time and location of the volunteer event in which you would like to participate. For questions before the event call Ken at 685-7921, and during the day of the event at 252-1952.
No experience necessary. Goleta Valley Beautiful provides all tools and equipment. Please wear old clothes you wouldn't mind getting dirty and sturdy shoes – no open toes or flips please. Students, bring your community service forms to get signed for credit. Families welcome as long as younger children are constantly supervised.
Jan 8 Sat 9 am to noon City of Goleta Parkway trees – installation of root shields at various locations. Meet at Devereux Greenhouse.
Jan 8 Sat 1 PM to 4 PM City of Goleta Parkway trees – plant trees at various locations. Meet at Devereux Greenhouse.
Jan 15 Sat 9 AM to Noon Elementary School Tree young tree care – Meet at Mt. View School 5465 Queen Anne Lane, later moving to Foothill School 711 Ribera Drive
Jan 15 Sat 1 PM to 4 PM Elementary School Tree young tree care – Meet at Isla Vista School 6875 El Collegio Road, later moving to UCSB campus
Jan 17 Mon 9 am to noon Martin Luther King Day Tree Planting – Plant 45 trees in the morning session at Arellanes Elementary and Junior High, 1890 Sandalwood Drive in the Santa Maria Tanglewood subdivision, followed by a celebratory lunch
Jan 17 Mon 1 PM to 4 PM Martin Luther King Day Tree Planting – Plant 35 trees in the afternoon session at Arellanes Elementary and Junior High, 1890 Sandalwood Drive in the Santa Maria Tanglewood subdivision.
Jan 22 Sat 8:30 to 3:30 PM Young Tree Planting, Pruning and Care Workshop including lunch. Dos Pueblos High School, 7266 Alameda Drive, classroom to be announced. Learn in the classroom and in the field about how to care for young trees from the area's top arborists and earn community service credits. Preregistration required, $10 fee for lunch.
Jan 29 Sat 9 am to noon Plant trees at San Marcos High School, 4750 Hollister Ave. Meet in the rear Hollister Avenue parking lot northwest of the tennis courts.
Jan 29 Sat 1 PM to 4 PM Young tree pruning and care trees at San Marcos High School, 4750 Hollister Ave. Meet in the rear Hollister Avenue parking lot northwest of the tennis courts.
Litter Pickup
Roadside trash collection in the

Goleta area

on the 2nd and 4th Saturdays. Trash grabbers and bags provided by the City of Goleta.

Call Don and Judy Nason 964-4895 to RSVP
Graffiti Removal
Call 964-7117 to participate in graffiti removal and to report incidents in your area

as soon as you see it.
Goleta Valley Beautiful News Briefs
- Goleta Urban Forest management Plan moves forward – City staff is collecting comments and making refinements to the draft of the Goleta Urban Forest Management Plan. If you have questions, check it out on the City's website or contact us for further information.
- Yardi backs GVB's education and affordable housing projects – Yardi Systems provided a $5000 grant to GVB to assist in our educational outreach programs, and to further our efforts to plant trees at affordable housing projects. More information on this in coming months.
- Post Holiday Cheer - Thanks to Lori Roper and Marc Bradley for continuing their tradition of providing flowers for elderly residents at local long term care homes including Heritage House.
- Two GVB Board of Directors vacancies – There are two vacancies on the GVB Board of Directors for a term that continues through June 2011. For details, call 685-7910.
- Free Street Tree Program Continues – If you would like to arrange for a street tree to be planted in the parkway in front of your property, and you are willing to water it for the first several years while it is getting established, please give us a call and we'll work with City of Goleta officials to provide you a tree free of charge. This service is not year available in the unincorporated area of Goleta Valley pending approval of County officials.
- Thanks to Pacifica Suites, Devereux and Camino Real Marketplace- This is an appropriate time of year to remember that, without the generosity of local supporters, we would be homeless. For ten years, Camino Real Marketplace has provided Goleta Valley Beautiful with a no-cost place to storage its mulch, sheds and vehicles. Each month, Pacifica Suites allows us to use their facilities without charge so that we can hold our Board meetings. Devereux leases us a portion of the Devereux Greenhouse and Growing Grounds that allows us to grow our trees for use throughout the Goleta Valley. We can't say thanks enough.
- Honor Trees Are a Great Way to Remember Loved Ones: Honor trees come with a certificate that can be sent to the honoree. In addition to our Dos Pueblos High School Honor Grove site, GVB can also plant Honor Trees on any private sites as well as public. Any trees planted on private property require someone to assume responsibility to provide ongoing maintenance. For more information, call 685-7910.
- Goleta Valley Beautiful Wish List: Please call GVB at 685-7910 if you can help with our wish list posted on our website www.goletavalleybeautiful.org
- Floss Silk Tree Donation – thanks to Julie Lyon of Santa Barbara for giving her two container grown Floss Silk trees a new home at Dos Pueblos High School.
- Merlyn's Magical Wood Working – GVB Board member Merlyn Cummings has been at his workshop during the holidays. Merlyn developed wooden dividers to help keep GVB tools organized in the milk crates on the GVB truck. And he's already completed work on 15 miniature lemon crates to be given away at our May 1st Awards event. Thanks!
---
Kitson Landscape Management, Inc. donates their 1000 gallon water trailer to GVB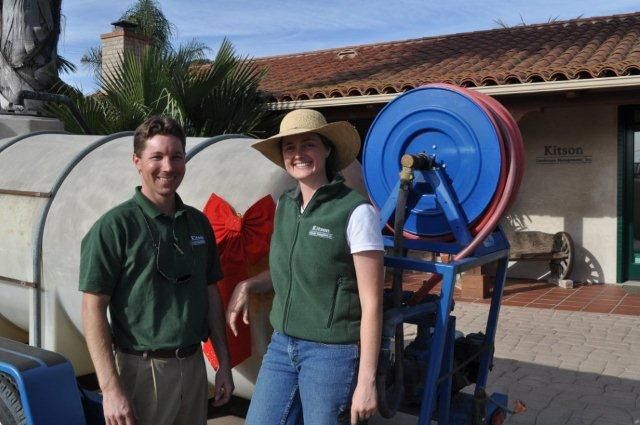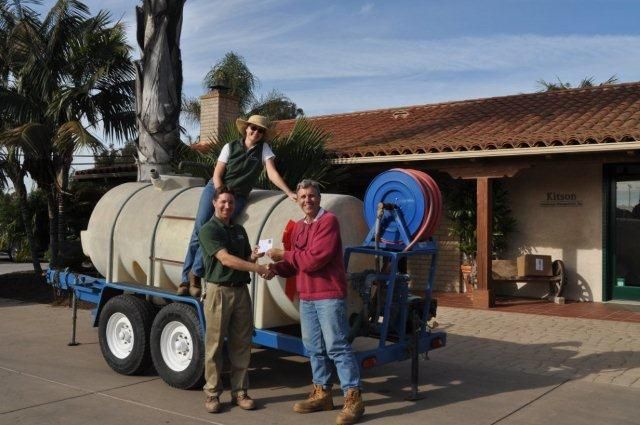 Sarah Kitson and Dave Fudurich of Kitson Landscape Management, Inc. recently donated their 1000 gallon water trailer to Goleta Valley Beautiful. Goleta Valley Beautiful volunteers will use the donated trailer, valued at $7,000, to water thousands of new volunteer-planted trees in Goleta Valley public areas. Kitson Landscape Management, Inc. has allowed GVB volunteers to use the trailer for the past ten years. The water trailer has been used in all major GVB tree planting and care projects. We could not have accomplished what we have done without it. Thanks from the trees!
---
UCSB Coastal Fund partners with Goleta Valley Beautiful with a $9700 grant for Devereux Greenhouse operations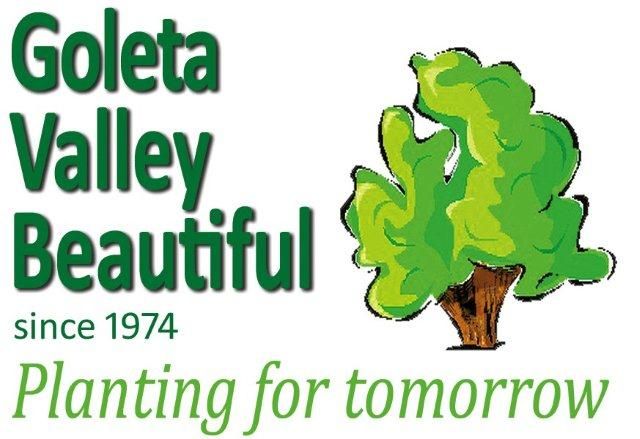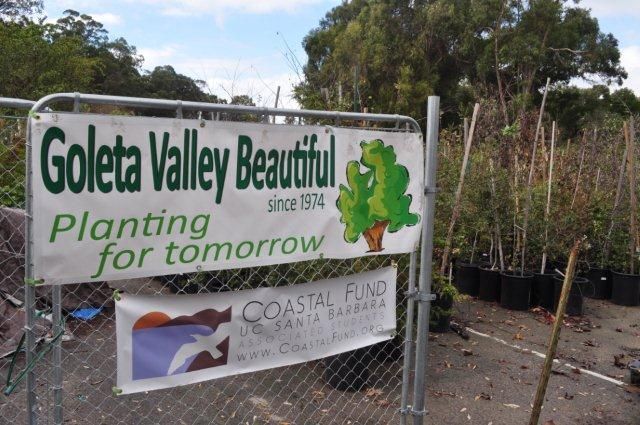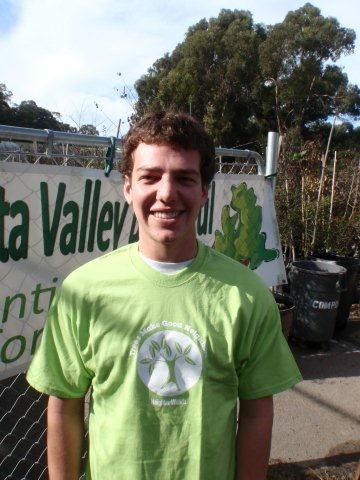 The UCSB Coastal Fund, a UCSB student financed organization dedicated to protecting, enhancing and restoring the UCSB Coastline, announced a grant of $9,700 to assist Goleta Valley Beautiful in their Devereux Greenhouse operations. The grant will allow Goleta Valley Beautiful to grow up to 2000 native trees at its Greenhouse Growing Grounds operated with Devereux Santa Barbara. Many of these trees are among the 500 trees that Goleta Valley Beautiful plants each year on the UCSB campus and in the Goleta Valley. The funding helps leverage other grants to promote the growing and planting of native trees that assist in reducing and filtering storm water, encourage groundwater percolation and clean the air, which helps improve our coastal areas.
Ten UCSB students in the Winter and Spring Terms will take the lead in managing and implementing tree care projects under the supervision of Certified Municipal Specialist Arborist Ken Knight. UCSB students interested in participating in this project can contact Scott Bull at 893-5166. Some of our Winter 2011 interns shown above include Trevor Moore and Allison Gracer.
Marborg Industries sets the pace for major donor support and renewing members!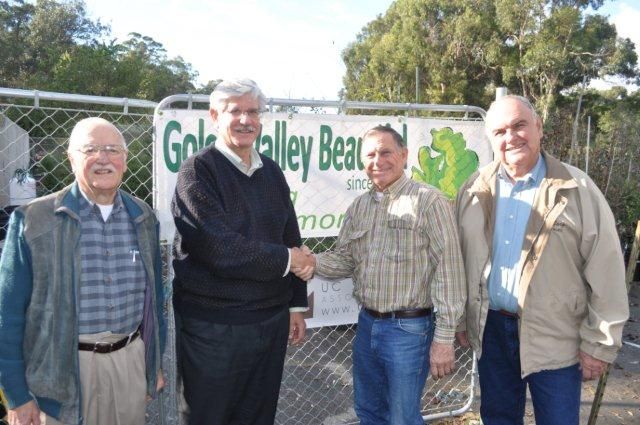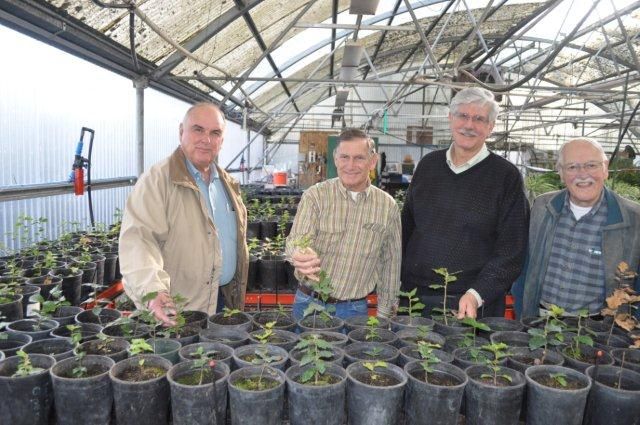 Goleta Valley Beautiful President David Fainer and Past President Sam S. Alfano greet Marborg Industries Inc. President Mario Borgatello and Vice President David Borgatello at the Devereux Greenhouse. President Fainer expressed appreciation for Marborg's $2500.00 donation to assist in the Goleta Valley Beautiful's public tree care programs. Marborg Inc. has been a consistent supporter of Goleta Valley Beautiful for the last 20 years. The recent donation will be used to continue Goleta Valley Beautiful's volunteer efforts to annually plant 500 mostly native trees in public parks, streets and schools, to conduct litter pickup campaigns along roads, and to organize training and educational workshops at Goleta Valley schools.
Renew your membership in Goleta Valley beautiful today to help today's youth plant for tomorrow's generation. GVB offers to our donor members a variety of free native trees for your own property including Island, Valley and Coast Live Oak, White Alder, Black Cottonwood, Sycamore, Torrey Pine, Redbud, Catalina Cherry, and other assorted trees. You should have received our annual membership renewal flier in the mail last month. You can use our on line donation system - we offer two secure payment options using either PayPal or through TreeBank. See list of current member renewals below. Call us for further information at 685- 7910.
ReLeaf awards second grant for heritage tree, workshop and public outreach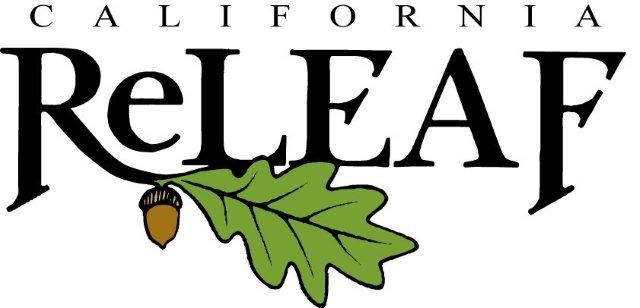 Last month California ReLeaf awarded a $6,720 tree planting grant to Goleta Valley Beautiful, and this month followed up with a $7500 Urban Forestry Grant. GVB will use portions of this grant for conducting the January 22nd Young Tree Care Workshop. We are also lucky to have noted arborist and snowbird Dan Condon visiting us for a few months from Michigan. He'll be working on a study of the Heritage Trees of Goleta Valley, similar to his work in Carpentaria. We'll also be using some of the proceeds of this grant o follow up with public outreach programs that are anticipated as a result of the Goleta Urban Forest Management Plan.
California ReLeaf's mission is to empower grassroots efforts and build strategic partnerships that preserve, protect, and enhance California's urban and community forests. California ReLeaf is the only entity that convenes over 100 community-based organizations to support healthy urban forests from San Diego to Sacramento to Eureka. California ReLeaf and its network of urban forestry organizations such as Goleta Valley beautiful are vital to California's green urban infrastructure. Together, we increase our knowledge about the environmental, economic, and human health benefits of trees in our communities. Goleta Valley Beautiful has been a proud member of California ReLeaf since 1992.
December 2010 Accomplishments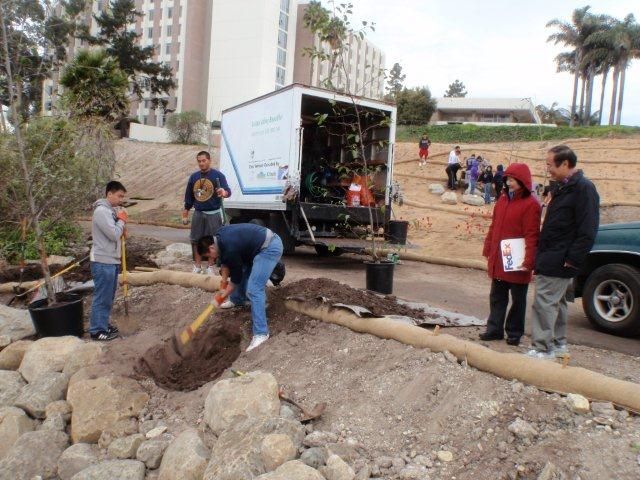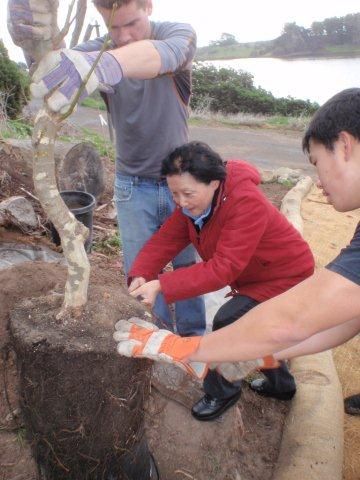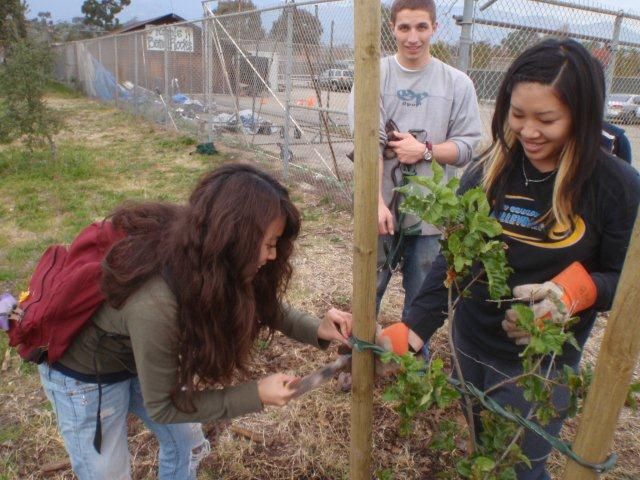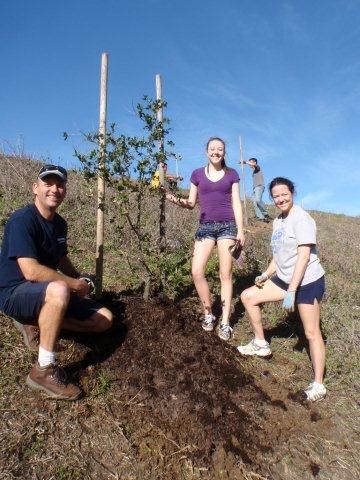 See website for additional photos www.goletavalleybeautiful.org
Date Event ; ; Volunteers Service Hours Trees Planted Trees Maintained
12/3 AM UCSB San Nicholas Kids in Nature & nbsp; 60 60 &nbs p; 2 ; 0
12/4 AM UCSB San Nicholas ; & nbsp; 67 175 11 &nbs p; 0
12/4 OM San Marcos High School & nbsp; &nb sp; 18 58 &nbs p; 2 ; 20
12/11 AM Dos Pueblos High School & nbsp; &nb sp; 29 74 &nbs p; 6 ; 0
12/11/PM Devereux Greenhouse &nb sp; ; 3 11 &nbs p; 0 ; 0
12/18 AM Devereux Greenhouse &nb sp; ; 3 11 &nbs p; 0 ; 0
12/18 PM Devereux Greenhouse &nb sp; ; 3 10 &nbs p; 0 ; 0
Totals &n bsp; &nbs p; ; & nbsp; 183 398 &nb sp; 19 &nbs p; 20
The Cambridge Church trash collection crew collected 6.5 bags of trash with 12.5 volunteer hours this month bringing the 2010 totals to 106 bags and 213 hours.
-Volunteer groups participating in December tree care included: Mu Delta, UCSB Honors, Alpha Phi, Sigma Alpha Lambda, Sigma Alpha Theta, Pi Alpha Phi, Sigma Pi, Kappa Alpha Theta, Chancellor and Mrs. Yang, CCBER, Alpha Eta Pledge Class, Lambda Theta Pi, San Marcos High, AHPC, Delta Tau Delta, Kappa Kappa Gamma, Kids in Nature and Goleta Valley Beautiful
- Sponsors for this month's events include California ReLeaf, the California Urban Forest Council, USDA Forest Service, the American Resource and Recovery Act, the Alliance for Community Trees/Home Depot Foundation, Santa Barbara County Resource Recovery and Waste Division, UCSB Coastal Fund, Devereux of California, UCSB Cheadle Center for Biodiversity and Ecological Restoration, City of Goleta, Beautify Dos Pueblos, Santa Barbara Secondary Schools, Cal Fire, Marborg Industries, San Marcos High, and Crop Production Services.
---
December GVB Award Winner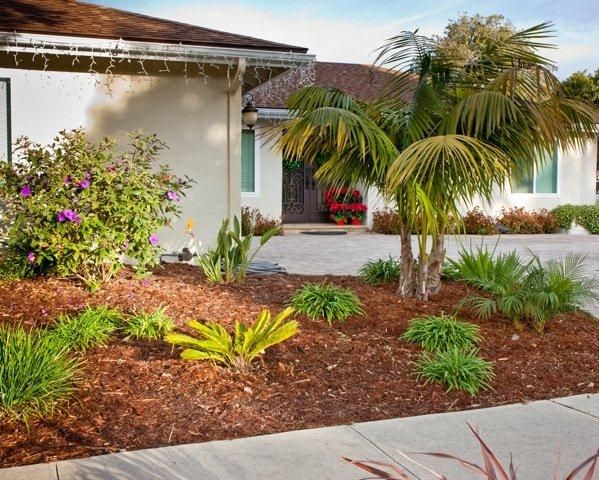 Gary and Debora Petlow's residence at 5021 Rocoso Way has earned Goleta Valley Beautiful's December award. To achieve a tropical paradise effect, several different varieties of palm trees were planted including: Kentia Palms - Howea forsterana; Sago Palms - Exotic Cycas revoluta; and three King Palms - Archontophoenix cunninghamiana. At the base of the Kings are Pygmy Date Palms - Phoenix roebellini. For water conservation, drought tolerant Fortnight lily - Dietes vegeta, and Amazing Red or New Zealand Flax - Phormium were added. Examples of colorful plantings include: Blue Wonder - Heliotropium arborescens; Richmond Begonia - Begonia richmondensis; Italian Bellflower - Campanula isophylla; Azalea - Azalea indica Alaska; Big Blue Lilyturf - Lirope muscari; Palace Purple - Heuchera. To nominate a property deserving of Goleta Valley Beautiful's Monthly Award, please call the office at (805) 685-7910.
Renewing Members
Peter Adams
Sue Ayling
Anne Aziz
Rosemary Bauer
James Bonsell
Celia Book
Cecilia Brown
Mike Buyco
Joan Churchill
Howard Cleek
Madelyn Cole
Merlyn Cummings
Sally Cunningham
Shirley Dettmann
Joe Doyle
Charles Eckert
Mathews Elijah
Alan Emslie
Mike Eskenazi
Margaret Fancher
Dorchen Forman
Michael Gartzke
Goleta Engineering
Edward Graper
Harry Hagen
Ellen Hamilton
Hidden Oaks Golf Club
Roseann Hill
Page Hiller-Adams
Jacqueline Huth
Greg Janee
Marsha Johnson
Colleen Kegg
Diana Kennett
Elizabeth Kilb
Brent Kitson
Kitson Landscape Management Inc
Cliff Kline
Ken Knight
Petar Kokotovic
Ken Kruger
Susan Lentz
Barbara MacCallum
Barbara Main
Phebe Mansur
Marilyn Martin
David McClure
Marla Mercer
Michael Miller
Tom Modugno
Robert Muhr
Jeanette Mustacich
Nicholas J. Vincent, M.D.
David Oliver
Jean Paynter
Kathy Piasecki
Eileen Piatek
Michael Powers
Nick Priester
Reina Del Mar Parlor No. 126
Kenneth Reyburn
Ida Rickborn
Evalyn Robbins
Paul Robillard
Sharon Rumberger
Shelly Ruston
Carl Schneider
Kaylyn Scott
Peter Shao
Bob Shull
Ronald Slocum
Helen Smart
Sydney Smith
Southern California Edison
Bruce Tarr
Richard Temple
Eleanor Thomas
David Tuohey-Mote
William Van Horn
West Covina Wholesale Nursery
Joe Whitham
Douglas Winter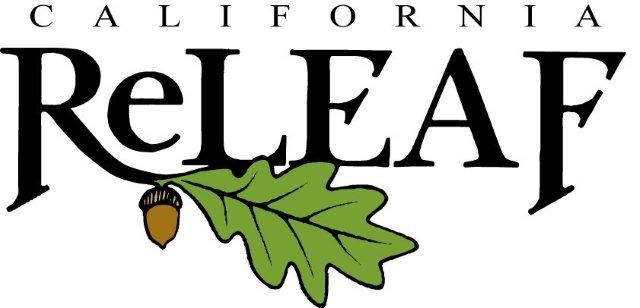 Young Trees: Planting, Pruning & Care Workshop
Saturday, January 22, 2011 -- 8:30 AM to 3:30 PM
Dos Pueblos School, Classroom to be announced, 7266 Alameda Avenue, Goleta CA
Lunch included -- $10 registration prior to January 22nd
Open to all with an interest in trees and a desire to preserve and protect young shade trees.
5 professional CEUs /6.5 community service hours.
Participants must complete the entire workshop to receive credit.
Sponsored by the Central Coast California Urban Forest Council, Goleta Valley Beautiful, City of Goleta, Santa Barbara Secondary Schools District, California ReLeaf
~ ~ ~ ~ ~
Learn in a Hands-On Workshop Taught by Experienced Certified Arborists including
Bill Spiewak, Bill Millar, Dan Condon & Ken Knight
They will demonstrate techniques that professionals use to care for young trees!
Register Now for the Young Trees: Planting, Pruning & Care Workshop!
You'll participate in concise, practical sessions that will give you the working knowledge of correct pruning principles. All work is done from the ground, no tree climbing is involved. Emphasis is on public shade trees, with limited fruit tree pruning discussion.
An open book exam will review the basic concepts of tree care. Afternoon participants will prune young trees on the campus of Dos Pueblos High School as part of a supervised field examination. Participants are expected to participate in both the morning and afternoon sessions.
Agenda
q The basics of being a volunteer Urban Forester
q Looking at the big picture
q Young tree planting and pruning fundamentals
q 5 Step process for training young trees
q Lunch included
q Supervised hands-on field training – Dos Pueblos High School campus
Young Trees: Planting, Pruning and Care Workshop January 22, 2011 Registration
Advance Registration before January 22nd is $10. Current members of Goleta Valley Beautiful or Central Coast Region California Urban Forest Council free with advance registration only. Registration at the door $20.
Name______________________________________________________________________
Address____________________________________________________________________
Phone_______________________________Email _______________________________
Send to Goleta Valley Beautiful, PO Box 6756, Goleta CA 93160-6756
Register on-line at the GVB store www.goletavalleybeautiful.org. For information call 685-7910
Support our Supporters
Thanks to generous discounts from West Covina Nurseries, Crop Production Services, Channel City Lumber, and numerous other local merchants. Please mention to our supporters how much you appreciate their support of Goleta Valley Beautiful. You can find the list of our donor members at http://www.goletavalleybeautiful.org/Membership.asp .
---
If the hyperlink does not work, you can cut and paste the e link into the address area of your browser. Your comments to kennethknight@cox.net will help us build a better communications link. To remove your name from the monthly e-mail newsletter list, please reply to this e-mail with the word 'remove ' in the subject.
---