---
GVB is a community supported organization- Please look for your annual membership renewals in your mail
---
GVB NEWS HEADLINES - STORIES BELOW
In Memoriam – Goleta Valley Beautiful Board of Director

Geoffrey Alan 'Al' Turnbull
· Sign Up for December 2010 Goleta Valley Beautiful Activities
Goleta Valley Beautiful News

B

riefs
· Doty's Donate Native Oak Seedlings
· SAVE THE DATES – December 15th and January 22nd!
· November 2010 Accomplishments
· November Award Winner
---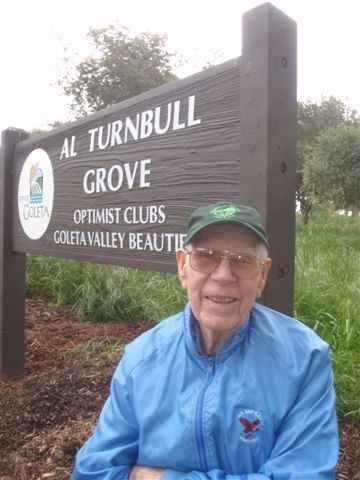 In Memoriam – Goleta Valley Beautiful Board of Director Geoffrey Alan 'Al' Turnbull
Born Nov. 29, 1918 in Saskatoon, Saskatchewan, Canada. Died November 21, 2010 in Santa Barbara. His wife of 53 years Harriet, preceded him in death in December, 1998. He is survived by his three sons Patrick, Geoffrey, and Gerry.
Al grew up in Pasadena, CA after immigrating to the US with his family in 1922. He attended Cal State University Fresno, but was unable to complete his studies before the outbreak of WWII. Al volunteered for military service in the Navy in 1942, and was accepted into Naval Flight School. After training, he was assigned to the aircraft carrier USS Bunker Hill, where he served two deployments in the South Pacific theater as a torpedo bomber pilot. His assignments there proved his mettle as a charmed survivor, enduring action at Iwo Jima, as well as the documented Kamikaze attacks that crippled his ship. Fortunately, during this attack, he made it to the flight deck, and was able to leap into the sea and commandeer a life raft. He was alone at sea several hours until the destroyer USS Sullivan picked him up. He received the Navy Cross for participating in Squadron 94's April 7, 1945 sinking of the Japanese Navy's flagship, the battleship Yamamoto.
After discharge from the service in 1946, Al married Harriet and moved to South Gate, a suburb in Los Angeles where he raised his four sons. During his life there, he unfortunately lost his oldest son, Michael, to testicular cancer in August of 1967. Al first joined the Optimist Club there in South Gate. Initially he went into the field of business where he owned and managed a paint and hardware store in Huntington Park before returning to school late in life, completing his education at Cal State Los Angeles in 1969. He retired from Pasadena City College as administrator of the Business Education Department's extended day division.
In 1980, Al bought a retirement home in Goleta, which he rented until moving into it in 1988. After moving to Goleta, Al joined the Board of Directors of Goleta Valley Beautiful, the Goleta Breakfast Optimist Club, and was a charter member of UCSB Optimist club. Al was instrumental in the planting of trees and gardens at Goleta Valley Elementary Schools, teaching young children the importance of tending to plants and seeing them grow. In 1989, Al secured permission to plant 90 California Coastal Live Oak honor trees in a one-acre grove within the Lake Los Carneros Preserve. Al helped plant, and then oversaw their care for over twenty years. On April 8, 2009, the Goleta City Council formally named it as the Al Turnbull Grove in his honor.
When Harriet passed away, Al moved into Friendship Manor in Isla Vista. In addition to his very active civic involvement, Al enjoyed playing golf weekly, and traveled as much as time would allow. In true hero fashion, part of his travels included visiting Japan; meeting, and bonding with some of the members of the military he fought so bravely against 50 years earlier. The Goleta Valley Chamber of Commerce selected Al as the Goleta Man of the Year in 2000. Al was always up beat in all of his relationships, living the Optimist creed daily. He was an inspiration to many, and a true hero of the 20th Century.
The Neptune Society is caring for his remains. A memorial celebrating Al's life will be held at 3 PM on Sunday January 2nd, 2011 at Jameson Hall in Friendship Manor, 6647 El Collegio Road in Isla Vista. In lieu of flowers, donations in Al's memory can be made to Goleta Valley Beautiful, and to the Goleta Breakfast, or UCSB Optimist Club.
Sign Up for December 2010 Goleta Valley Beautiful Activities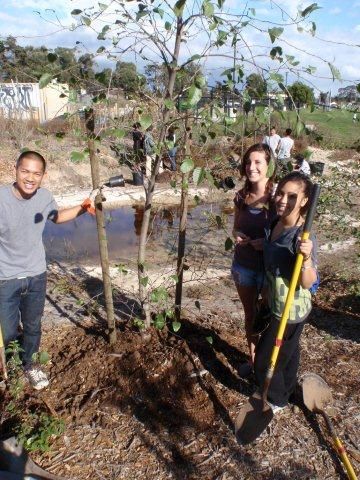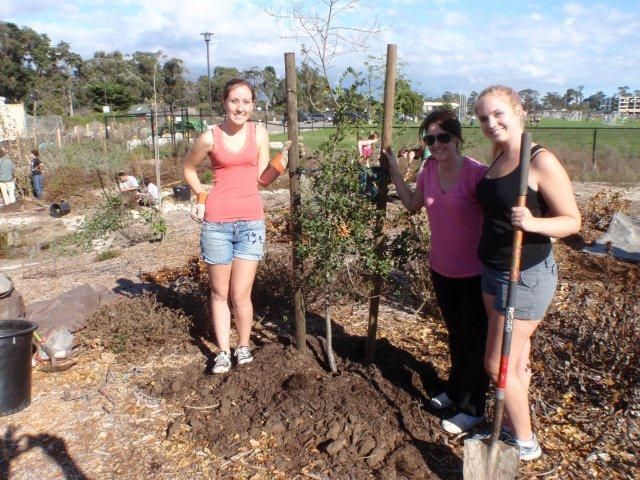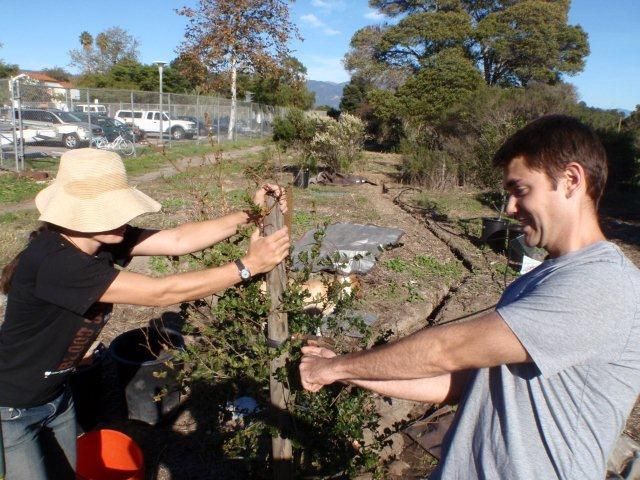 For all volunteer events….
Please RSVP for all events by sending an e-mail to kennethknight@cox.net with your name, phone and e-mail, and the date, time and location of the volunteer event in which you would like to participate. For questions before the event call Ken at 685-7921, and during the day of the event at 252-1952.
No experience necessary. Goleta Valley Beautiful provides all tools and equipment. Please wear old clothes you wouldn't mind getting dirty and sturdy shoes – no open toes or flips please. Students, bring your community service forms to get signed for credit. Families welcome as long as younger children are constantly supervised.
Dec 4 Sat 9 am to noon UCSB San Nicholas Dorm. Meet at the lagoon side of San Nicholas Dorm.
Dec 4 Sat 1 PM to 4 PM 10 trees with irrigation at San Marcos High School, 4750 Hollister Ave. Meet in the rear Hollister Avenue parking lot northwest of the tennis courts.
Dec 11 Sat 9 AM to Noon Plant 10 trees at Dos Pueblos High School, 7266 Alameda Dr. Meet at the Distinguished School Sign in the Faculty Parking lot off Alameda Dr.
Dec 11, Sat 1 pm to 4 pm Tree Care at the Devereux Greenhouse, 7975 Falberg Way (contact us for map and directions) maintaining 2000 native and climate appropriate trees
Dec 18, Sat 9 am to Noon Tree Care at the Devereux Greenhouse, 7975 Falberg Way (contact us for map and directions) maintaining 2000 native and climate appropriate trees
Dec 18, Sat 1 pm to 4 pm Tree Care at the Devereux Greenhouse, 7975 Falberg Way (contact us for map and directions) maintaining 2000 native and climate appropriate trees
Dec 25/January 1 Holidays- No scheduled projects. Community service projects by appointment only
Litter Pickup
Roadside trash collection in the

Goleta area

on the 2nd and 4th Saturdays. Trash grabbers and bags provided by the City of Goleta. Call Don and Judy Nason 964-4895 to RSVP
Graffiti Removal
Call 964-7117 to participate in graffiti removal and to report incidents in your area

as soon as you see it.
·
Goleta Valley Beautiful News Briefs
- California ReLeaf grants GVB $6705 for Santa Maria Arellanes School Tree Planting Program - On January 17th Martin Luther King Day, volunteers at Arellanes Elementary and Junior High Schools will help plant 80 trees on their mostly barren Tanglewood campus. We choose to help Arellanes because our Volunteer Coordinator George Jimenez has children who go to school there, and 'they really need trees there'. If you know of opportunities in Goleta Valley that you think we should pursue, please let us know.
- Marborg kicks off 2011 Major Donor campaign – Our long time supporter Marborg Industries is helping start our 2011 Major Donor campaign with a $2500 donation. We'll provide recognition at our annual event on May 1st, and at numerous other events. We'll have major donation announcement in our January newsletter featuring our good friends at Kitson Landscape Management, Inc.
- On line donations and membership – Yes we promised membership renewal fliers last month, but quality products take time. Look for your 2011 membership renewals in the mail and be careful not to throw it out. We only send one of them. GVB offers to our donor members a variety of free native trees for your own property including Island, Valley and Coast Live Oak, White Alder, Black Cottonwood, Sycamore, Torrey Pine, Redbud, Catalina Cherry, and other assorted trees. Call us for further information at 685-7910. Look for our annual membership renewal flier in the mail sometime in the next few weeks. Or you can use our on line donation system. We offer two payment options using either PayPal or through TreeBank. FYI, thanks to all the recent membership renewals. Please note we operate under a calendar year membership.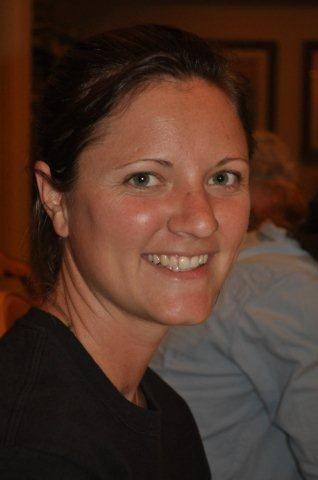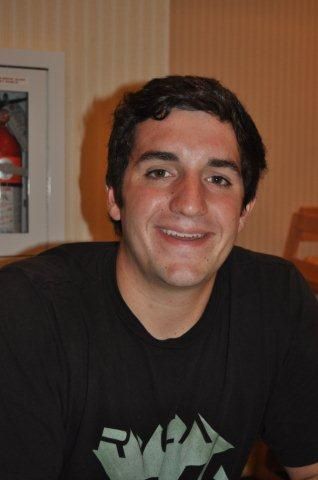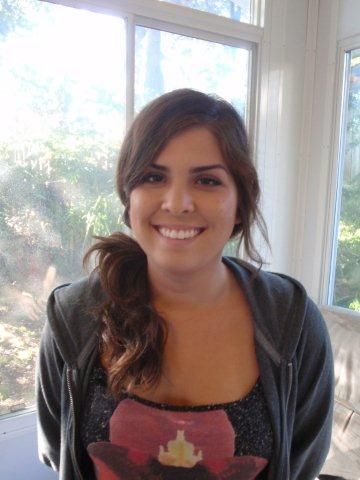 - At their November meeting, the GVB Board of Directors approved two new Board members Jennifer Price (UCSB Bren Grad Student) and Chris Guillen (UCSB Undergrad). In December, the Board is expected to approve Hayley Cox (UCSB Undergrad) to a position on the Board. Two vacancies on the Board remain.
- Thanks to all ten of our Fall 2010 interns. We'll be celebrating the end of the term on Friday at 5:30 December 3rd at Naan Stop Restaurant in Isla Vista. Contact us about winter term internships beginning January 3rd 2011.
- Root shield surcharge coming for free street tree program? Our free street tree program is continuing for all Goleta residents who would like a tree in the parkway in front of their home and are willing to water it for the first two years after planting. However, we have calculated that it costs us $93 to install root shields, a City requirement, on either side of trees in the parkways. Only trees and not root shields qualify for the competitive grant funding we receive, so we are discussing initiating a surcharge of $90 per tree to cover the cost of root tree installation beginning in the new year. Installation of the tree would continue to be free. Your thoughts? More to follow.
- Honor Trees Are a Great Way to Remember Loved Ones: Honor trees come with a certificate that can be sent to the honoree. In addition to our Dos Pueblos High School Honor Grove site, GVB can also plant Honor Trees on any private sites as well as public. Any trees planted on private property require someone to assume responsibility to provide ongoing maintenance. For more information, call 685-7910.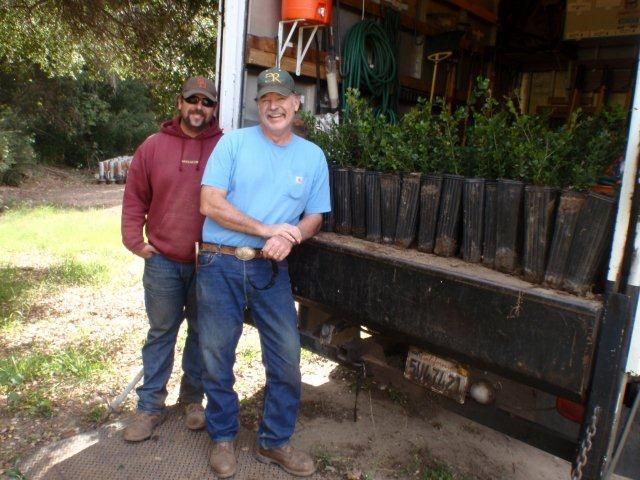 Doty's Donate Native Oak Seedlings
Ken Doty and son donated 224 1 gallon Coast Live Oak trees (and a few pomegranates) that they started at their Ellwood ranch earlier this year. Goleta Valley Beautiful volunteers will re-pot the trees into 15 gallon containers, let them grow a few years, and then give them new homes at parks, schools, and along roads in the Goleta Valley. Thanks for helping us plant for tomorrow.
SAVE THE DATES – December 15th and January 22nd!
· December 15th (Wednesday) – Goleta Urban Forest Management Plan – public discussion of the latest draft. 6:00 PM at the Goleta City Hall Council Chambers
· January 22nd (Saturday) – Young Tree Planting, Pruning and Care Workshop. Dos Pueblos High School, classroom to be announced. 8:30 AM – 3:30 PM
November 2010 Accomplishments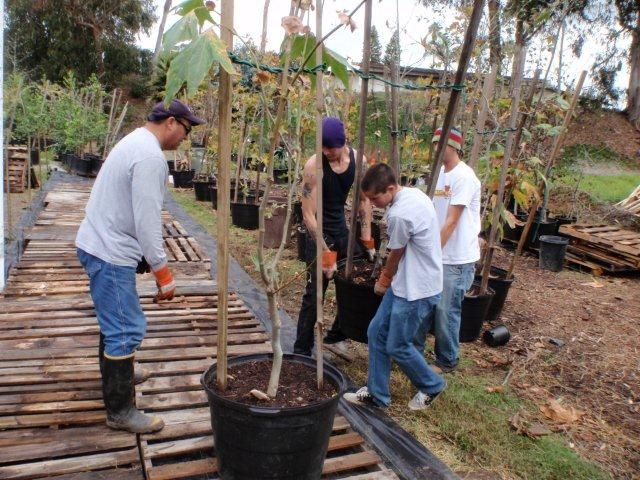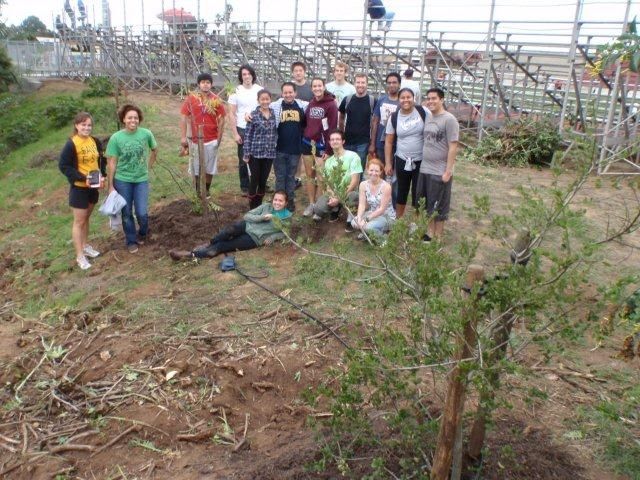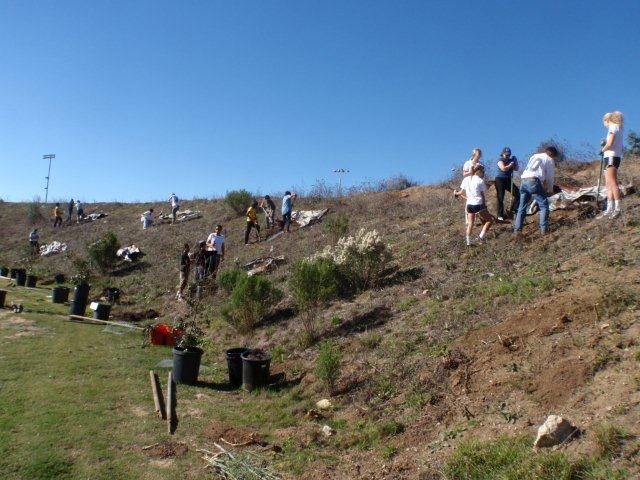 See website for additional photos www.goletavalleybeautiful.org
Date Event Volunteers Service Hours Trees Planted Trees Maintained
Nov 6 Sat AM San Marcos 20 62 8
Nov 6 Sat PM UCSB – San Clemente 39 120 19
Nov 11 Thur AM Scout Headquarters, Modoc Road 45 51 1
Nov 13 Sat AM Dos Pueblos High 39 115.5 7
Nov 13 Sat PM Storke Family Housing 14 45.5 15
Nov 20 Sat AM UCSB San Nicholas Dorm 9 18 9
Nov 20 Sat AM/PM Greenhouse 5 30
Nov 20, Sat PM ARRA Street Tree Care 15 47 150
Totals 186 489 69 150
The Cambridge Church trash collection crew collected 9.5 bags of trash with 5 volunteer hours this month bringing the 2010 totals to 98 bags and 198 hours.
-Volunteer groups participating in November tree care included: SBCC Communications Class #2, Mu Delta, UCSB Honors, SBCC Communications Class #4, the Boy Scouts, CAB, Tau Beta Pi, CCBER, Beautify Dos Pueblos, Dos Pueblos Leadership, Environmental Affairs Board, Red Cross, Santa Cruz Hall, Students Teaching Alcohol and Other Drugs Responsibly (STAR), Vietnamese Student Association, ADP, Santa Barbara High, SBCC, American Institute of Chemical Engineering, Delta Tau Delta, Rhythms of Brazil, San Marcos High, and Goleta Valley Beautiful
- Sponsors for this month's events include California ReLeaf, the California Urban Forest Council, USDA Forest Service, the American Resource and Recovery Act, the Alliance for Community Trees/Home Depot Foundation, Santa Barbara County Resource Recovery and Waste Division, UCSB Coastal Fund, Devereux of California, UCSB Cheadle Center for Biodiversity and Ecological Restoration, City of Goleta, Beautify Dos Pueblos, Santa Barbara Secondary Schools, Boy Scouts of America-Los Padres District, Cal Fire, Marborg, and Crop Production Services.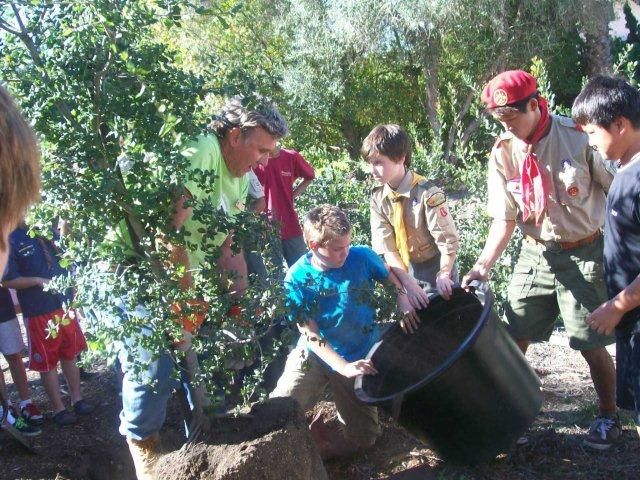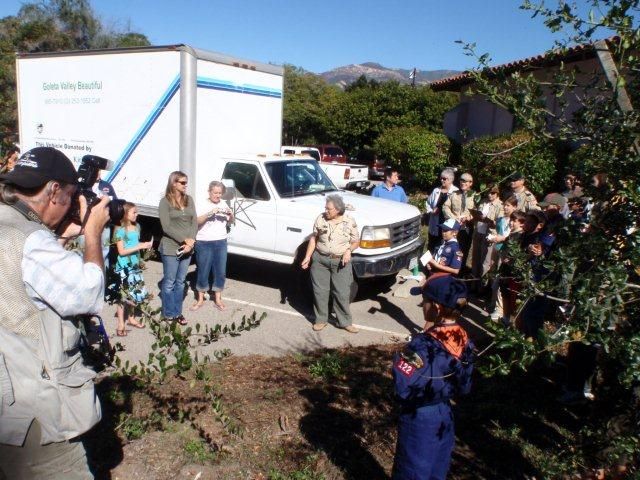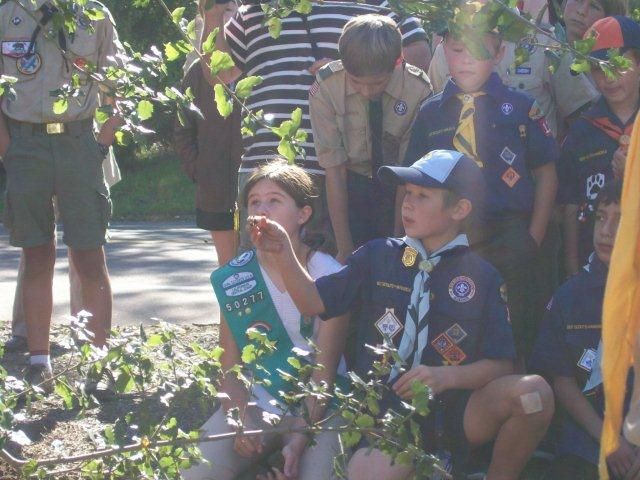 ---
November Award Winner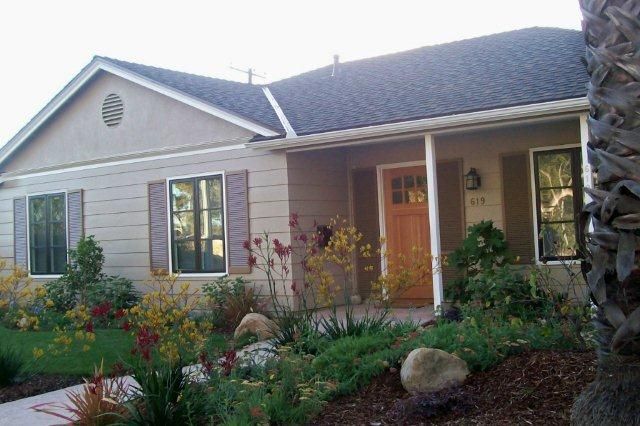 An outstanding, comprehensive landscape re-design of a Goleta residence on Camino Campana has made owners David and Jane DeSelm the winners of Goleta Valley Beautiful's award for the month of November. "Our goal was to reduce water consumption and go with a Mediterranean, drought tolerant landscape", said Mr. DeSelm. The DeSelms purchased the home on sun-drenched Camino Campana in 1977. Then in 2008, the DeSelms began an ambitious makeover of the house itself and the landscape re-design. The couple did a concept design and then sought a landscape contractor. They selected Californica Landscapes and worked with Michael Snyder for assistance with plant selection and irrigation.
One main goal was to coordinate the colors in the landscape with the color palette of the newly renovated home. The front yard would need to complement the freshly painted beige exterior of the house, the new roof, the double-pane window trim and newly poured driveways. Some of the colorful plantings they selected include: Loropetulum burgundy, for its deep purple leaves and pink flowers; Yellow day lilies, Hemerocallis; Agapanthus "Peter Pan", a dwarf variety of the popular plant with its violet blooms; Huechera, "Canyon Pink" or coral bells. Red Achillea "Paprika", and yellow "Achillea "Moonshine".
Using California natives was a priority from the very beginning. As a result, Cercis Occidentallis "Western Redbud", a California native, was selected as an "accent tree" for the front entrance walk way. The dark green Ceanothus "Yankee Point" and the light green Ceanothus "Diamond Heights" were chosen to provide a drought tolerant ground cover which today comprises a full one-third of the front yard. In search of unusual plants with interesting textures, the couple decided upon the fuzzy Anigozanthos "Harmony", also known as "Kangaroo Paw", to serve as an "arrival accent" at the entry way. Mrs. DeSelm noted with delight that an unexpected bonus of the plant is its popularity with the hummingbirds.
A Washingtonia Robusta, "Mexican Fan Palms", in the front yard has "grown considerably" since the 1970's, according to Mr. DeSelm. There is also an olive tree which inspired the "Mediterranean" theme, and Osmanthus fragrans, which was selected to go between the home's two front windows for the sweet fragrance of its seasonal white blooms. The garden's hard-scape blends beautifully with the beige color palette of the house. Beige boulders punctuate the vividly-colored plantings in the front yard, while stepping stones made of warm beige sand stone lead to the side garden.
Goleta Valley Beautiful Wish List
Thanks to generous discounts from West Covina Nurseries, Crop Production Services, Channel City Lumber, and numerous other local merchants. Please call GVB at 685-7910 if you can help with acquiring any of the following items, new or hardly used:
Non-chocolate granola bars - $15 for a box of 48
Folding pruning saws - $25 each – we need up to 35
By Pass pruners - $25 each we need up to 20
Non-kink 5/8 – ¾" garden hose, 50'/100' lengths - $20 each
15 & 25-gallon containers - $4 - $5 each – hundreds needed
8' round tree stakes - $3 each – hundreds needed
6' square nursery stakes - $4 each – hundreds needed
Copier paper (recycled preferred) – 8 ½ x 11 – 40 reams needed
Wood chips for driving on – want a place to dump your load?
Mccleods – five needed for weeding - $43 each
Spade shovels (fiberglass preferred) - $20 each – 30 needed
Compost – we can't make our own fast enough
Outdoor shelves/cabinets (something that doesn't rust)
Trencher – to install 2' deep root shields
Compressor – for operating the equipment listed below
Stump grinder - for removing old stumps so new trees can be planted
Jack hammer – for removing concrete so trees can be planted
Black plastic – heavy duty roll - $100+
Storage shed - $750+
Permanent GVB Office - Priceless
Support our Supporters
---
If the hyperlink does not work, you can cut and paste the e link into the address area of your browser. Your comments to kennethknight@cox.net will help us build a better communications link. To remove your name from the monthly e-mail newsletter list, please reply to this e-mail with the word 'remove ' in the subject.
---