---
GVB Returns to San Marcos High 10/2/10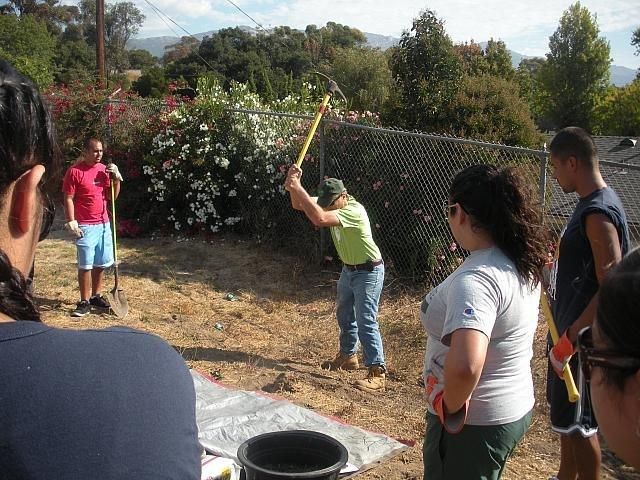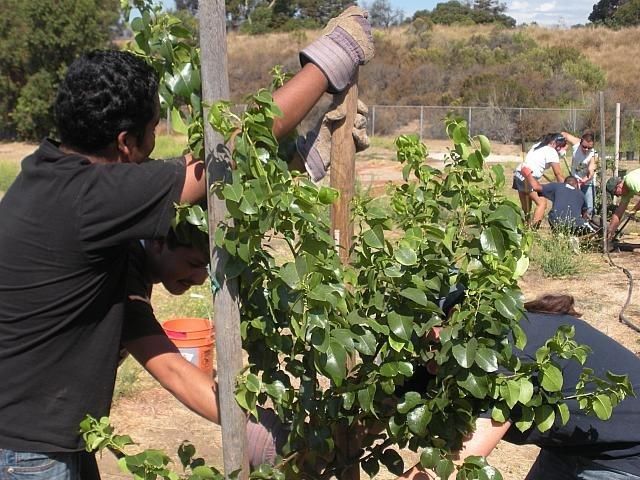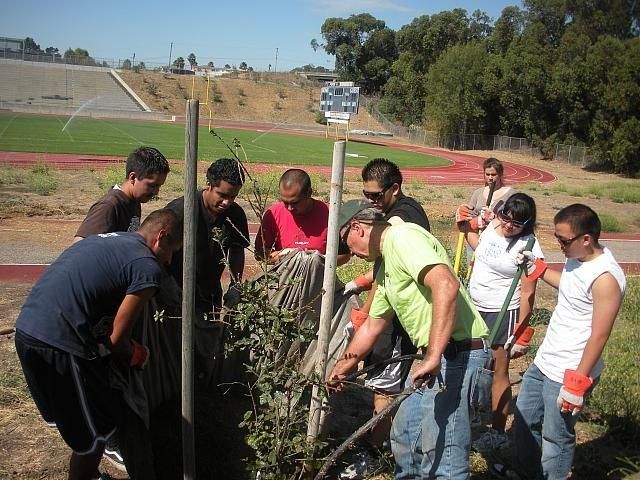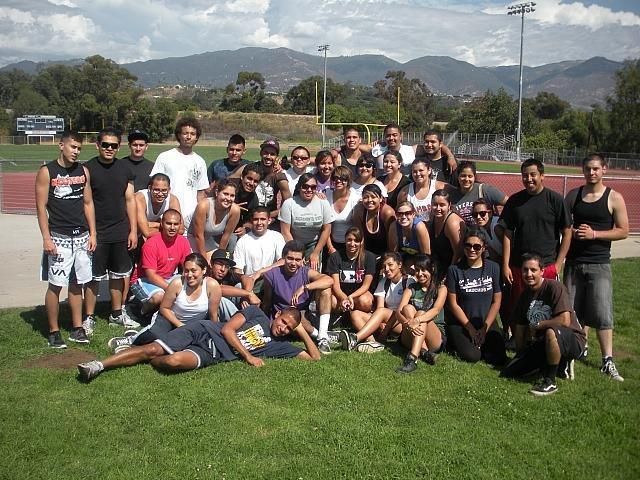 Outrageously hard clay soil couldn't stop 38 student volunteers from planting eight 15 gallon size trees next to the track bleachers at San Marcos High on the morning of 10/2/10. See you next month!
Girsh Park Boasts New Native Trees Thanks to City of Goleta Community Projects Grant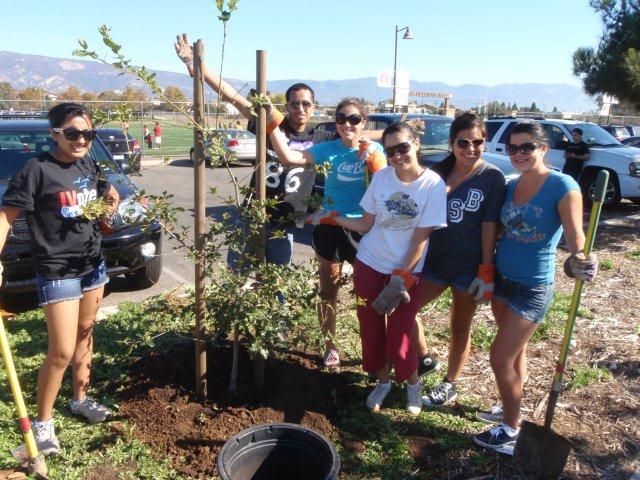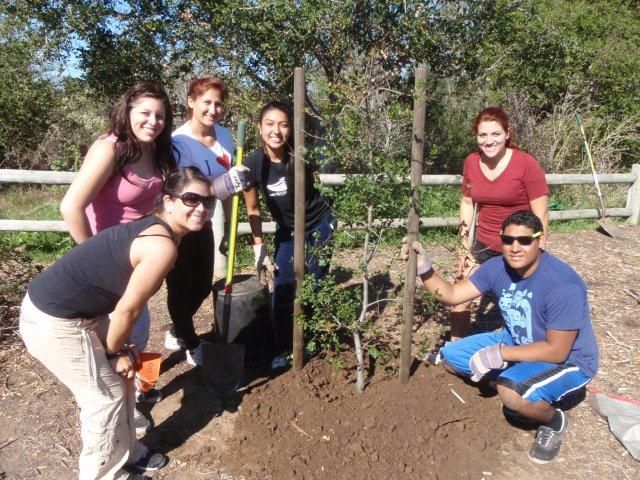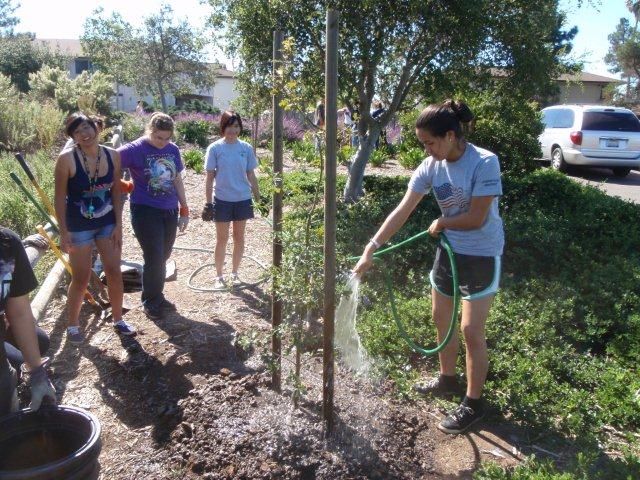 A City of Goleta Community Projects grant provided the funds to plant 23 native trees at Girsh Park. Ninety two volunteers worked all day in two shifts to plant, mulch and water.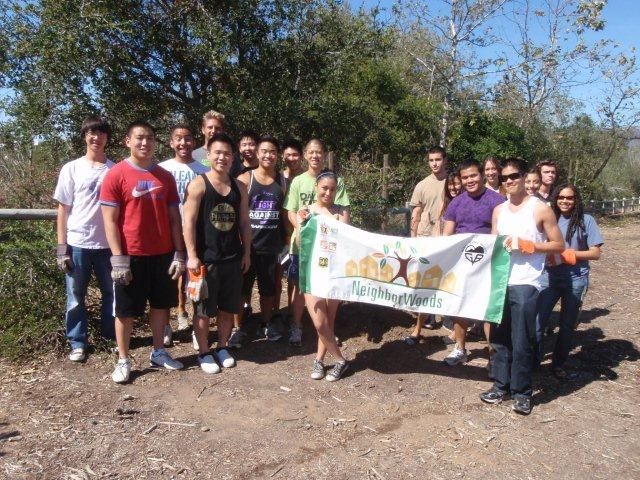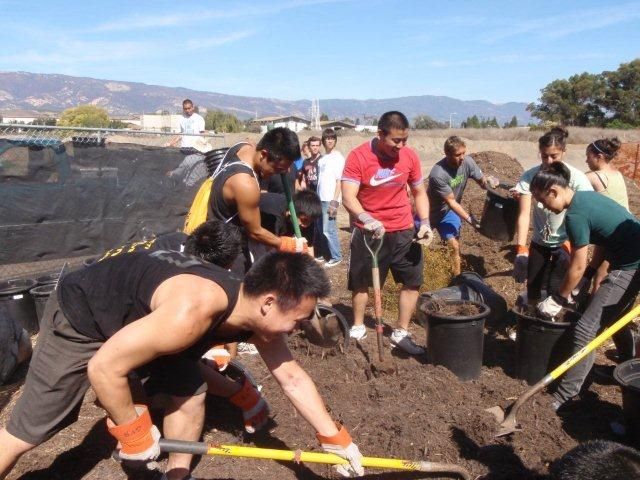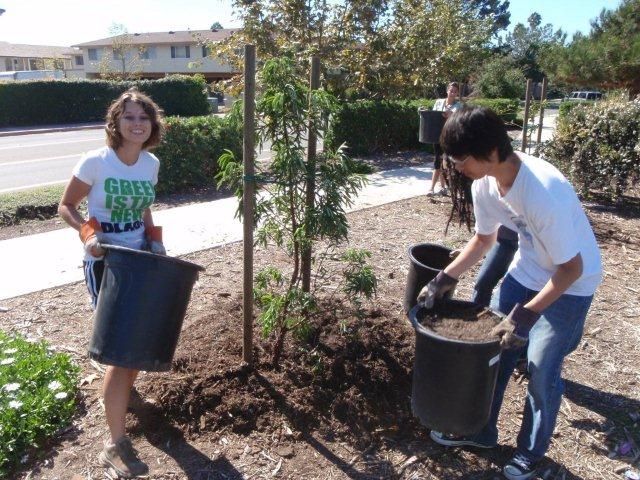 ---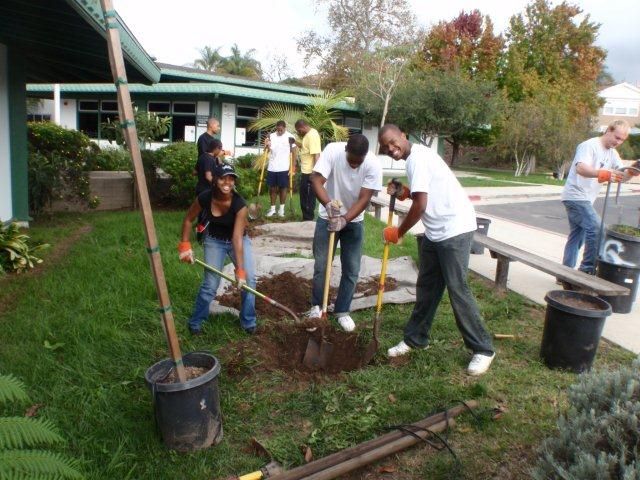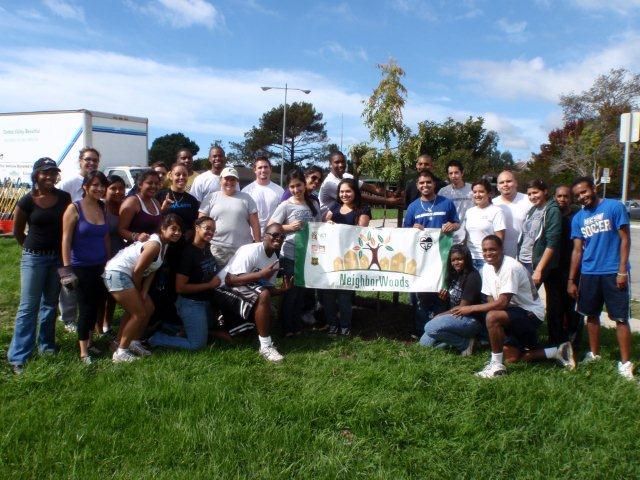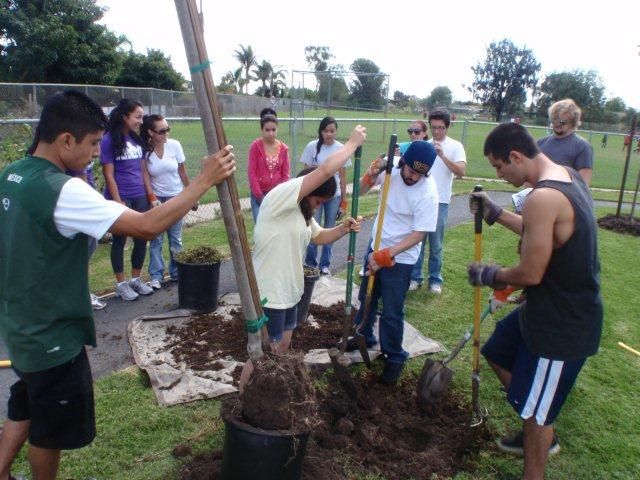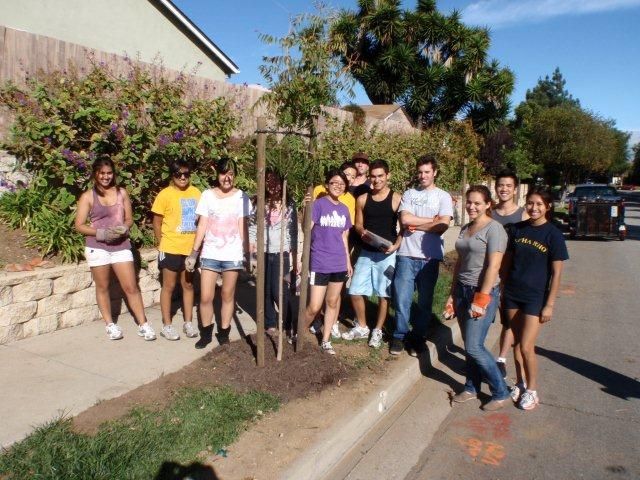 77 volunteers worked in two shifts on the 10/23/10 United Voices for Healthier Communities sponsored project that brought 30 trees to the Santa Barbara Montessori School campus and 3 street trees to nearby Ancona Dr.
Project Learning Tree Workshop Provides Training for Educators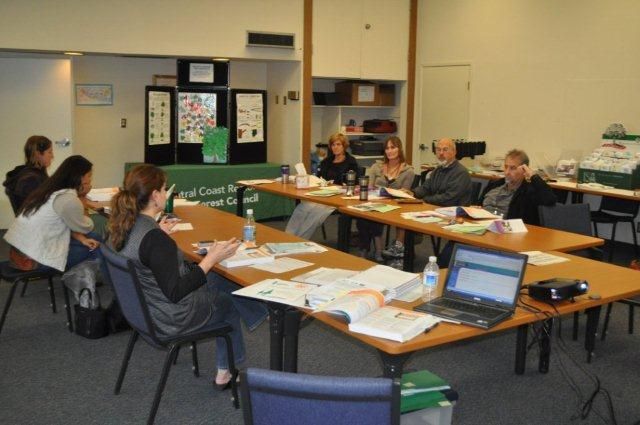 The Towbes Foundation sponsored a 10/21/10 Project Learning Tree Workshop that trained educators from La Patera, Foothill, Mountain View, Goleta Family Schools in Goleta and Nightingale School in Orcutt.
Science Night at Kellogg School Draws Crowds to GVB Exhibits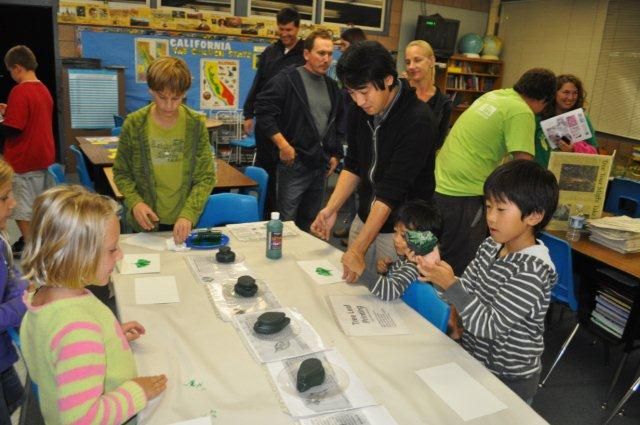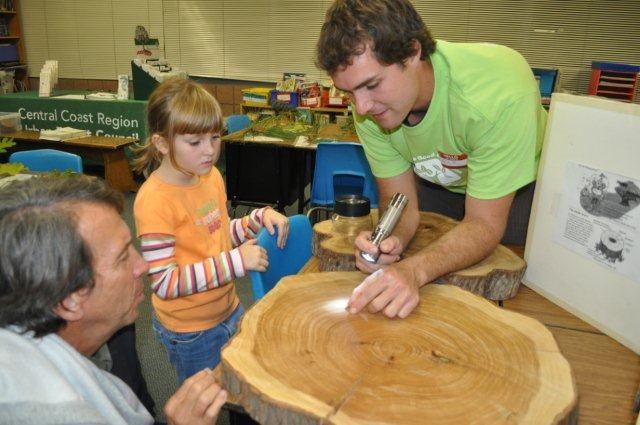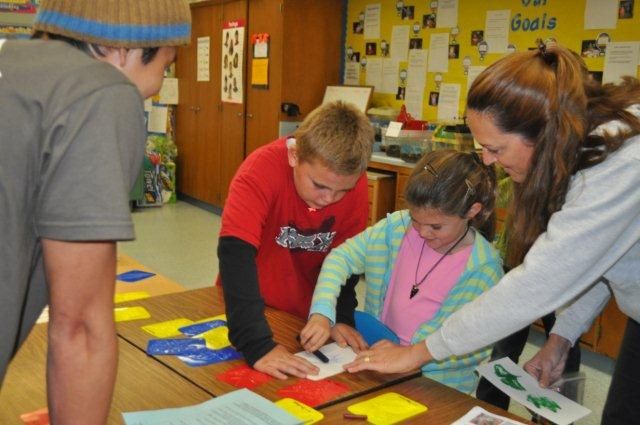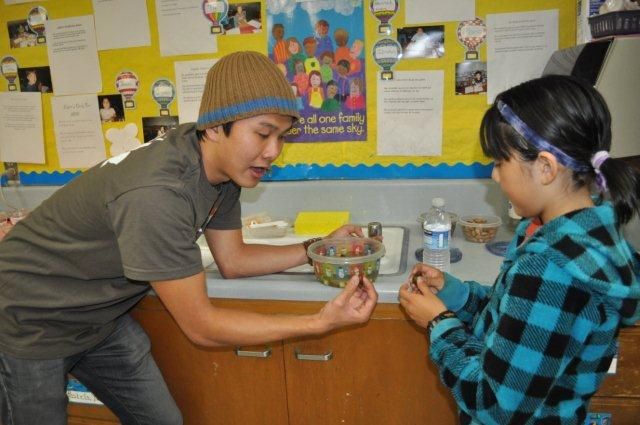 GVB UCSB Interns Nicholas Koukoutsakis and Minh Tran joined Kellogg Elementary School volunteers Jason Gonzalez Larsen and Jacob Alexander in presenting tree fun facts to 300 children and parents at the 10/21/10 Kellogg Science Fair
October 2010 NeighborWoods Month Accomplishments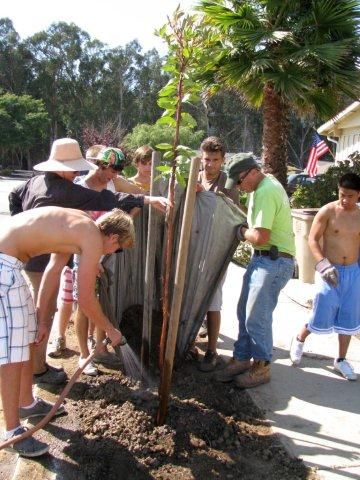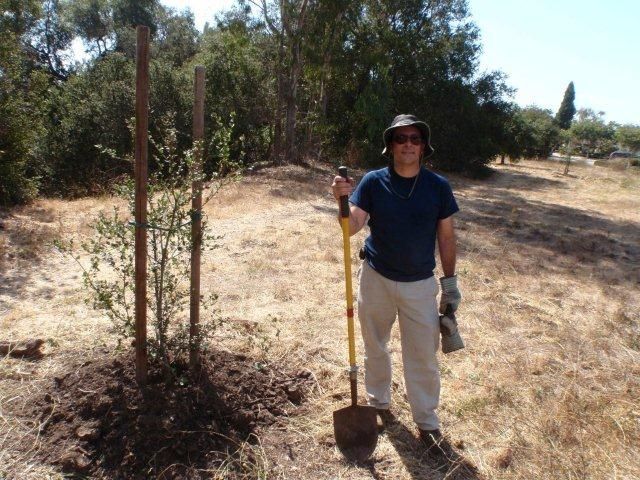 GVB Executive Director Ken Knight in the lime green NeighborWoods shirt (2010 version) assists in emptying soil back around an arbutus at 7632 Anchor Dr (left photo). Everett King poses by a Coast Live Oak planted in the La Goleta Open Space next to Las Vegas Creek as part of 2010 Creek Week (right photo).
See website for additional photos www.goletavalleybeautiful.org
Date Event Volunteers Service Hours Trees Planted Trees Maintained
Oct 2 Sat AM San Marcos High 38 116 8
Oct 2 Sat PM 231 Santa Barbara Shores 1
Oct 2 Sat PM 7635 Anchor Drive 10 21 1
Oct 2 Sat PM 7632 Anchor Drive 2
Oct 2 Sat PM 7616 Pismo Beach Circle 3
Oct 2 Sat PM 7617 Carmel Beach Circle 1
Oct 9 Sat AM Girsh Park 62 191 13
Oct 9 Sat PM Girsh Park 30 87 10
Oct 13 Wed All ARRA – watering 1 140
Oct 16 Sat AM Dos Pueblos High 32 98 1
Oct 16 Sat PM 224 Pedernal 5 11 2
Oct 16 Sat PM 260 Pebble Beach 1
Oct 16 Sat PM 252 Santa Barbara Shores 1
Oct 16 Sat PM 267 Santa Barbara Shores 1
Oct 21 Thur AM Project Learning Tree Workshop 8 40
Oct 21 Thur PM Kellogg Elementary School Science Night 5 15
Oct 23 Sat AM Montessori School 45 136 23
Oct 23 Sat PM Montessori School 32 94 13
Totals 267 809 82 140
The Cambridge Church trash collection crew collected 10.5 bags of trash with 2 volunteer hours this month bringing the 2010 totals to 87.5 bags and 175.5 hours.
-Volunteer groups participating in October tree care included: Hermanos Unidos, Lambda Sigma Gamma, San Marcos High students and families, Beta Theta Pi, UCSB Circle K, Environmental Affairs Board, Hermanas Unidas, Cal Pirg, Sigma Lambda Beta, LUX, Pi Alpha Phi, Alpha Kappa Delta Phi, Santa Barbara Church of Christ, Souled Out Campus Ministries, the Girl Scouts, Cox Cable, Westmont, Dos Pueblos students and families, The Territory Ahead, Beautify Dos Pueblos, Santa Barbara City College, UCSB Los Curanderos, Alpha Kappa Psi, UCSB Honors Program, Santa Barbara Montessori School, UCSB Latino Business Association, Alpha Phi Alpha, Alpha Pi Sigma, Western Chapter International Society of Aboriculture, Zeta Phi Beta, and Goleta Valley Beautiful
- Sponsors for this month's events include United Voices for Healthier Communities – Healthy CommuniTrees Project, California ReLeaf, the California Urban Forest Council, Valley Crest Tree Company, USDA Forest Service, the American Resource and Recovery Act, the Alliance for Community Trees/Home Depot Foundation, Goleta Union School District, West Covina Nurseries, Santa Barbara Bounty Resource Recovery and Waste Division, UCSB Coastal Fund, Devereux of California, City of Goleta, Beautify Dos Pueblos, United Way, Santa Barbara Secondary Schools, Cal Fire, Aqua-Flo Supply, Marborg, City of Goleta Project Grant program, and Crop Production Services.
---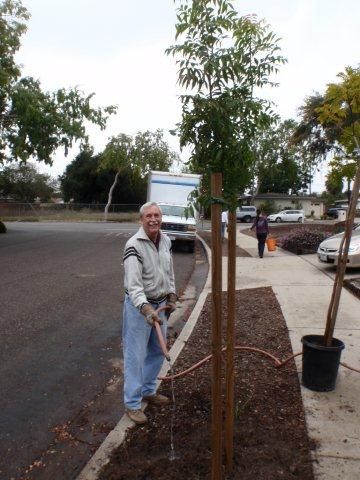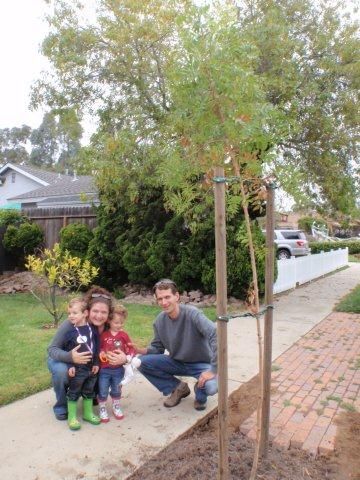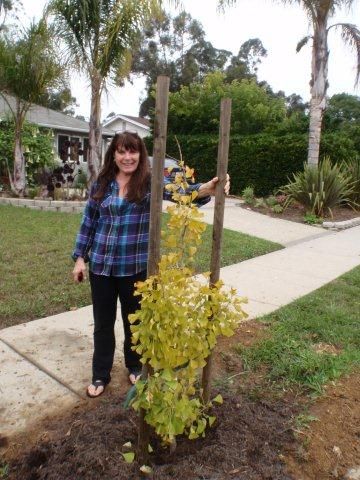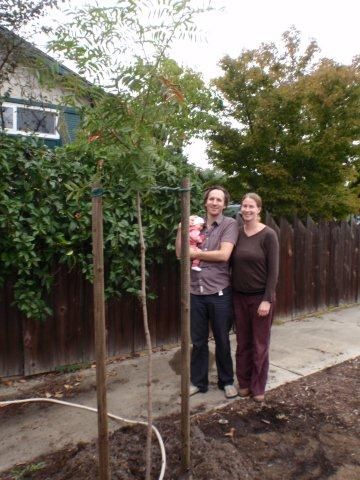 Proud new street tree recipients include our tree care volunteers at (left to right) 224 Perdenal, 252 Santa Barbara Shores, 267 Santa Barbara Shores, 7617 Carmel Beach Circle, and 260 Pebble Beach.
Goleta Valley Beautiful News Briefs
- No, GVB is not stealing water from fire hydrants – A concerned citizen saw a GVB truck filling a tanker of water borrowed from Kitson Landscape Management Inc. and thought that we were making unauthorized withdrawals. No need to worry, GVB iss treated like every other contractor by the Goelta Water District. We pay for a Temporary Water Permit and the cost of water used just like everyone else. Now that the rainy season is upon us, we'll stop our watering for the season, but we'll be back at it again as soon as it gets dry. And we'll pay for more permits.
-Knowing what a branch collar is can save you money – There are a lot of tree care contractors out there who will tell you need your tree pruned. Two suggestions before you agree. One, get a Certified Arborist to review what work 'needs' to be done. If that isn't possible, ask your contractor what a branch collar is. If they can't adequately describe it, go find another company to take care of your trees. If you don't know what a branch collar is, take one of our workshops (scheduled in January), Google it, or give us a call..
- Science Night and School Contact Volunteers needed – GVB would like to establish a contact at each Goleta Valley School to assist in communication about tree care on campus, and to involve students in educational programs such as Science Night and Arbor Day events. Upcoming Science Nights include October 28th at La Patera and at other schools beginning in January. If you would like to be a school contact person for GVB, please call 685-7910 for details.
- On line donations and membership – GVB offers to our donor members a variety of free native trees for your own property including Island, Valley and Coast Live Oak, White Alder, Black Cottonwood, Sycamore, Torrey Pine, Redbud, Catalina Cherry, and other assorted trees. Call us for further information at 685-7910. Look for our annual membership renewal flier in the mail sometime in the next few weeks. Or you can use our on line donation system. We offer two payment options using either PayPal or through TreeBank. FYI, thanks to all the recent membership renewals. Please note we operate under a calendar year membership.
- GVB Board changes meeting days an times – One last reminder. After many years of meeting on the first Friday of the month at 7 AM, the GVB Board has decided to change the meeting time to the first Wednesday of the month from 6:30 PM to 7:30 PM, at the Sexton House first floor meeting room at Pacifica Suites.
- GVB Website changes – Webmaster Logan Franken wants to hear your ideas about making the GVB website more accessible and what content you would like to see.
- Works in Progress - We'll be announcing soon the date for the next Urban Forest management Plan public information meeting sometime in November.
- - Honor Trees Are a Great Way to Remember Loved Ones: Honor trees come with a certificate that can be sent to the honoree. In addition to our Dos Pueblos High School Honor Grove site, GVB can also plant Honor Trees on any private sites as well as public. Any trees planted on private property require someone to assume responsibility to provide ongoing maintenance. For more information, call 685-7910.
---
Goleta Valley Beautiful Wish List
Thanks to generous discounts from West Covina Nurseries, Crop Production Services, Channel City Lumber, and numerous other local merchants. Please call GVB at 685-7910 if you can help with acquiring any of the following items, new or hardly used:
Non-chocolate granola bars - $15 for a box of 48
Folding pruning saws - $25 each – we need up to 35
By Pass pruners - $25 each we need up to 20
Non-kink 5/8 – ¾" garden hose, 50'/100' lengths - $20 each
15 & 25-gallon containers - $4 - $5 each – hundreds needed
8' round tree stakes - $3 each – hundreds needed
6' square nursery stakes - $4 each – hundreds needed
Copier paper (recycled preferred) – 8 ½ x 11 – 40 reams needed
Wood chips for driving on – want a place to dump your load?
Mccleods – five needed for weeding - $43 each
Spade shovels (fiberglass preferred) - $20 each – 30 needed
Compost – we can't make our own fast enough
Outdoor shelves/cabinets (something that doesn't rust)
Trencher – to install 2' deep root shields
Compressor – for operating the equipment listed below
Stump grinder - for removing old stumps so new trees can be planted
Jack hammer – for removing concrete so trees can be planted
Black plastic – heavy duty roll - $100+
Storage shed - $750+
Permanent GVB Office - Priceless
Support our Supporters
---
If the hyperlink does not work, you can cut and paste th e link into the address area of your browser. Your comments to kennethknight@cox.net will help us build a better communications link. To remove your name from the monthly e-mail newsletter list, please reply to this e-mail with the word 'remove ' in the subject.
---