---
Peter Shao Joins GVB Board, Other Internships and Board of Director Openings
Dos Pueblos High School Senior Pater Shao has joined the Goleta Valley Beautiful Board as the High School Representative. Peter has been a long time volunteer at the school and during GVB events.
GVB has openings for paid internship positions including Researcher, Geographic Information System, Grant Writer/Finance, and Greenhouse/Growing Ground Interns for Fall 2010 and Winter 2011. Internships may be taken for academic credit if available or a $300 stipend for a 40 hour variable schedule. For more information check our website under Education, or e-mail kennethknight@cox.net with the position desired, resume/contact information, and class schedule.
GVB has openings for a graduate student, and a general member to sit on the Goleta Valley Beautiful Board of Directors beginning in September 2010. For qualifications and application information, call 685-7910.
---
September 2010 Volunteer Calendar
No experience needed, all tools provided. All volunteer opportunities are supervised by experienced Certified Arborists. Families welcome as long as adults are present to supervise their children. Please RSVP at 685-7910 to confirm your attendance. Community service credits available for all activities, bring your forms to the volunteer event.
NOTE: Saturday afternoon sessions will resume in late September.
Tree Care
Sat. Sept 4, Labor Day Weekend, no projects
Sat. Sept 11, 9 AM to Noon – Cathedral Oaks Road East of Windsor on the south side. Root shield installation and street tree planting. All tools provided, no experience needed. RSVP 685-7910
Sat. Sept 18, 9 AM to Noon – Devereux Greenhouse and Growing Grounds- Preparation for Day of Caring Planting. Typical tasks involve planting acorns and seedlings for the next generation of oaks, pruning, irrigation maintenance, mulch and compost preparation, and repotting . Meet at 6980 Falberg Dr on the Devereux Campus. RSVP and Call for directions 685-7910
Sat. Sept 25, 9 AM to Noon - Day of Caring -Meet at Dos Pueblos High School corner of Alameda Drive and Cathedral Oaks Road. Tree Planting and care, general landscape maintenance. All tools provided, no experience needed. RSVP through United Way Day of Caring Coordinator at 965-8594
Sat. Sept 25, 9 AM to Noon - Day of Caring - Devereux Greenhouse and Growing Grounds- Maintenance projects at the Devereux Greenhouse. Meet at Greenhouse at 7975 Falberg Dr on the Devereux Campus. RSVP and Call for directions 685-7910 RSVP through United Way Day of Caring Coordinator at 965-8594
Wed. Sept 29, 9 AM to Noon - Creek Week Tree Planting along Las Vegas Creek. Planting 5 trees and tree care. RSVP and Call for directions 685-7910
Litter Pickup
Roadside trash collection in the

Goleta area

on the 2nd and 4th Saturdays. Trash grabbers and bags provided by the City of Goleta. Call Don and Judy Nason 964-4895 to RSVP
Graffiti Removal
Call 964-7117 to participate in graffiti removal and to report incidents in your area

.
---
Goleta Valley Beautiful News Briefs
- Science Night and School Contact Volunteers needed – GVB would like to establish a contact at each Goleta Valley School to assist in communication about tree care on campus, and to involve students in educational programs such as Science Night and Arbor Day events. Upcoming Science Nights include October 21 at Kellogg Elementary and October 28th at La Patera. If you would like to be a school contact person for GVB, please call 685-7910 for details.
- On line donations and membership - Everybody is doing it except Goleta Valley Beautiful members. Our on line membership and donation tools have not been well used. Our supporters have preferred the old fashioned method of using the US mail. If there is a way we can make our on-line process more user friendly, please let us know. FYI, thanks to all the recent membership renewals. Please note we operate under a calendar year membership.
- California Conservation Corp crews are continuing to assist GVB in monthly watering and weeding approximately 200 trees planted during Stimulus Grant funded and other GVB tree projects. Additional planting projects are planned during the week of September 13th
- GVB Board changes meeting days an times – After many years of meeting on the first Friday of the month at 7 AM, the GVB Board has decided to change the meeting time to the first Wednesday of the month from 6:30 PM to 7:30 PM, at the Sexton House first floor meeting room at Pacifica Suites.
- UCSB Coastal Fund supports Summer Internships – Thanks to our summer interns Justin Galle, Jason Prado, Evan Gravelle, and David Kim. We're ready for a prolific fall planting season after our interns took such good care of our trees at the Devereux Greenhouse and Growing Grounds.
- GVB Website changes – Logan Franken has further updated the Google Earth map of GVB planted trees at our local schools. Check it out under our Education section at our website and let us know what you think of this work in progress. We'll also be adding some videos of past projects and educational programs. Let us know if this works for you, and we can develop some made to order videos on your favorite topics.
-Works in Progress - We'll be announcing soon the date for the Project Learning Tree workshop, the date for the next Urban Forest management Plan public information meetings, and the completion of the Hind Foundation funded improvements to the Devereux Greenhouse. Good things take time to complete.
- Free trees and treegators - Goleta Valley Beautiful offers a free treegator (portable tree irrigator) upon request from any GVB donor member for the care of their trees. Treegators hold 20 gallons of water and it is a convenient way to put the correct amount of water on your trees each week. Goleta Valley residents can receive a free street trees through the Green Trees for the Golden State program through the California Department of Forestry and Fire Protection. The property owner will be asked to water and monitor the tree for the first two years of its establishment. GVB also offers to our members a variety of free native trees for your own property including Island, Valley and Coast Live Oak, White Alder, Black Cottonwood, Sycamore, Torrey Pine, Redbud, Catalina Cherry, and other assorted trees. Call us for further information at 685-7910
- Honor Trees Are a Great Way to Remember Loved Ones: In addition to our Dos Pueblos High School Honor Grove site, GVB can also plant Honor Trees on any private sites as well as public. Any trees planted on private property require someone to assume responsibility to provide ongoing maintenance. For more information, call 685-7910.
---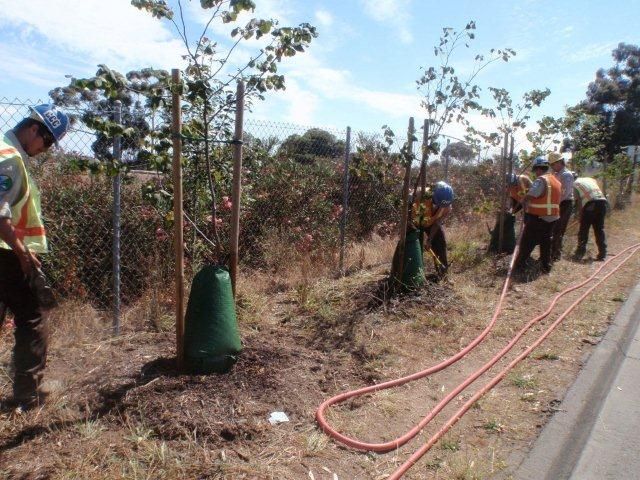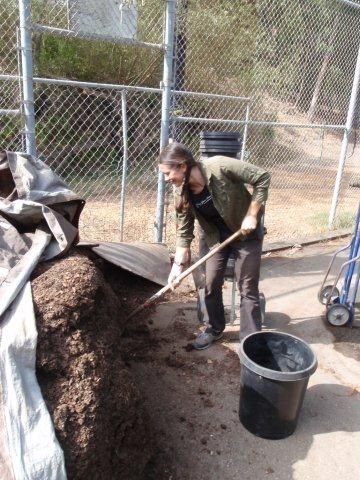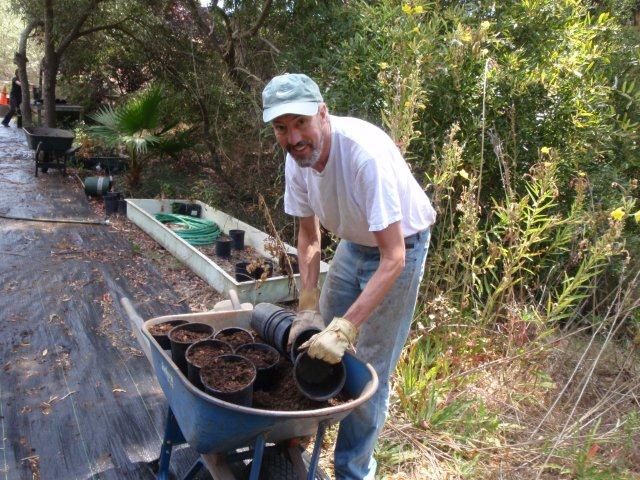 Most student volunteers are out of town during the summer, so we appreciate the good work of UCSB summer interns, CCC crews and occasional volunteers to keep us green.
See website for additional photos www.goletavalleybeautiful.org
Date Event Volunteers Service Hours Trees Planted Trees Maintained
Aug 7, Sat AM Greenhouse/Goleta Girls Club 1 3 1
Aug 7, Sat AM Dos Pueblos 2 8
Aug 28, Sat AM Greenhouse 3 18
Totals 6 &