Mentor and Citrix Online June GVB volunteers promote corporate responsibility to the community
Volunteers from local corporate giants Mentor and Citrix Online took time off from work in June to on GVB community service projects.
Volunteers from Mentor, working in conjunction with the United Way, spent a day at the Devereux Greenhouse replacing the aging water lines with modern Blue-Line compression fitting irrigation systems, as well as a host of other clean-up and repair projects.
Citrix Online volunteers returned to the landscape project they sponsored last year along Hollister Avenue between Santa Barbara Shores and Palo Alto. During a brief lunch time effort, the crew weeded , pruned and spiffed up the area. A little effort makes a big difference.
See website for additional photos www.goletavalleybeautiful.org
Date Event Volunteers Service Hours Trees Planted Trees Maintained
6/8,9 Tues/Wed CCC – Cathedral Oaks-La Patera 23
6/10 Thurs CCC – Cathedral Oaks-Winchester Cyn 26
6/12 Sat AM Greenhouse 1 4
6/12 Sat PM Greenhouse 1 4
6/14 Mon CCC – Watering Crew 150
6/15 Tues Greenhouse 11 56
6/25 Fri Hollister Ave #2 Landscape Maintenance 6 7 11
6/26 Sat AM Greenhouse 3 14
Totals 22 85 49 161
The Cambridge Church trash collection crew is on vacation this month.
-Volunteer groups participating in June tree care included: Mentor, Citrix Online, Dos Pueblos High School, UCSB Honors Program, Environmental Affairs Program and Goleta Valley Beautiful .
-Sponsors for these events included: American Recovery and Reinvestment Funds through California ReLeaf, UCSB Coastal Fund, the Hind Foundation, Devereux of Santa Barbara, Santa Barbara Foundation, Beautify Dos Pueblos, Santa Barbara Secondary School District, City of Goleta Community Services Department, Goleta Union School District, and hundreds of GVB donor members.
---
Goleta Valley Beautiful Wish List
Please call GVB at 685-7910 if you can help with acquiring any of the following items, new or hardly used:
Folding pruning saws - $25 each – we need up to 35
By Pass pruners - $25 each we need up to 20
Non-kink 5/8 – ¾" garden hose, 50'/100' lengths - $20 each
Leather gloves - $2 each
Non-chocolate granola bars - $15 for a box of 48
Outdoor shelves/cabinets (something that doesn't rust)
Trencher – to install 2' deep root shields
Compressor – for operating the equipment listed below
Stump grinder - for removing old stumps so new trees can be planted
Jack hammer – for removing concrete so trees can be planted
Copier paper (recycled preferred) – 8 ½ x 11 – 40 reams needed
Wood chips for driving on – want a place to dump your load?
Spade shovels (fiberglass preferred) - $20 each – 30 needed
Compost – we can't make our own fast enough
15 & 25-gallon containers - $4 - $5 each – hundreds needed
8' round tree stakes - $3 each – hundreds needed
6' square nursery stakes - $4 each – hundreds needed
Black plastic – heavy duty roll - $100+
Storage shed - $750+
Permanent GVB Office - Priceless
July 2010 Residential Award – 5344 Paseo Rio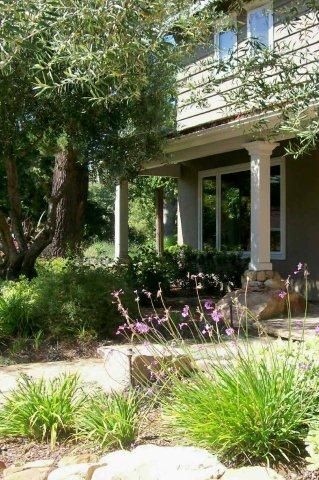 The North Patterson home of Bill and Marion Schoneberger at 5344 Paseo Rio is the July winner of the Goleta Valley Beautiful monthly award.
It is no coincidence that the nature-inspired landscape of their property appears to be a but a continuation of the attractive, peaceful, greenbelt located right next door. Three years ago, the couple worked with landscape architect Charles McClure to create an appealing, natural landscape which was low maintenance, water-conserving and "very congruous with the adjacent open space".
They carefully selected plantings which would provide year-around beauty, color, and interest, independent of the seasons. A prime example are the two distinctive-looking, mature olive trees which flank the stone entrance to the well-shaded, two-story home. The trees are mature specimens, transplanted to the property three years ago. Ornamental grasses, waving gently in the summer breeze, provide "movement" on the property, adding a tranquil ambience. Among the grasses are: Black Mondo Grass, Blue Oat Grass, and "Bunny Tails". Other selected plantings include: White Iceberg Roses, Red Day Lilies, Society Garlic, Pittosporum, Loropelatum, red-leafed Razzle-Dazzle, Smoke bushes, and Umbellata.
With the skillful use of outdoor lighting, even nightfall doesn't dim beauty of this property's appealing, natural, landscape. The olive trees are uplit, and even the grasses are highlighted, as well as the natural stone path leading up to the home's entrance. Lesley Masuda, Goleta Valley Beautiful
To nominate a home for Goleta Valley Beautiful's monthly award, please call (805) 967-3001.
---
Support our Supporters
Please mention to our supporters how much you appreciate their support of Goleta Valley Beautiful. You can find the list of our donor members at http://www.goletavalleybeautiful.org/Membership.asp and those who have supported our Stewards of Goleta Valley fundraising campaign.
---
If the hyperlink does not work, you can cut and paste th e link into the address area of your browser. Your comments to kennethknight@cox.net will help us build a better communications link. To remove your name from the monthly e-mail newsletter list, please reply to this e-mail with the word 'remove ' in the subject.
---